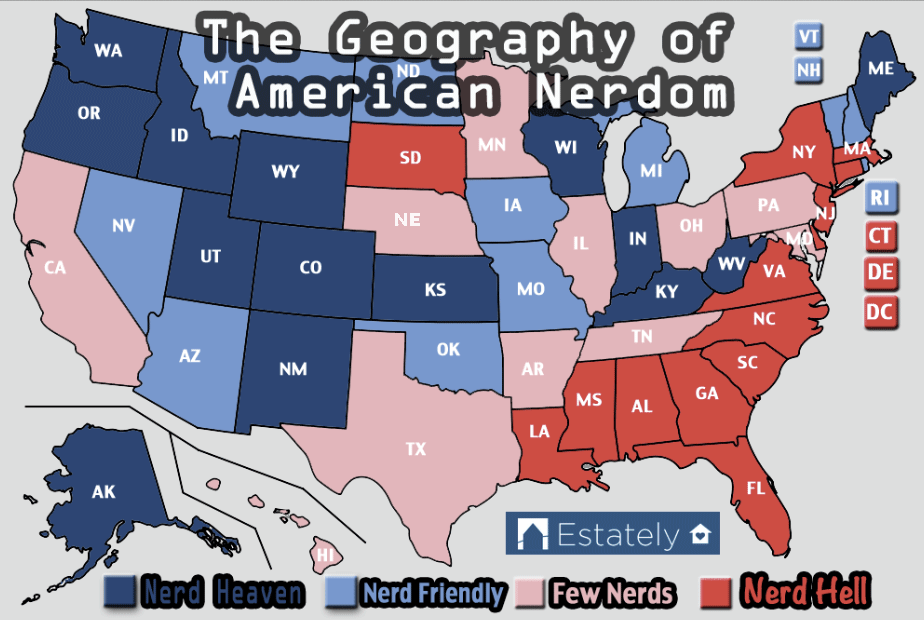 There's a lot to consider when choosing which state to live in. Will the locals trade Pokemon cards with you? Will you be mocked for LARPing in the park? Will you meet others who enjoy dressing up like Star Wars characters? For those who harbor interests considered nerdy or geekish, not all states are created equal. Estately crunched the numbers to determine which U.S. states have the most nerds per capita.
To do this, we analyzed Facebook data for every U.S. state and the District of Columbia to determine the percentage of users who listed these 12 criteria as interests:
Star Trek:  The Next Generation
Cosplay
Harry Potter
Star Wars
Anime Movies
Dungeons & Dragons
LARPing (Live Action Role-Playing)
Doctor Who
Fantasy Lit
Lord of the Rings
Magic:  The Gathering
Comic Books
The numbers in the chart below represent a state's overall rank for per capita interest in each of the 12 subjects. States are ranked from most nerdy to least nerdy.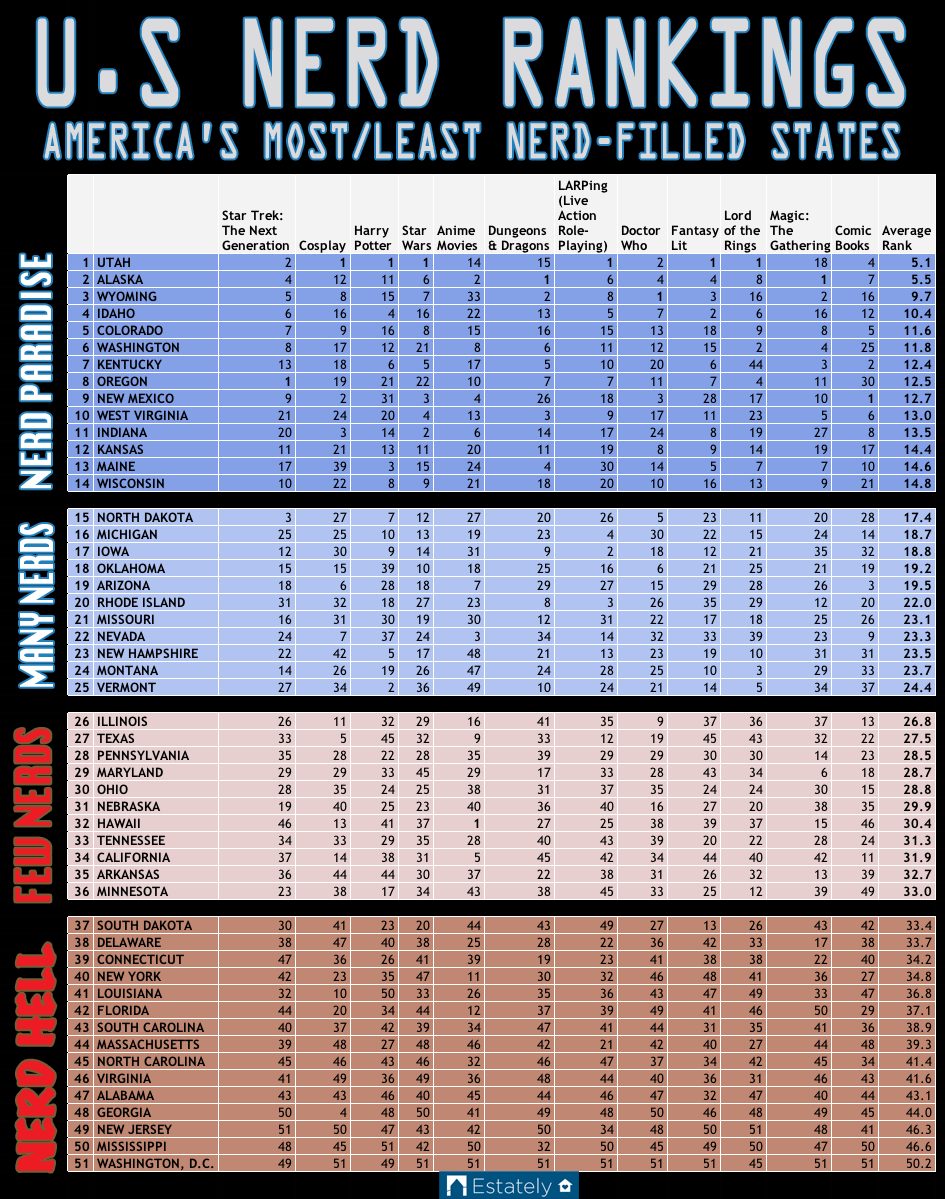 –          –          –
In looking at the map and chart, a few things stand out…
The South is a virtual nerd desert, and a damn hard place to get a game of D&D going.
Rural western states are prime habitat for nerds.
States with large populations don't tend to have high percentages of nerds.
Rhode Island is an island of nerdom along the coast of the Atlantic.
California is the only place in the West where you can go to a Harry Potter movie and

not

sit behind a grown woman in a wizard hat.
Utah is just so unbelievably nerdy it could be a Harry Potter theme park.
If you want to get stuffed in a locker bring your Pokemon cards to school in Mississippi, New Jersey, or Washington, DC.
–         –         –
Here are profiles of America's ten most nerd-filled states
1. UTAH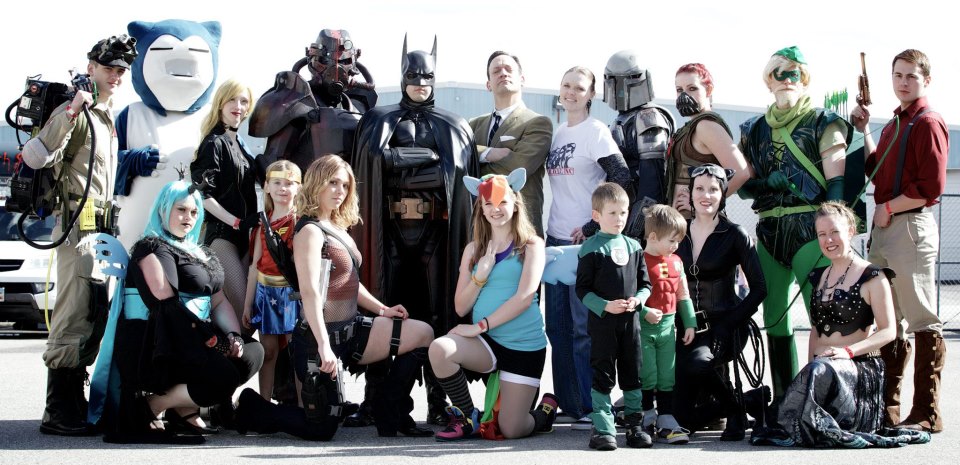 In Utah, nerdishness is so common it's practically the norm. Even if you factor in its high percentage of young people, Utah's enthusiasm for nerdy interests is unparalleled in America. Utah beats out all other states for interest in cosplay, Harry Potter, Star Wars, LARPing, fantasy literature, and Lord of the Rings. Basically, if you like to get into costume to see a sci-fi or fantasy movie then Utah is the state for you.
2. ALASKA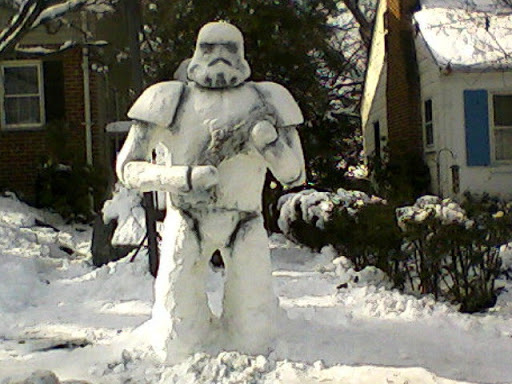 In Alaska, if you're standing on a street corner and the person to your left isn't a Dungeon Master, and the person to your right isn't, then you must be the Dungeon Master. Perhaps it stems from being trapped indoors all winter, or maybe some wizard cast a spell on the whole state, but Alaska's citizenry is passionate about fantasy role-playing games like Dungeons & Dragons (1st) and Magic: The Gathering (1st). The state ranks no lower than 12th in any of the categories. It's truly America's Great Nerdy North.
3. WYOMING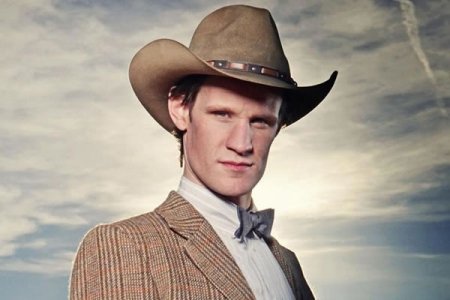 On cold winter nights, as the wind howls outside, the locals gather together with the cows and coyotes to watch the British sci-fi TV series Doctor Who. When it's not on, the play fantasy role-playing games (2nd most for D&D and Magic) and lament the day Miss Wyoming left the bookish Jonathan Frink during an episode of The Simpsons.
4. IDAHO
Idaho is home to large numbers of live action role-players and Harry Potter enthusiasts, but it's also one of the premier states for those into fantasy literature. The state is home to its own chapter of the Tolkien Society, and local universities actually hold classes focusing on fantasy and science fiction.
The state has added a number of anime conventions and events catering to the state's nerdier/awesome interests:  Anime Oasis, Tomodachi Fest, and more.
5. COLORADO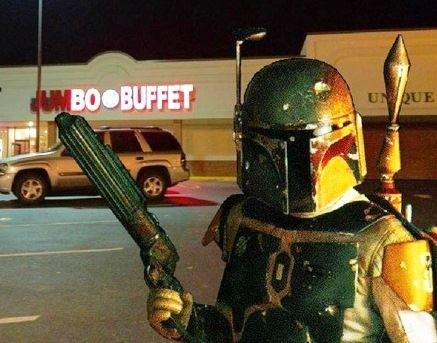 Colorado is so consumed with geek interests it's inevitable quidditch will become an official high school sport, Tauntauns will roam the state's ski slopes, and Klingon will be a course offered at Colorado Mountain College. Colorado boasts a sizable nerd population with a wide variety of interests, earning high marks in all included categories, as well as being home to numerous geek-friendly conventions.
6. WASHINGTON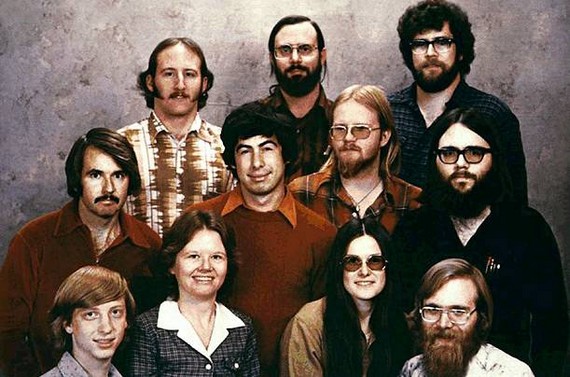 Given that Microsoft and numerous other tech companies are headquartered there, it's no surprise Washington state is a beacon for nerds. In fact, it's only a matter of time until most Washington companies drop Casual Fridays for Cosplay Fridays. In addition to programming prowess, Washington state residents are passionate about Lord of the Rings—2nd highest in the country.  It's actually a little surprising there aren't more local children named Frodo, Legolas, and Gandalf.
7. KENTUCKY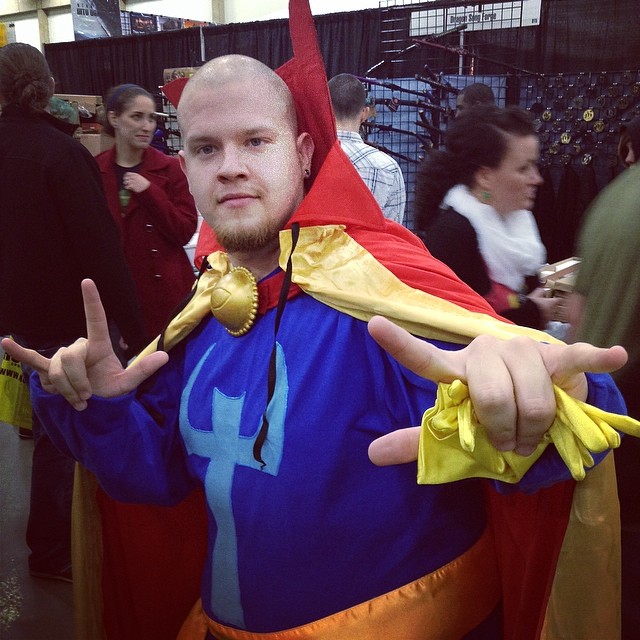 Overall, the South is an unfriendly place for nerds. About as close as they can get is Kentucky, which loves comic books (2nd) and Magic: The Gathering (3rd).  The Bluegrass State loathes Lord of the Rings (44th), but compensates for it with its instense love for Star Wars (5th) and Harry Potter (6th). This nerd sanctuary also has some of the most star-studded comic conventions in the country.
8. OREGON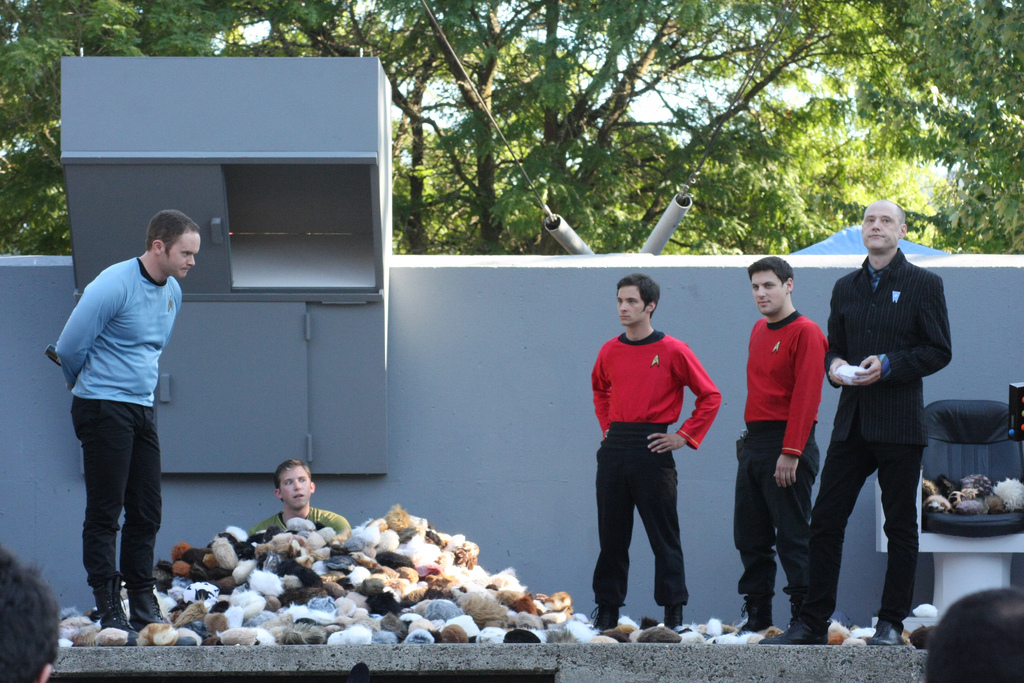 Oregon is a trekkie's paradise, a Star Trek sanctuary where America's most passionate fans live long and prosper. The city of Portland enjoyed a five-year run of Trek In The Park, a free public theater performance of classic Star Trek episodes. Oregon has also hosted Star Trek-themed improv shows, various Star Trek conventions, and more. It's only a matter of time until the tribble is named the Official State Animal of Oregon and Captain Picard is elected Governor.
9. NEW MEXICO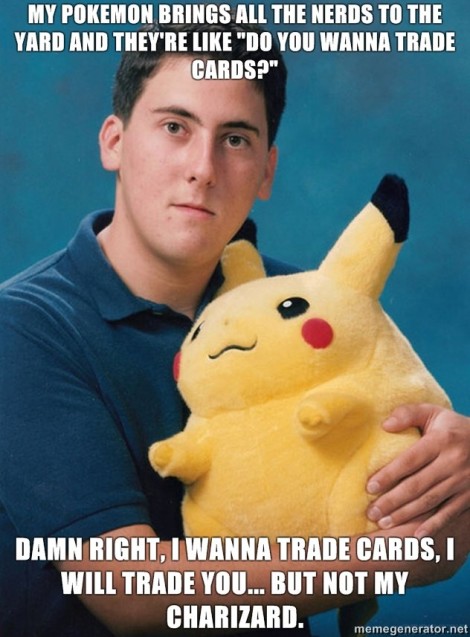 When comic book legend Stan Lee passes from this earthly realm, his body should be buried in New Mexico, the top state for comic book enthusiasts. The locals would no doubt entomb him in an immense mausoleum that resembles Superman's icy Fortress of Solitude. Also, New Mexico has the highest percentage of Pokemon enthusiasts of anywhere in the country.
10. WEST VIRGINIA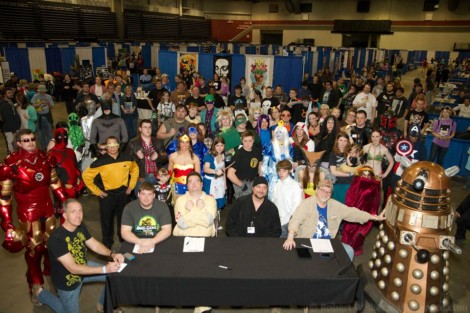 West Virginia is a "nerd hollow" of sorts, a refuge for geeks escaping the nerd-bashing states of Virginia, Ohio, and Pennsylvania. The Mountaineer State is a haven for those who love casting spells in fantasy role-playing games, or LARPing in the park before heading to the comic book store. Some even say Jay and Silent Bob can be heard at night roaming the hills of West Virginia.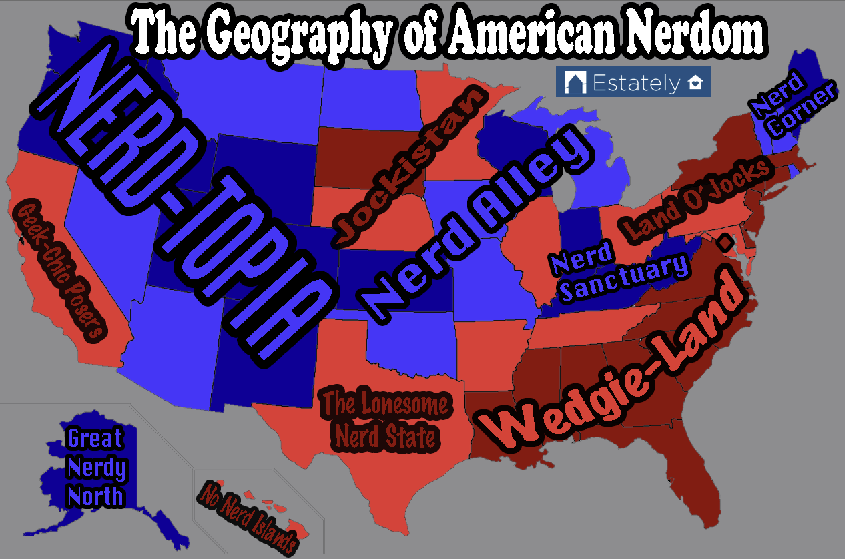 – – – – – – – – – – – – – – – – – – – – – – – – – – – – – – – – –
Estately is a national online real estate search site whose articles have been featured in the The Wall Street Journal, CNET, San Francisco Chronicle, Houston Chronicle, NBC News, Philadelphia Magazine, GeekWire, The Denver Post, and more.
– – – – – – – – – – – – – – – – – – – – – – – – – – – – – – – – –  
OTHER ARTICLES BY ESTATELY
The Big List of States That Will Live or Die in a Zombie Apocalypse
17 Best U.S. Cities for Hippies