Washington, D.C. Transit Stop Affordability
When buying a D.C. home, location is everything, particularly when it comes to proximity to the Metro. That's why Estately created this map showing the median home price for each Metro stop. To determine this, Estately analyzed the last six months of home sales within a one-mile radius of each of the D.C. area's Metro stops. Our analysis shows Bethesda Metro Station ($882,500) to be the most expensive stop in terms of real estate, and Naylor Road Metro Station ($143,000) to be the least expensive.
While most Metro stops were priced similarly to their neighbors, there were a few where there was a huge jump in price. The median home price near Medical Center Metro Station is $755,000, but riders that remain on the Red Line for one more stop would pay $386,000 for a home near Grosvenor-Strathmore Metro Station. In fact, the $369,000 saved would be enough to buy two homes around the Suitland Metro Station on the Green Line.
Overall, the Red Line is home to the area's most expensive stops, and the Green Line the most affordable. The Silver, Orange, and Blue Lines had stops in both the top and bottom ten.
Top ten most expensive stops
| | | | | |
| --- | --- | --- | --- | --- |
| Bethesda Metro Station | | $882,500 | 30 | Bethesda |
| Tenleytown Metro Station | | $839,950 | 25 | Tenlytown |
| Friendship Heights Metro Station | | $805,000 | 26 | Friendship Heights |
| Medical Center Metro/Naval Med Ctr & NIH | | $755,000 | 32 | Chevy Chase |
| East Falls Church Metro Station | | $740,000 | 29 | East Falls Church |
| Eastern Market Metro Station | | $685,000 | 6 | Southeast Washington |
| Capitol South Metro Station | | $652,450 | 4 | Southeast Washington |
| West Falls Church Metro | | $650,000 | 30 | Falls Church |
| Potomac Ave Metro | | $646,000 | 8 | Southeast Washington |
| Rosslyn Metro Station | | $640,000 | 10 | Radnor - Fort Myer Heights |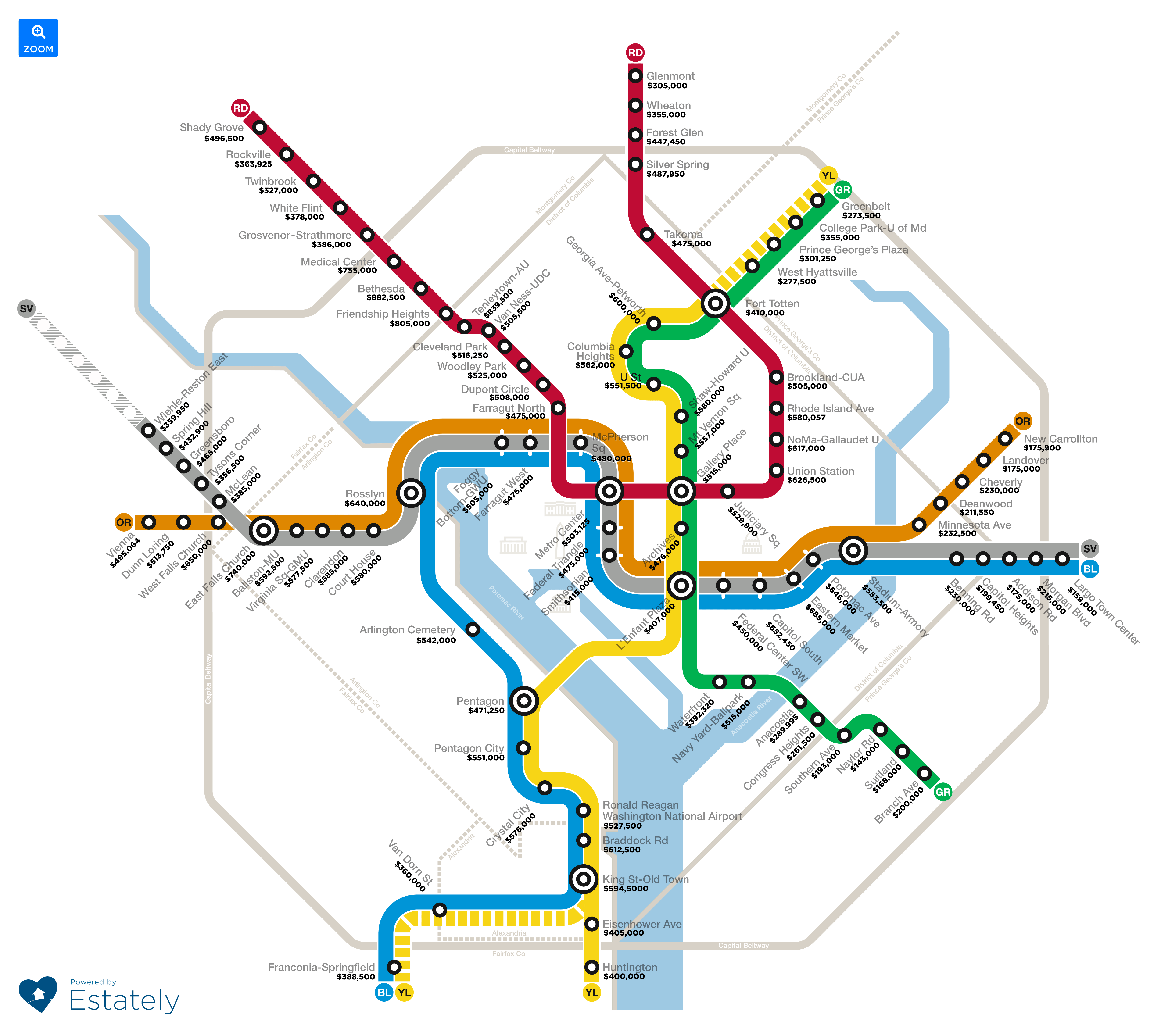 Top ten least expensive stops
| | | | | |
| --- | --- | --- | --- | --- |
| Naylor Road Metro Station | | $143,000 | 15 | Hillcrest Heights |
| Largo Town Center Metro Station | | $159,000 | 24 | Lake Arbor |
| Suitland Metro Station | | $168,000 | 17 | Suitland |
| Landover Metro Station | | $175,000 | 20 | Landover |
| Addison Road Metro Station | | $175,000 | 18 | Walker Mill |
| New Carrollton Metro Station | | $179,000 | 23 | New Carrollton |
| Southern Ave Metro Station | | $193,000 | 12 | Hillcrest Heights |
| Capitol Heights Metro Station | | $199,450 | 15 | Capitol Heights |
| Branch Ave Metro Station | | $200,000 | 20 | Suitland |
| Deanwood Metro Station | | $211,550 | 15 | Northeast Washington |
Washington DC Transit Home Affordability Map
Home affordability mapped over Washington DC Metrorail transit routes