15 things to know about buying a home in Seattle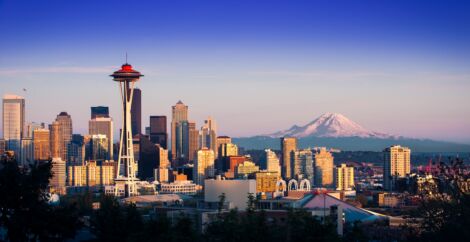 Seattle has long been a great place to live, but its growing popularity is making the real estate market increasingly competitive and expensive. Finding the right home here is a challenge, so to help home shoppers make sense of it Estately compiled a list of 15 things you should know about buying a home in Seattle.
1. Seattle home prices are climbing
Seattle's median home price is up 17.6% over the previous year, the largest increase in home prices of any major city in America.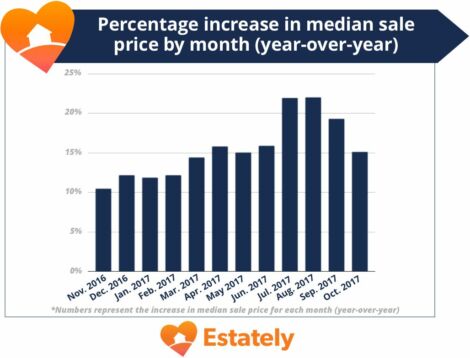 2. Here's what Seattle housing inventory looks like
Of the 826 homes currently listed for sale in Seattle, the majority are single-family houses. However, townhouses and condos are increasingly taking up a higher percentage of the market because they are being built faster than single-family houses. In fact, of the homes sold in the past year that were built after 2010, a whopping 59.2% were townhouses. Townhouses appear to be the immediate future in Seattle.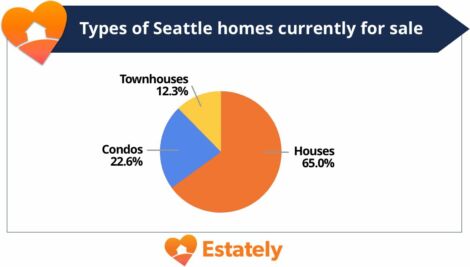 3. Median house/townhouse prices by neighborhood
Seattle is made up of a diverse collection of neighborhoods and home prices vary significantly between them. Neighborhoods in close proximity to downtown and Lake Washington drive a higher price, whereas less expensive neighborhoods are often near freeways, industry, or furthest from downtown.
*Not enough house/townhouse sales to provide accurate data for Downtown, Interbay, First Hill, or South Lake Union.
4. The decade a home was built says a lot about the price
If you're looking for an affordable house in Seattle, you'll find the least expensive homes were built during the building boom of WWII. More affordable homes were built in the 1940s, and the priciest homes were built at the turn of the century—both the 19th and 20th centuries.
5. Median condo prices by neighborhood
Seattle is increasingly building up instead of out, so condos will increasingly make up a higher percentage of Seattle's housing options.
*Not enough condo sales to provide accurate data for Broadview, Wedgwood, Laurelhurst, Crown Hill, Portage Bay, Madrona, Mount Baker, Seward Park, and Georgetown.
6. Air conditioning is uncommon and will cost you
Because of its mild climate, a low percentage of homes in Seattle have air conditioning, something that often surprises people who move here. However, with summers recently growing hotter it might be hard to find a home for sale with air conditioning, especially at an affordable price. Homes with A/C cost on average about 20% more than those without, although that varies by type of home.
Of the 11,192 Seattle homes listed for sale in the past 12 months, just a little over 10% of them mentioned having air conditioning in the listing description. Condos were the most likely to have A/C (15.1%), followed by houses (9.5%) and townhouses (5.0%).
7. Median home prices of cities neighboring Seattle
The median sale price of a Seattle home is $647,000, which is right in the middle when compared to the cities that neighbor it. The less expensive homes are generally to the south of Seattle, while the more expensive ones are directly across Lake Washington.
8. Home size impacts home price
Obviously, the larger the home the more expensive it is, unless you're measuring it by price per square foot. In that case, one-bedroom homes are the most expensive and mansions are suddenly of greater value.
9. Home prices by proximity to transit stops
Traffic is increasingly a problem in Seattle, but there are alternatives to being stuck in your car in traffic. Seattle's light rail system is growing and gaining popularity with local commuters.
Last year, Estately analyzed sales for houses, townhouses, and condos within a one-mile radius of each current light rail stop, as well as those currently under construction, and stops that are planned and funded.
With a median home price of $605 per square foot, both the University Street stop and the Pioneer Square stop in Seattle were the most expensive. The Tukwila International Boulevard stop and the SeaTac/Airport stop were the least expensive at $178 per square foot.
You can view more details about our transit map.
10. Bidding wars are all too common
The percentage of homes for sale that end up in bidding wars is one of the clearest indicators of how competitive Seattle's housing market is. More than half of all homes for sale sell for more than the asking price, and it's even higher for condos. Putting in an offer on a home only to see the price jump up and up in a bidding war is a major source of frustration for Seattle home shoppers.
11. Home prices by proximity to ferry routes
Want to work in Seattle, but commute there by ferry boat? You've got plenty of options. Besides the existing car/passenger ferries, there are fast passenger ferry routes that have been added in recent years, as well as more on the way. Prices are generally less expensive than Seattle (minus Bainbridge Island), and ferries are generally more relaxing than taking the bus. You can even enjoy a cold beer while you watch for orcas and harbor porpoises.
12. There are seasonal changes to Seattle prices and inventory
While Seattle home prices have been steadily rising for years, prices tend to dip around the winter holidays (November, December, and January), but it's also a time where fewer houses are listed for sale. Homes listed in winter tend to offer the best chances to score a deal, but there are also many homes with cosmetic or structural problems that are listed only because the seller can't wait until summer to sell. The number of homes listed for sale jumps in the spring and peaks during June, but the prices for these homes tend to be higher than those listed during the winter.
13. Recent Seattle real estate headlines
A good way to check the barometer of a real estate market is to check the recent headlines of the local newspaper's real estate section. While not exactly encouraging for home buyers, these are the last five article headlines in the Seattle Times real estate section that relates to the local market.
Good sources of Seattle real estate news and analysis can be found at The Seattle Times and Curbed Seattle.
14.Seattle home prices compared to other West Coast cities
Seattle home prices are growing faster than anywhere in the country right now, but they still have a long way to go before they match San Francisco. That being said, Seattle prices are considerably higher than many other large West Coast cities and they're growing rapidly.
15. What's available in your price range?
As of today (11/5/2017) there are 779 homes currently for sale in Seattle. Of those, 39% are priced at $1,000,000 or more, and there is just one solitary condo listed at under $200,000. This is a little deceptive because expensive homes tend to take longer to sell so there are generally more of them on the market.
How to search for a Seattle home?
Looking to buy a home in the Seattle area? Estately Real Estate Search is simple, updates quickly, and can connect you with proven agents. Check it out on Estately.com.