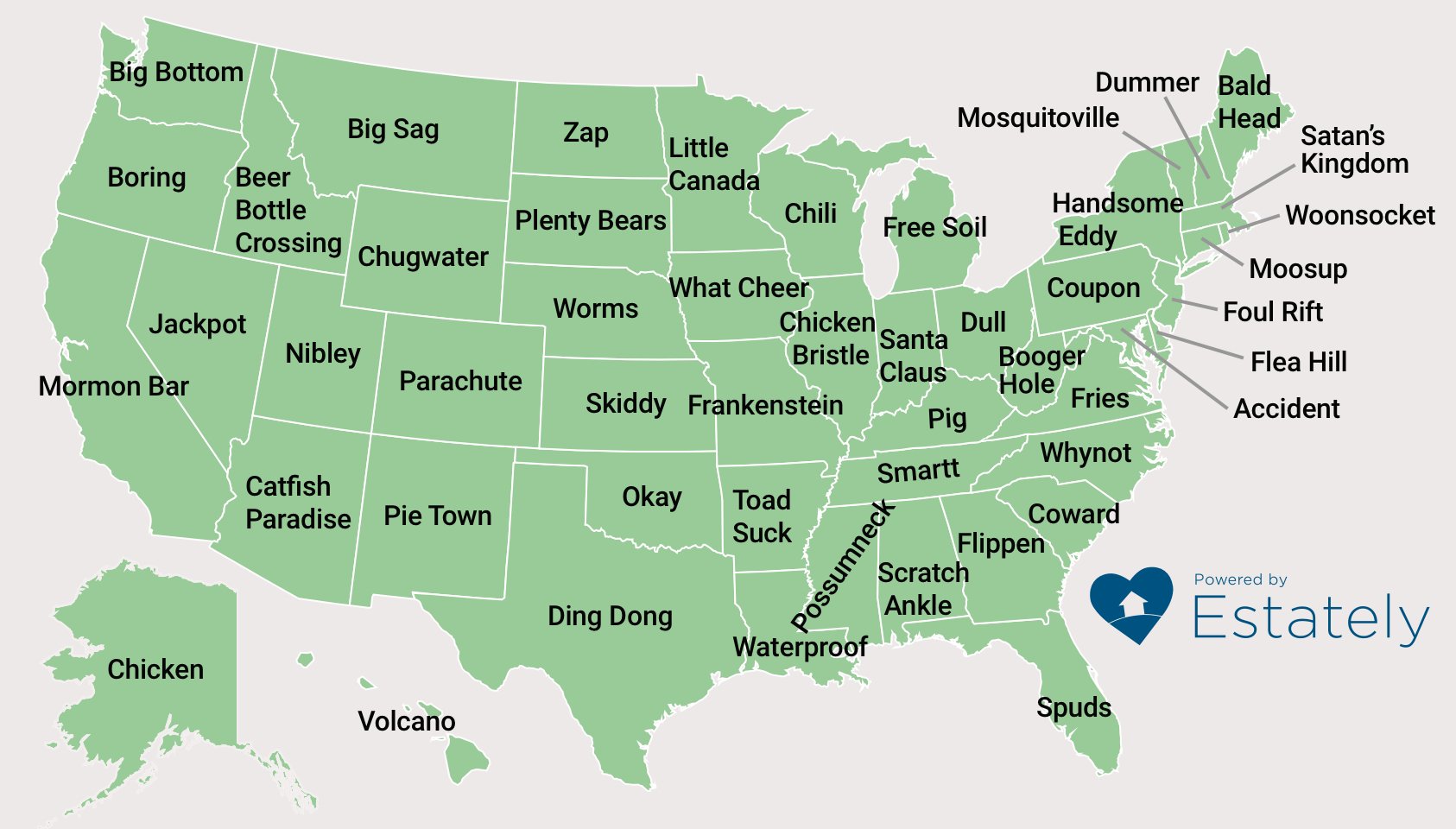 Americans use various methods to name their towns. Some chose to name it after a place they previously lived, some name it after a local geographical feature, and some take the bold step of naming it something so bizarre that it ensures their town sign will get stolen for generations to come.
Here at Estately, we wanted to pay homage to America's most unusually named cities, towns, and unincorporated communities, so we scoured dozens of maps to locate the strangest of them all. Who knows, it might just help home buyers find the right place to call home. So if you find yourself looking for a house in Pie Town or Chili, or maybe a condo in Accident or Boring, you'll be well served to entrust your real estate search to Estately. Check out our complete list below to find the most unusually-named towns in each U.S. state.
ALABAMA:  Allgood, Ballplay, Boar Tush, Bucks, Burnt Corn, Choccolocco, Chunchula, Coffee Springs, Dogtown, Eclectic, Excel, Fort Deposit, Frog Eye, Gordo, Grimes, Lick Skillet, Locust Fork, Muscle Shoals, Normal, Scratch Ankle, Screamer, Shorter, Smut Eye, The Bottle, Warrior
ALASKA:  Ambler, Badger, Beaver, Chicken, Clam Gulch, Cold Foot, College, Covenant Life, Dead Horse, Eek, Funny River, Goodnews Bay, Lazy Mountain, Livengood, Manley Hot Springs, Mary's Igloo, Nightmute, North Pole,  Red Devil, Russian Mission, Sleetmute, Unalaska, Woodchopper
ARIZONA:  Anthem, Carefree, Catfish Paradise, Cowlic, Cyclopic, Kaka, Many Farms, Nothing (ghost town), Oatman, Parker Strip, Santa Claus (uninhabited), Show Low, So-Hi, Surprise, Three Way, Tombstone, Top-of-the-World, Why
ARKANSAS:  Alligator, Bald Knob, Barber, Biggers, Blue Ball, Boeuf, Bono, Booger Hollow, De Queen, Delight, Flippin, Goobertown, Greasy Corner, Gum Springs, Hasty, Magazine, Marmaduke, Mist, Monkey Run, Nimrod, Okay, Possum Grape, Romance, Self, Smackover, Stamps, Success, Toad Suck, Waldo, Weiner, Whiskerville, Y City
CALIFORNIA:  Aromas, Bieber, Caribou, Chowchilla, Chubbuck, Concow, Devil's Elbow, Dogtown, East Yolo, Gorda, Grimes, Happy Camp, Helltown, Hercules, Hooker, Likely, Linda Rural, Manteca, Mormon Bar, Needles, Nice, Old Dale, Old Fig Garden, Peters, Prunedale, Raisin City, Ragged Point, Ragtown (ghost town), Rescue, Roads End, Romoland, Rough and Ready, Sand City, Shafter, Skidoo, Skyhigh, Slab City, Spreckels, Tarzana, Trimmer, Weed, Weedpatch, Yolo, Zzyzx
COLORADO:  Craig, Crook, Dinosaur, Fearnowville, Fink, Gunbarrel, Hot Sulphur Springs, Hotchkiss, Hygiene, Last Chance, Loveland, Mead, Meeker, Mumper Corner, Old Roach (ghost town), Plastic, Parachute, Punkin Center, Rifle, Sawpit, Scarface, Slagger, Swink, Troublesome, Wondervu
CONNECTICUT:  Happyland, Moosup, Mystic, Old Lyme, Terramuggus
DELAWARE:  Airport Villa, Bacon, Blades, Blue Ball, Bunting, Cave Colony, Cocked Hat, Cowgills Corner, Flea Hill, Hoars Addition, Midnight Thicket, Slaughter Beach, Swallow Hill
FLORIDA:  Briny Breezes, Bunker Donation, Cabana Colony, Christmas, Cocoa, Cooks Hammock, Couch, Dundee, Early Bird, Feather Sound, Floridatown, Frostproof, Golf, Hill 'n Dale, Howey-in-the-Hills, Leisure City, Lulu, Mayo, Needmore, Pass-a-Grille, Plant City, Sopchoppy, Spuds, Two Egg, Waldo, Watergate, Whisper Walk, Yeehaw Junction
GEORGIA:  Balls Ferry, Bonanza, Box Springs, Butts, Cash, Climax, County Line, Dixie Union, Elder, Empress, Enigma, Experiment, Faceville, Five Forks, Flippen, Gumlog, Hardup, Hopeulikit, Jekyll Island, Lumpkin, Pyles Marsh, The Rock, Sixes, Social Circle, Thunderbolt, Ty Ty, Young Harris, Zebulon
HAWAII:  Cod Fish Village, Haiku, Volcano
IDAHO:  Atomic City, Beer Bottle Crossing, Best Corner, Bone, Cabinet, Chilly, Coolin, Cream Can Junction, Crouch, Dickshooter, Dingle, Good Grief, Hand Place, Headquarters, Player Place, Santa, Slickpoo, Squirrel, Sublett, Sweet, Wickahoney
ILLINOIS:  Allright, Assumption, Beardstown, Big Foot Prairie, Birds, Bobtown, Bone Gap, Boody, Boos, Breeds, Chicken Bristle, Chittyville, Clank, Disco, Embarrass, Fancy Prairie, Ficklin, Frogtown, Future City, Goofy Ridge, Golf, Gross, Hometown, Ivanhoe, Lick Creek, Limerick, Lost Nation, Love, Moonshine, Mooseheart, Muddy, Munster, Normal, Oblong, Passport, Polo, Ransom, Red Bud, Roaches, Roodhouse, Sandwich
INDIANA:  Bean Blossom, Beard, Beaver City, Bono, Bud, French Lick, Friendswood, Gnaw Bone, Gosport, Munster, Onward, Pigeon, Ragsdale, Rocky Ripple, Santa Claus, Solitude, Speedway, Spurgeon, Tell City, Toad Hop
IOWA:  Balltown, Beaverdale, Carl, Confidence, Cool, Correctionville, Diagonal, Fertile, Hard Scratch, Hicks, Hull, Little Turkey, Manly, Toddville, What Cheer
KANSAS:  Bazaar, Deerhead, Dry Wood, Dundee, Good Intent, Neutral, Protection, Ransomville, Red Onion, Skiddy
KENTUCKY:  Bald Knob, Beaver Dam, Bigtussle, Broad Bottom, Chicken Bristle, Co-Operative, Dice, Eminence, Fancy Farm, Fearsville, Girdler, Hippo, Horse Cave, Knob Lick, Krypton, Mud Lick, Monkeys Eyebrow, Nobob, Oil Springs, Paint Creek, Paint Lick, Pig, Possum Trot, Rabbit Hash, Raccoon
LOUISIANA:  Bunkie, Cow Island, Cut Off, Dry Prong, Grosse Tete, Keithville, Iota, Lucky, Pollock, Quitman, Waterproof
MAINE:  Bald Head, Bath, Friendship, Griswold, Industry, Owls Head, Shady Nook, Strong, Topsham
MARYLAND:  Aberdeen Proving Ground, Accident, American Corner, Benson, Big Pool, Blue Ball Village, Boring, Cabin John, Choptank, Crapo, Crumpton, Dames Quarter, Fairplay, Finksburg, Issue, Pomonkey, Shady Side
MASSACHUSETTS:  Belchertown, Bliss Corner, Braggyville, Braintree, Felchville, Mashpee, Old Furnace, Satans Kingdom, Teaticket, Whately
MICHIGAN:  Bad Axe, Bath, Bete Grist ("Gray Beast" in French), Cement City, Climax, Colon, Dick, Dollar Settlement, Free Soil, Hell, Manistique, Mesick, Mosherville, Napoleon, Paw Paw, Pigeon, Romeo, Rust, Sac Bay, Schoolcraft
MINNESOTA:  Ball Club, Blue Earth, Castle Danger, Clappers, Climax, Embarrass, Good Thunder, Ham Lake, Houpt, Kiester, Little Canada, Luck, Motley, Mound, Nowthen, Ottertail, Nimrod, Pillager, Sleepy Eye, Staples, Taconite, Twig, Winner
MISSISSIPPI:  Alligator, Biggersville, Buckatunna, Chunky, Eggville, Fame, Guntown, Hot Coffee, Itta Bena, Leakesville, Learned, Money, Quitman, Shivers, Sweatman
MISSOURI:  Bland, Bragg City, Conception, Conception Junction, Cooter, Corning, Fidelity, Florida, Frankenstein, Ginger Blue, Gums, Halfway, Humansville, Kidder, Kissee Mills, Knob Noster, Licking, Lingo, Lone Jack, Lupus, Novelty, Number Eight, Otterville, Peculiar, Pilot Knob, Polo, Possumneck, Quitman, Speed, Strain, Tiff, Tightwad, Wide Ford, Wood, Zig
MONTANA:  Big Sag, Hungry Joe, Joe, Molt, Pompey's Pillar, Pray, Sourdough, Two Dot, Zero
NEBRASKA:  Assumption, Falter Place, Gross, Hazard, Hire, McCool Junction, Mumper, Opportunity, Ough, Purple Cane, Rackett, Valentine, Wahoo, Wee Town, Worms, Wynot
NEVADA:  Andy's Place, Carp, Contact, Coyote Hole, Jackpot, Lovelock, Pahrump, Pine Nut, Pyramid, Searchlight, Shantytown, Sugar Bunker, Weed Heights, Welcome, Winnemucca
NEW HAMPSHIRE:  Bath, Dummer, Freedom, Stark, Tinkerville
NEW JERSEY: Brick, Buttzville, Cheesequake, Cinnaminson, Deal, Egg Harbor City, Foul Rift, Great Meadows, Hackensack, Ho-Ho-Kus, Leisure Village, Loveladies, Manahawkin, Mantoloking, Nutley, Oldmans, Ramtown, Scullville, Seagirt, Six Mile Run, Skillman, Spotswood, Succasunna, Teaneck
NEW MEXICO:  Angel Fire, Dulce, Elephant Butte, Holy Ghost, Lingo, Loving, Mouser Place, Pie Town, Progresso (like the soup), Quemado (burned in Spanish, Sunspot, Truth or Consequences
NEW YORK: Baiting Hollow, Beakmantown, Butternuts, Calcium, Candor, Catatonk, Chazy, Conewango, Conquest, Coxsackie, Dadville, Fishkill, Gang Mills, Gowanda, Handsome Eddy, Hoosick, Krumville, Lawyersville, Model City, Mosherville, Neversink, Pitcher, Rathbone, Rush, Shady, Sheds, Spackenkill, Wallkill, Wirt, Yaphank
NORTH CAROLINA:  Apex, Aquadale, Bolton, Butters, Coinjock, Cricket, Duck, Flea Hill, Lizard Lick, Locust, Micro, Mocksville, Nags Head, Northwest (funny because it's located in the Southeast of the state) Old Hundred, Pinnacle, Pumpkin Center, Skippers Corner, Toast, Troutman, Whynot
NORTH DAKOTA:  Bounty, Daily, Four Bears Village, Killdeer, Rugby, Trotters, Zap
OHIO:  Ballville, Chagrin Falls, Deadman Crossing, Devil Town, Dry Run, Dull, Fleatown, Florida, Hooven, Jerry City, Kunkle, Knockemstiff (ghost town), Licking View, Pee Pee Township, Pottery Addition, Seaman, Shadyside, Spunky Puddle (ghost town) Trotwood
OKLAHOMA:  Bowlegs, Bugtussle, Bushyhead, Corn, Dibble, Dead Women Crossing, Frogville, Greasy, Hooker, Jumbo, Leach, Loving, Okay, Slaughterville
OREGON:  Aloha, Boring, Bridal Veil, Climax, Dead Ox Flat, Drain, Idiotville (ghost town), Merlin, Paisley, Plush, Rainbow, Remote, Riddle, Ruggs, Shedd, Starvation Heights, Sublimity, Tangent, Voltage, Wankers Corner, Wonder, Zigzag
PENNSYLVANIA:  Big Beaver, Bird-in-Hand, Blue Ball, Coupon, Frackville, Grill, Halfway House, Hop Bottom, Intercourse, Lickdale, Pillow, Spry, The Hideout, Virginville
RHODE ISLAND:  Little Compton, Moosup Valley, Woonsocket
SOUTH CAROLINA:  Bear Swamp, Coward, Cowpens, Fingerville, Lake Swamp (which is it?), Mayo, Ninety Six, Old House, Pumpkintown, Spiderweb, Sugar Tit, Welcome, Wide Awake
SOUTH DAKOTA:  Bad Wound, Big Stone City, Blunt, Bonesteel, Crooks, Lead, Plenty Bears, Porcupine, Rumpus Ridge, Swett, Two Strike, Winner
TENNESSEE:  Bean Station, Bell Buckle, Bitter End, Boring, Bucksnort, Bumpus Mills, Campaign, Crab Orchard, Defeated, Difficult, Disco, Finger, Flippin, Goat City, Guys, Lick Skillet, Mascot, Nutbush, Only, Pickwick, Shackle Island, Smartt, Static, Spot, Sweet Lips, Wartburg
TEXAS:  Bacon, Bangs, Beans, Bee Cave, Best, Bigfoot, Blackjack, Bluntzer, Bobo, Bootleg, Bugtussle, Cat Spring, Coyote Acres, Cut and Shoot, Dime Box, Ding Dong, El Gato, Earth, Goodnight, Gun Barrel City, Happy, Humble, Hoop and Holler, Hornbeak, Knickerbocker, Latex, Log Cabin, Lovelady, Muleshoe, Nada, Noodle, Oatmeal, Personville, Point Blank, Raisin, Scissors, Scurry, Smiley, Snook, Spearman, Tarzan, Uncertain, Whiteface, Who'd Thought It (ghost town), Zipperlandville
UTAH:  Beaver Dam, Bullfrog, Eggnog, Gunlock, Hurricane, Mount Olympus, Nibley, Shivwits, Virgin
VERMONT:  Bread Loaf, Cozy Corner, Mosquitoville, South Hero
VIRGINIA:  Adwolf, Backbone, Bats Bridge, Bland, Bloxom, Bumpass, Chilhowie, Cuckoo, Dragonville, Dumfries, Fancy Gap, Fries, Frog Level, Hurt, Meadows of Dan, Painter, Parrott, Prices Fork, Pound, Rustburg, Locustville, Office Hall, Skippers, Rustic, Short Pump, Tightsqueeze, Wise
WASHINGTON:  Acme, Bacon, Beaver Homes, Berryman, Big Bottom, Bunk Foss, Bunker, Cactus, Cashup, Chumstick, Dollar Corner, Dot, Dynamite, Electron, Gorst, Home, Humorist, Humptulips, Kooskooskie, Mock City, Novelty, Opportunity, Pysht, Shreck, Snowden, Startup, Swede Heaven, Touchet
WEST VIRGINIA:  Acme, Amigo, Bald Knob, Battleship, Beard, Beartown, Beech Bottom, Big Chimney, Booger Hole, Brohard, Bud, Crumpler, Cucumber, Droop, Hoohoo, Man, Paw Paw, Pinch, Tornado, War, Wood
WISCONSIN:  Beaver Dam, Beetown, Black Earth, Blue Mounds, Butternut, Cheat Lake, Chili, Clam Falls, Egg Harbor, Embarrass, Fond du Lac (just going to pretend this means "lake of fondue"), Friesland, Hacker Valley, How, Imalone, Luck, Mentor, Mole Lake, New Diggings, Pray, Rolling, Spooner, Thornapple, Spread Eagle, Winter
WYOMING:  Bar Nunn, Chugwater, McNutt, Miner's Delight, Recluse, Ten Sleep
Did we leave any out? It might be in our Complete List of Lewd-Sounding Town Names in America. If we left any out let us know in the comments and we'll add them.
Estately real estate search makes finding a home simple, easy, and efficient. Find your next home now at Estately.com.