As we all learned from Alice Cooper in Wayne's World, Milwaukee is the Algonquin word for "the good land." And there is certainly a lot of good – even great – stuff to be found here, much more than you might expect. But, there are some things you should know if you're considering a move to this lovely city by the lake. 
Frozen custard will destroy your appreciation of ice cream. 
Take one lick of Milwaukee's famous frozen custard, whether from Kopp's or Leon's, and you'll never be satisfied with mere ice cream ever again. You may even wonder why ice cream still exists.
The beer history goes way, way back. 
Milwaukee has a long and illustrious brewing tradition, stretching back to the early 1800's. At one point in the 1960s, four of the ten largest breweries in the world were located here: Miller, Pabst, Blatz and Schlitz. Miller is the only brewing powerhouse left in town, but the overall beer scene is still going strong. And don't miss Sprecher Root Beer, if you're looking for something non-alcoholic.
Prepare to eat sausage, sausage and more sausage.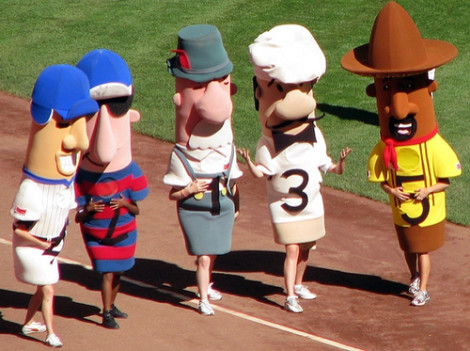 From Usinger's to Klement's, Milwaukee is well known for its sausages, brats and other smoked meats. There is even a wildly popular Sausage Race (people dressed in sausage costumes) held after the fifth inning of Brewers games. Vegetarians beware!
The architecture is very creamy.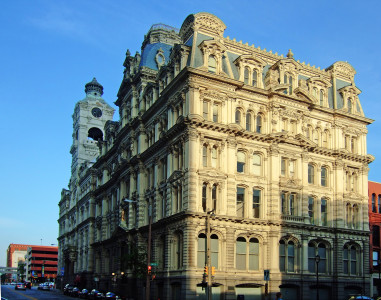 Milwaukee's is known as "Cream City," a nod to the unique cream-colored brick used to build many of its historic buildings. This brick is no longer being produced, but was made of clay found in the nearby Menomonee River Valley and along the banks of Lake Michigan.
You'll be in hog heaven.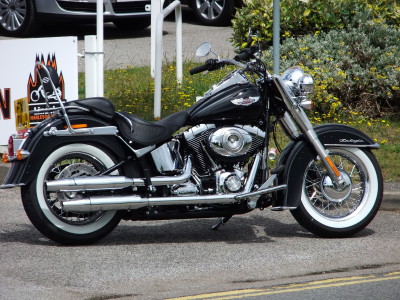 Milwaukee (and neighboring Menomonee Falls) are home to Harley Davidson, the world-famous maker of very loud, very badass motorcycles. If you've ever dreamed of cruising the open road on a hog while wearing a fringed leather vest and pants, there's no better place to start.
Bowling is the unofficial city sport.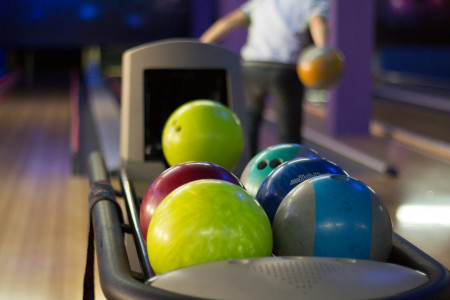 Forget bumpers and between-the-legs ball tossing; in Milwaukee, bowling is a serious pastime, with dozens of bowling alleys and pro shops in the city and surrounding suburbs. A handful of local bars, such as Koz's and the new Thirsty Duck, even offer mini bowling.
Drinking is probably the official city sport.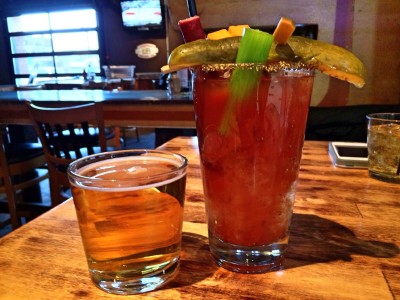 Milwaukee is the drinking epicenter of America's drunkest state. The city has 8.5 bars per 10,000 households, second only to New Orleans, so you're never far from somewhere to grab a drink. Besides beer, the Bloody Mary is a specialty, with each bar putting a unique spin on the drink's garnishes, from beef sticks and veggies to whole fried chickens!
The weather is extremely extreme.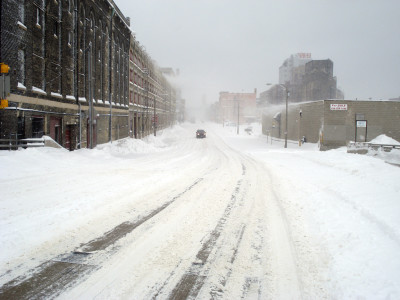 Summers can be very hot, and winters can be very cold and snowy here. Evidence: the hottest temperature ever recorded in Milwaukee was 105°F and the coldest was -26 °F, a difference of 131°F. 
But, it gets even colder!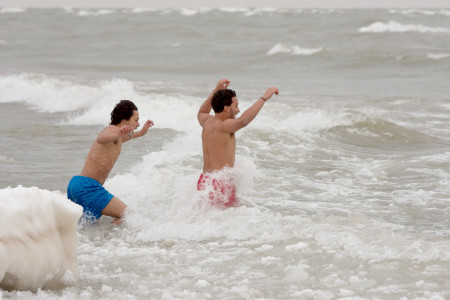 If a friend asks you to "take the plunge"… say you're busy that day. The popular Polar Bear Plunge involves jumping into (literally) freezing-cold lake water in the middle of winter, wearing nothing but a swimsuit. Participants usually use the event to raise money for charity, so at least those chattering teeth aren't for nothing.
The State Fair is kind of a big deal.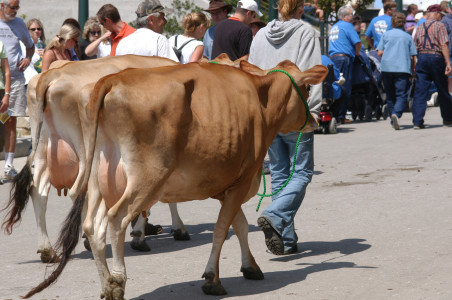 Each year, more than 1 million people flock to the Wisconsin State Fair for the world-famous cream puffs, 25-cent glasses of flavored milk, livestock viewing, rides, music, and all sorts of deep-fried foods-on-a-stick. Seriously, ALL sorts: alligator, brownies, an 18-inch corn dog, shrimp tempura, shark, tater tots, mac & cheese, even "Elvis" (peanut butter cup dipped in banana batter).
You will become obsessed with local "celebrities."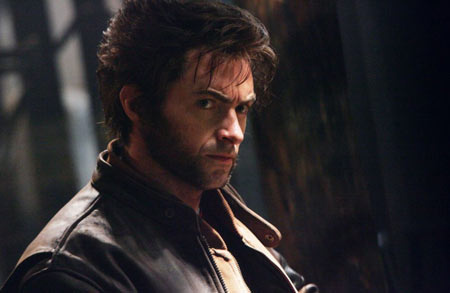 Spotting quirky and elusive local legends will quickly become a fun new new pastime. An example: the "Milverine," a construction worker whose shirtless walks around the city and his uncanny resemblance to the X-Men character Wolverine have garnered him a Facebook following of 10,500+. (R.I.P. Dick Bacon, another local legend.)
Milwaukee is the "City of Festivals."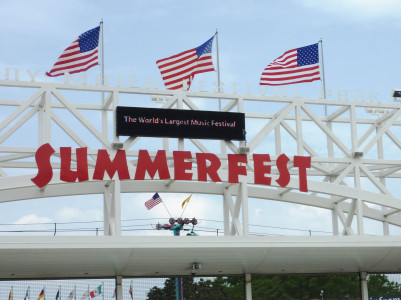 Milwaukee has a jam-packed slate of annual summer festivals. Summerfest – the World's Largest Music Festival – is the biggest draw, but there are numerous ethnic and cultural festivals as well: Polish Fest, Bastille Days (complete with mini Eiffel Tower), German Fest, Irish Fest, Mexican Fiesta and many more. FYI, great food and copious drinking are a common thread amongst them all.
Fish fries are a weekly summer ritual.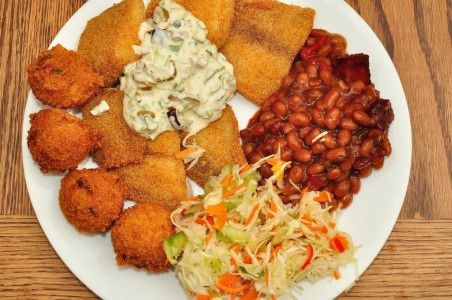 Ah, the Fish Fry – there is perhaps no more delectable culinary tradition in all of Wisconsin – if not the universe. When Friday night rolls around, head to just about any restaurant (or American Serb Hall) and order an all-you-can-eat feast of fried fish, fries, coleslaw and corn fritters.
A local building forecasts the weather.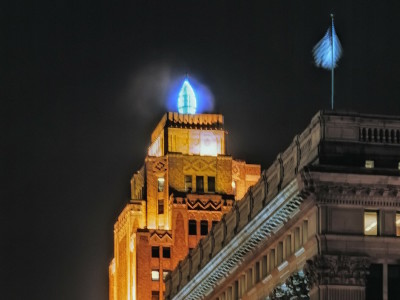 If you're wondering what tomorrow's weather will be, just look up: atop the Wisconsin Gas Building, a 21-foot-tall, four-ton weather beacon in the shape of a natural gas flame indicates tomorrow's forecast by its color and flicker. There's even a weather app called The Milwaukee Gas Light App that lets you keep up on changes to the flame from your phone. 
The Fonz lives!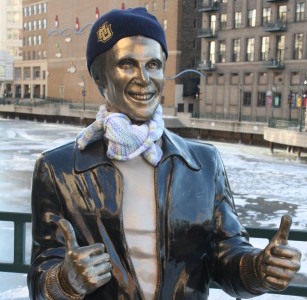 Milwaukeeans are proud of the city's portrayal in the popular 70's/80's sitcoms Happy Days and Laverne and Shirley. So proud, in fact, that the city commissioned a "Bronze Fonz" statue celebrating Arthur Fonzarelli, which now stands in a prominent spot along the Riverwalk.
Not surprisingly, it's not exactly the healthiest city.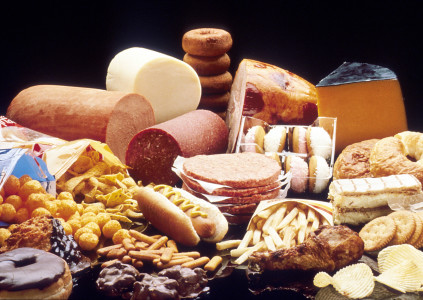 With fatty sausages, delicious frozen custard, beer at every turn, and a propensity for deep-frying everything, it's not a shock that Milwaukee is the 25th least healthy city in America, according to a recent article. Maybe join a gym near your new residence.
There is an excellent arts scene.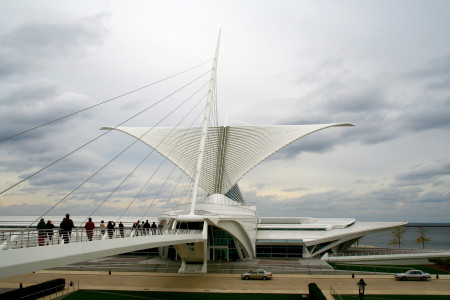 No, we're not talking about the Bronze Fonz. The Milwaukee Art Museum houses a fantastic collection of works, and is also home to the stunning Quadracci Pavilion, which was the first Santiago Calatrava masterpiece completed in the United States.
There is a top-secret spy bar.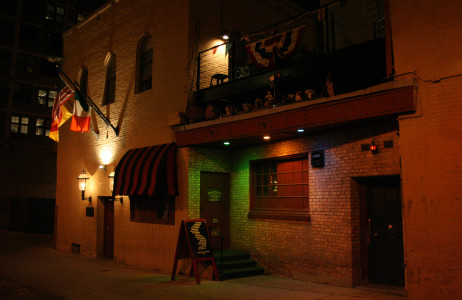 Some clubs require a cover charge; the Safe House Restaurant/Nightclub in Milwaukee requires a password. After entering an inconspicuous door near a sign for "International Exports Ltd.," you'll need to utter the secret words or perform some semi-embarrassing task before you're allowed into this spy-themed hotspot.
Water, water everywhere!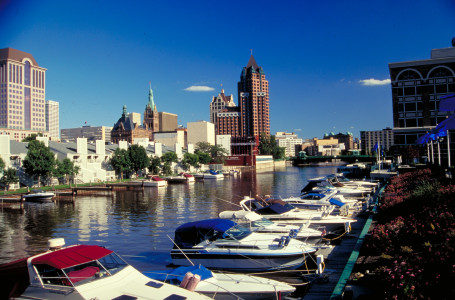 When you think Milwaukee, snow and ice probably come to mind before beaches and boating do. But water actually surrounds the city, and you can take advantage of it all summer by checking out the many Lake Michigan beaches or floating down the Milwaukee River on a booze cruise.
Brewers opening day is a citywide holiday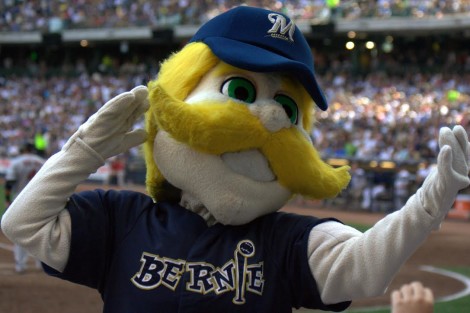 One spring day each year, office buildings go empty and tumbleweeds roll down the streets as almost everyone heads to Miller Park to tailgate for hours, take in a ballgame, then head for the bars. If only the team's performance were as strong as the city's love for them…
Ready to move to Milwaukee? Whether you're looking for an ultra modern condo or a house with a yard, you'll find Estately.com or the Estately App are the best ways to find a home in Milwaukee. 
– – – – – – – – – – – – – – – – – – – – – – – – – – – – – – – – –  
OTHER ARTICLES BY ESTATELY
29 Reasons You Should Live in Wisconsin