Mapping Each State's Most Embarrassing Google Searches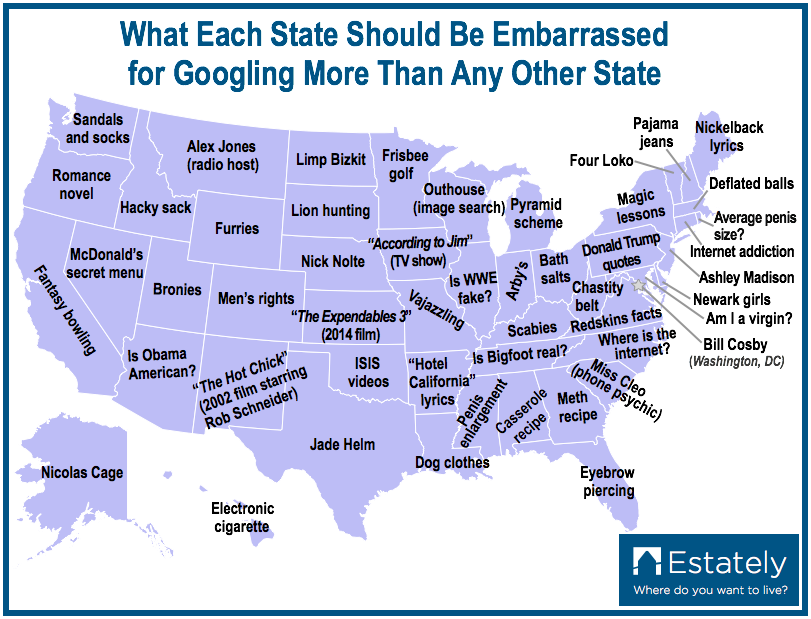 Every U.S. state has its own unique interests and curiosities, and that's especially true when it comes to internet searches. To highlight those differences we here at the real estate search site Estately dug through 11 years of Google search data to see which terms users in each state Googled more than any other. Each of these terms was selected because we deemed them particularly embarrassing or shameful.
While each state was unique we found there were some geographical trends. The Pacific and Mountain West are lands filled with nerds, the South is insecure about its manhood, states in the Appalachian Mountains are concerned about various vermin on their bodies, and the Midwest has terrible taste in movies. Strangely, only Delaware was relatively free of embarrassing search terms, which is obviously a red flag that our study is flawed. Regardless, you can continue reading to see what other terms each state can't help but search online for. And who knows, this may even help you decide what state you want to move to and shop for a home—using Estately, of course.
ALABAMA: What does Alabama mean? / Casserole recipe
Analysis: "Alabama" is loosely translated as "Land of Casseroles."
ALASKA: Nicolas Cage / outhouse
Analysis: Is he reading a magazine in there? It's 30 degrees below zero. C'mon Nick, other people need to use the bathroom, too.
ARIZONA: Is Obama American?
Analysis: Yes. Yes, he is.
ARKANSAS: Lunchables / Is Obama Muslim? / Hotel California chords / Hotel California lyrics / "19 Kids and Counting" (reality TV show) / "Toddlers and Tiaras" (reality TV show) / Josh Duggar
Terrible TV show idea: The Duggar family from "19 Kids and Counting" return to primetime as an Eagles cover band.
CALIFORNIA: How to vape? / Carl's Jr. (fast food chain) / James Franco (actor) / Justin Bieber (musical artist) / fantasy bowling / Mexican costume / Asian costume / L. Ron Hubbard / Scientology / Kim Kardashian / Paris Hilton
Analysis: So awkward when another celebrity shows up at the same Halloween party wearing an identically racist Halloween costume.
COLORADO: Vape pen / Crocs (the shoes) / Men's rights / Men's rights movement
Analysis: If you're a man in Colorado wearing crocs and puffing on your vape pen you deserve to have your rights taken away.
CONNECTICUT: Internet addiction / Jerry Springer / Spin Doctors (band) / Crazy Town (band)
Analysis: Bad TV and music are the gateways to internet addiction.
DELAWARE: Newark girls
Analysis: If you from outside Delaware the worst way to to impress girls from Newark is to tell them about all the weird stuff people in your state look up on the internet.
DISTRICT OF COLUMBIA: Snuggie / Bill Cosby (comedian/rapist) / Vladimir Putin (image search)
Analysis: Bill Cosby is a horrible man, and Vladimir Putin should cover up his man tats with a snuggie when he goes horseback riding.
FLORIDA: Lunchables coupons / eyebrow piercing / Home Shopping Network / "A Good Day to Die Hard" (2014 movie) / tongue piercing / Warren Sapp (NFL player)
Analysis: "Hey, Mildred… You know what will really get a rise out of the grandkids when they come to visit is if we get some trashy body piercings. Let's see if we can buy one on Home Shopping Network…"
GEORGIA: Herpes / divorce lawyer / meth recipe / "Here Comes Honey Boo Boo" (reality TV show) / athlete's foot / Will the South rise again?
Analysis: Looks like General Sherman isn't the only person who's burned Atlanta.
HAWAII: electronic cigarette / vape / Flowbee
Analysis: A Flowbee is an electrically powered vacuum cleaner attachment made to cut hair and it won't make you look half as stupid as vaping will.
IDAHO: Eagles (band) / hacky sack / brony
Analysis: You've got two options this Friday night in Idaho. You can hang out in the parking lot playing hacky sack while trying to score tickets to the Eagles concert, or you can stay home with your creepy Uncle Larry and watch "My Little Pony" together.
ILLINOIS: Jim Belushi / "The Jerry Springer Show" (TV show/paternity test) / Carly Rae Jepsen / Is WWE fake?
Analysis: Today on a very special episode of "The Jerry Springer Show" we'll find out whether Jim Belushi is the father of Carly Rae Jepsen's baby.
INDIANA: How big is average? / Arby's / Jared Fogle / Where is Syria? / Where is Africa? / free tattoo ideas / white civil rights
Analysis: Indiana has replaced Florida as the American dumpster fire that glows the brightest.
IOWA: ISIS (terrorist organization) / "According to Jim" (cancelled TV show) / Jock Jams (albums)
Analysis: Not surprised to learn ISIS uses "According to Jim" to turn people against America.
KANSAS: Fred Phelps (a$$#@!e) / The Expendables 3 (movie)
Analysis: You know who turned out to be expendable? Fred Phelps.
KENTUCKY: Scabies (tied with West Virginia) / Creed (band) / Billy Ray Cyrus (country music's George Michael) / Is Obama the antichrist?
Analysis: Curious internet searches are abundant along the Appalachian Scabies Belt.
LOUISIANA: Steven Seagal (actor) / dog clothes
Analysis: Steven Seagal can shower his dog in all the expensive clothing he wants, but it will never make up for forcing her to watch "Exit Wounds" three times in an afternoon.
MAINE: Nickelback lyrics / Good Charlotte / disc golf
Analysis: So embarrassing when a classmate uses the same Nickelback lyrics as his yearbook quote as you do.
MARYLAND: Pleated pants / crabs louse (not the edible crabs Maryland is famous for) / Am I a virgin?
Analysis: The best way for teen boys to remain virgins and avoid getting crabs is to keep those pleated pants on.
MASSACHUSETTS: Donald Trump president / "Grown Ups 2" (2013 movie) / deflated balls
Analysis: Donald Trump carries the Northeastern states by promising his first executive act will be to pardon Tom Brady for Deflategate.
MICHIGAN: Bigfoot evidence / pyramid scheme / Little Caesars (pizza chain) / Lou Bega—"Mambo No. 5 (A Little Bit Of)"
Analysis: If you can lure Bigfoot out of the woods with pizza and catchy songs you can probably convince him to invest in your pyramid scheme.
MINNESOTA: Frisbee golf / frolfing / fantasy golf / hot carl
Analysis: The average date in Minnesota starts off with a little Frisbee golf, but that is not how it ends.
MISSISSIPPI: Gonorrhea / chlamydia / feet photos (image search) / penis enlargement / male enhancement / R. Kelly (musical performer) / Aryan Brotherhood / Blind Melon (band)
Analysis: Yikes.
MISSOURI: George Foreman Grill / vajazzling / fake moustache
Analysis: A fancy dinner date at home includes using a hot glue gun to get dressed up, and then cooking a gourmet meal on the George Foreman Grill. Stay classy, Missouri.
MONTANA: Alex Jones (radio host) / Infowars (conspiracy site) / Methamphetamines / The Offspring (faux punk band) / Where is Canada?
Analysis: Using meth can make you paranoid, as well as impact your musical taste and basic geography knowledge.
NEBRASKA: Nick Nolte
Analysis: We're all hoping Another 48 Hrs becomes a trilogy, but Nebraska residents are the only ones really trying to make this happen.
NEVADA: McDonald's secret menu / white pride / Brendan Frasier (actor) / Guy Fieri (chef)
Analysis: The existence of Guy Fieri can't be helping the white pride movement's recruitment efforts
NEW HAMPSHIRE: Pajama jeans
Analysis: Also known as New Hampshire lingerie.
NEW JERSEY: Ashley Madison (website for affairs) / pubic lice / Jonas Brothers lyrics / frosted tips
Analysis: Maybe your wife won't sleep with you because you frost your tips, recite Jonas Brother lyrics, and your body is prime habitat for nasty crotch critters?
NEW MEXICO: "The Hot Chick" (2002 film starring Rob Schneider) / Slipknot (band) / Slipknot lyrics / Insane Clown Posse (rap group) / Juggalos
Analysis: New Mexico's Juggalo breeding program has made incredible strides of late.
NEW YORK: Donald Trump (blowhard) / Hugh Grant (actor) / magic lessons / Shake Weight (exercise device) / Snuggie Sutra / chlamydia / Gwyneth Paltrow (organic colonic promoter)
Analysis: Much of New York's internet searches for "Donald Trump" are no doubt being done by Donald Trump.
NORTH CAROLINA: Where is the internet? / Nicholas Sparks
Analysis: ???
NORTH DAKOTA: Fergie / dog breeding / blonde jokes / Limp Bizkit
Analysis: These searches are not Fergalicious. Nothing is. It's a stupid word.
OHIO: Subway (fast food chain) / monkey porn / Baconator (Wendy's food item) / bath salts (as in the drug)
Analysis: Things are getting out of hand in Ohio.
OKLAHOMA: Supernumary nipple (third nipple) / ISIS videos / Toby Keith / pumpkin spice latte / Westboro Baptist Church
Analysis: Looking up religious lunatics on the internet will help take your mind off that embarrassing third nipple.
OREGON: Romance novel
Analysis: Oregon, you're never going to meet someone if you just stay inside reading your romance novels to your cats.
PENNSYLVANIA: "Celebrity Boxing" (TV show) / Furry Convention / Donald Trump quotes / hipster quiz / "The Apprentice" (reality TV show) / Limp Bizkit lyrics / Good Charlotte lyrics / Goo Goo Dolls (band) / Maroon 5 (band) / devil sticks (those sticks hippies juggle in parking lots at concerts) / patchouli oil
Analysis: Do not let Pennsylvania crash on your couch.
RHODE ISLAND: Average penis size / Dane Cook / Curt Schilling
Analysis: Average is probably being optimistic.
SOUTH CAROLINA: Hootie and the Blowfish (band) / Miss Cleo (telephone psychic)
Analysis: Why didn't Miss Cleo tell us Darius Rucker was going to go solo?
SOUTH DAKOTA: Lion hunting / Nickelback (band) / Where is South Dakota?
Terrible idea: How about we make a second Mt. Rushmore, but instead of presidents it's the members of Nickelback?
TENNESSEE: Is Bigfoot real? / Obama conspiracies / Where is the G spot?
Analysis: One of these is a real thing.
TEXAS: Matthew McConaughey quotes / Jade Helm / Pimp Juice / Extenze pills / hot dog pizza crust / CiCi's Pizza Buffet / skunk hair / porn / Is WWE real? / contract killing
Analysis: Perhaps the U.S. government's long-planned invasion of Texas isn't to confiscate all the guns, but instead it's to get all that terrible pizza.
UTAH: Video game addiction / unicorn pictures / Razor scooter / moustache / Dilbert (comic strip) / traditional marriage / bronies
Analysis: Nerds.
VERMONT: Four Loko / juggling / age of consent
Analysis: The man in the van promising Four Loko and offering juggling lessons is a pervert.
VIRGINIA: Redskins Facts / Jonas Brothers (band) / Avril Lavigne (music artist) / Virginia sucks / Is Virginia for lovers? / armpit (image search)
Analysis: Is Virginia for lovers? It is provided you're into armpits and bad music.
WASHINGTON: Socks in sandals / moving to Canada / Canada / Soylent (liquid meals)
Analysis: Perhaps those polite Canadians will be more accepting those who wear wool socks with their Teva sandals.
WEST VIRGINIA: Hot Pockets / lice / scabies (tied with Kentucky) / skin rash (image search) / "Beavis and Butt-head" (animated TV show) / tattoo ideas / gay jokes / black jokes / chastity belt / "Who Let the Dogs Out?" (song)
Analysis: Come for the prejudice, but stay for the vermin.
WISCONSIN: "The Big Lebowski" quotes / polka / outhouse (image search)
Analysis: Still quoting "The Big Lebowski," Wisconsin. That's mature.
WYOMING: Furries
Analysis: " Allow me to slip into something more comfortable" = putting on an animal mascot costume.
The wonders of the internet extend well beyond our nation's twisted search history. Empower your own home search with Estately.com.