Marin County, located in the North San Francisco Bay Area, has a reputation for wealth, natural beauty and liberal politics. It has been the subject of Buzzfeed articles, Thought Catalogue posts and love letters in the Huffington Post. With all the hype and its many famous residents it's hard to imagine why not to settle in this idyllic county. However, we here at Estately have a few reasons you might want to take into consideration.
1. D
a nuh Da nuh
Known for its natural beauty, many cite Tomales Bay, Stinson Beach, Duxbury Reef and Bolinas as assets to the Marin County shoreline. A recent study begs to differ. The study suggests that great white sharks are returning in abundance to the Pacific Ocean and puts the number prowling the Marin coastal waters near 2,400. You might want a bigger boat.
2. Night Life
After local Denny's, the only 24-hour sit-down restaurant in Marin, closed the only place to go after 10 p.m. for those under 21 is In-N-Out.
3. Night Life Pt. 2
Teachers and their former students are more likely to run into each other than eligible singles at the local dive bar, the Silver Peso.
4. A cell block with a view
Speaking of eligible bachelors, there are 4,260 of them all in one convenient location, except for one small detail… they're behind bars at the maximum security prison San Quentin. On the bright side, the prison rests on 432 acres that overlook the scenic San Francisco Bay… only in Marin. Check out the prison's Yelp reviews for the full lowdown.
5. The bubble effect
You'd think the proximity to San Francisco would encourage Marinites to visit the city more often. The Marin bubble is stronger than most anticipate, and traffic and $7 bridge tolls will quickly discourage visits across the Golden Gate.
6. Hot-tubbers
You probably don't want to associate with a county George Bush senior has described as full of "some misguided Marin county hot-tubbers." Especially since the same county was so enraged they later received an apology from the former president saying, "Call off the dogs, please. I surrender. I apologise. I am chastened and will never use 'hot tub' and 'Marin county' in the same sentence again." Yes, Marinites are just that ferocious, though they usually reserve their anger for non-organic produce.
7. Where donuts go to die
For the fifth year running, the Robert Wood Johnson Foundation has ranked Marin the healthiest county in California. Talk about pressure. Who wants to give up their cheese stuffed crust to keep the bar that high?
8. Dream crusher
Okay, so maybe being healthy isn't the worst thing in the world, but who wants their kids attending a school who's graduating class is rumored to have voted beloved local comedian Robin Williams least likely to succeed? We're looking at you Redwood High School.
9. T
he criminal mastermind next door
While undeniably fun to read about from afar, you probably don't want to live in the county that this criminal emerged from. Max Wade, 17 years old at the time, who went from selling fake IDs to rappelling down to a second floor dealership showroom  in San Francisco and driving Guy Fieri's yellow $220,000 Lamborghini out the front door. When police found the car in a storage locker a year later they also discovered guns, disguises, cell phone jammers, police scanners, dismantled assault weapons, and a full San Francisco police uniform. The story gets weirder: when Wade was in Marin County Juvenile Hall two suspects tried to break him out on his 18th birthday with a sledgehammer. He has also been the subject of a music video. Wade was sentenced for the theft and the gun-ambush of two Marin teens, one of whom was dating his love interest.
10. Terminating the Governator
Marin was one of six California counties not to vote for Arnold Schwarzenegger as governor in 2006. The Governor lost the county by 2,000 votes. Now that The Terminator has nothing but free time on his hands, will he travel back to seek revenge?
11. Hippie-haven?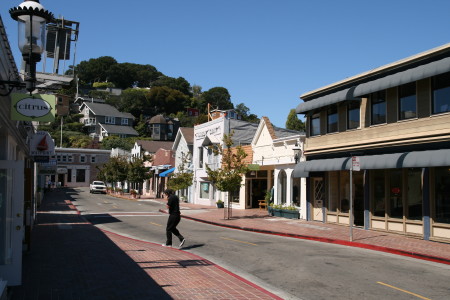 Though Marin has a reputation for being a hippie haven, it hasn't seen those days since the Grateful Dead were in their heyday. The most exciting things happening now are events like the controversy caused by Tiburon voting to spend $200,000 to place six security cameras at strategic points along the two roads in and out of the town. They claim it's to prevent stolen cars from passing through and to be fair they did catch Guy Fieri's stolen Lamborghini on camera.
12. Really, though?
Lastly, because of these items up on Thought Catalog articles titled "113 Signs You're From Marin County"
"4. You spend $100 on Lulu pants because 'it is SO worth it'…
6. Novato is considered the ghetto
7. You got a car for your 16th birthday"
For the record, Novato houses look like this: