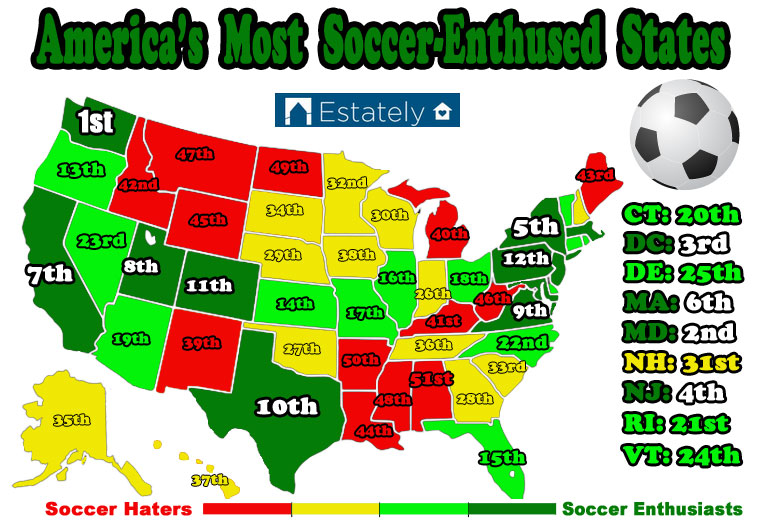 When it comes to soccer, America is a country divided. Some states are downright European in their embrace of the beautiful game, while others have shunned it like it was blood sausage in an English breakfast. In Washington State, it's completely acceptable to leave work early to watch the World Cup at a nearby pub. In Alabama, that just might get you tossed off the side of the oil rig.
With this in mind, the real estate search site Estately set out to determine which states were home to a higher percentage of soccer enthusiasts, and which still believe it's not a sport if you can't use your hands. To decide on our rankings we used the following seven criteria:
Average attendance for Major League Soccer and National Women's Soccer League matches.
The number of soccer-friendly pubs per capita, as determined by Live Soccer TV and Wrong Side of the Pond's Soccer Pub Atlas.
The number of Facebook users per capita in each state expressing interest in FIFA World Cup, soccer, Major League Soccer, and any MLS team.
The number of youth soccer clubs per capita.
Facebook interest in the most popular foreign teams: Manchester United FC, FC Barcelona, Real Madrid CF, Chelsea FC, Arsenal FC, AC Milan, Liverpool FC, Inter Milan, Juventus FC, and FC Bayern Munich.
Google searches for FIFA World Cup, U.S. soccer roster, World Cup schedule, adult soccer league, FIFA (video game series), and FIFA 14 (video game).
The number of professional men's and women's soccer teams per capita from Major League Soccer, National Women's Soccer League, North American Soccer League, and USL Pro.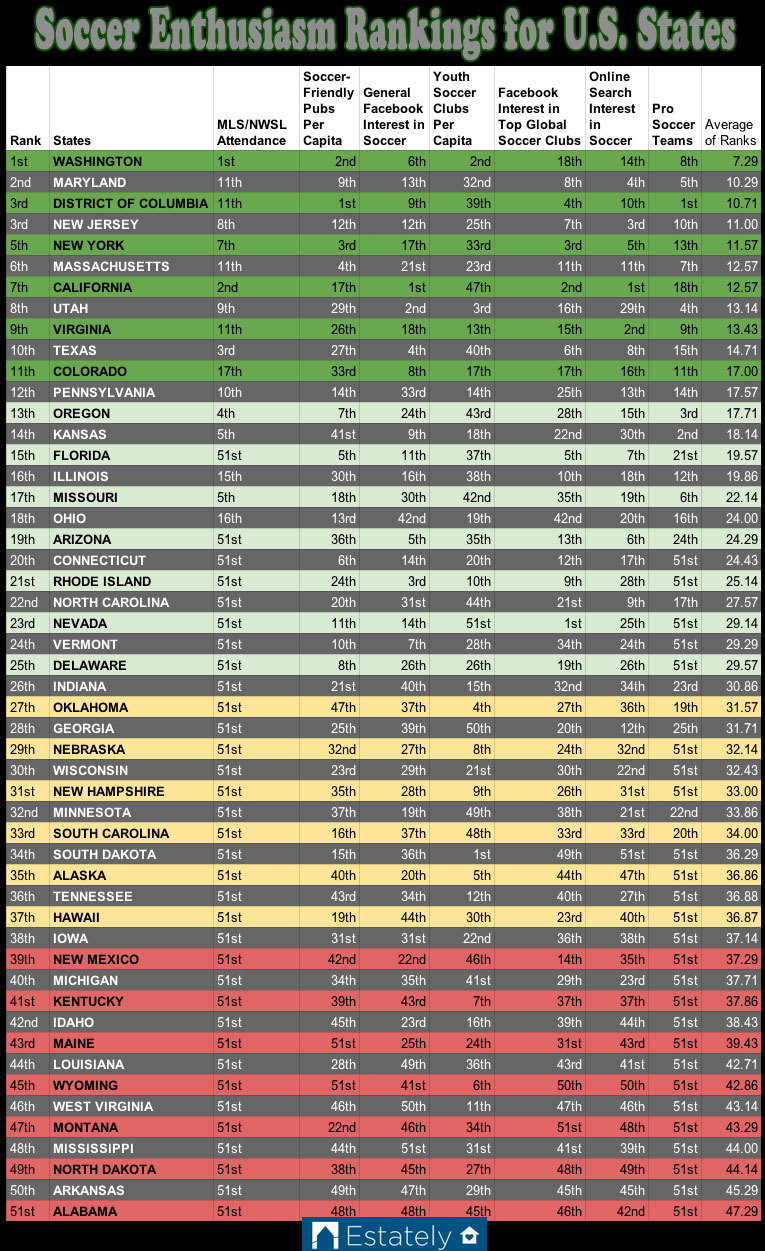 In the end, Washington State came out on top for love of soccer, while Alabama was first for utter general disdain of the sport. Soccer enthusiasm tends to follow the typical blue state/red state divide, with the exception of Texas, which readily embraces the sport. Money may also be a factor, with wealthier states exhibiting more love for soccer than states with lower incomes. Or, it could be that states with higher numbers of foreign-born residents have more enthusiasm for soccer. America is a mysterious place.
Whether you're the type to wake up early to watch every World Cup match live, or you think it's a jailable offense to turn off a baseball game to show soccer, there's a home for you somewhere in America. And if you can't make up your mind, consider Vermont (24th), Delaware (25th), or Indiana (26th) because they can't decide whether they like soccer or not either.
– – – – – – – – – – – – – – – – – – – – – – – – – – – – – – – – –
Estately is a national online real estate search site whose articles have been featured in the The Wall Street Journal, CNET, NPR, Houston Chronicle, NBC News, GeekWire, and more.