Atlanta Area Home Prices by Transit Stop
It's no secret Atlanta-area home prices are rising, but Estately wanted to show how those prices vary depending on which transit stop a home is near. To do this, Estately analyzed the last six months of home sales for houses, townhouses, and condos within a one-mile radius of each transit stop on Atlanta's Red, Gold, Green and Blue Lines. We then broke them down by price per square foot.
At an average of $271 per square foot, the Arts Center stop on the Red and Gold Line is the Atlanta area's most expensive transit stop to buy a home near. The Hamilton E. Holmes stop on the Blue Line was the least expensive at $24 per square foot on average.
Overall, home prices along the Gold Line had the highest average price per square foot—$159.00, followed by Red Line—$156.50, Green Line—$154.60, and Blue Line—$152.80.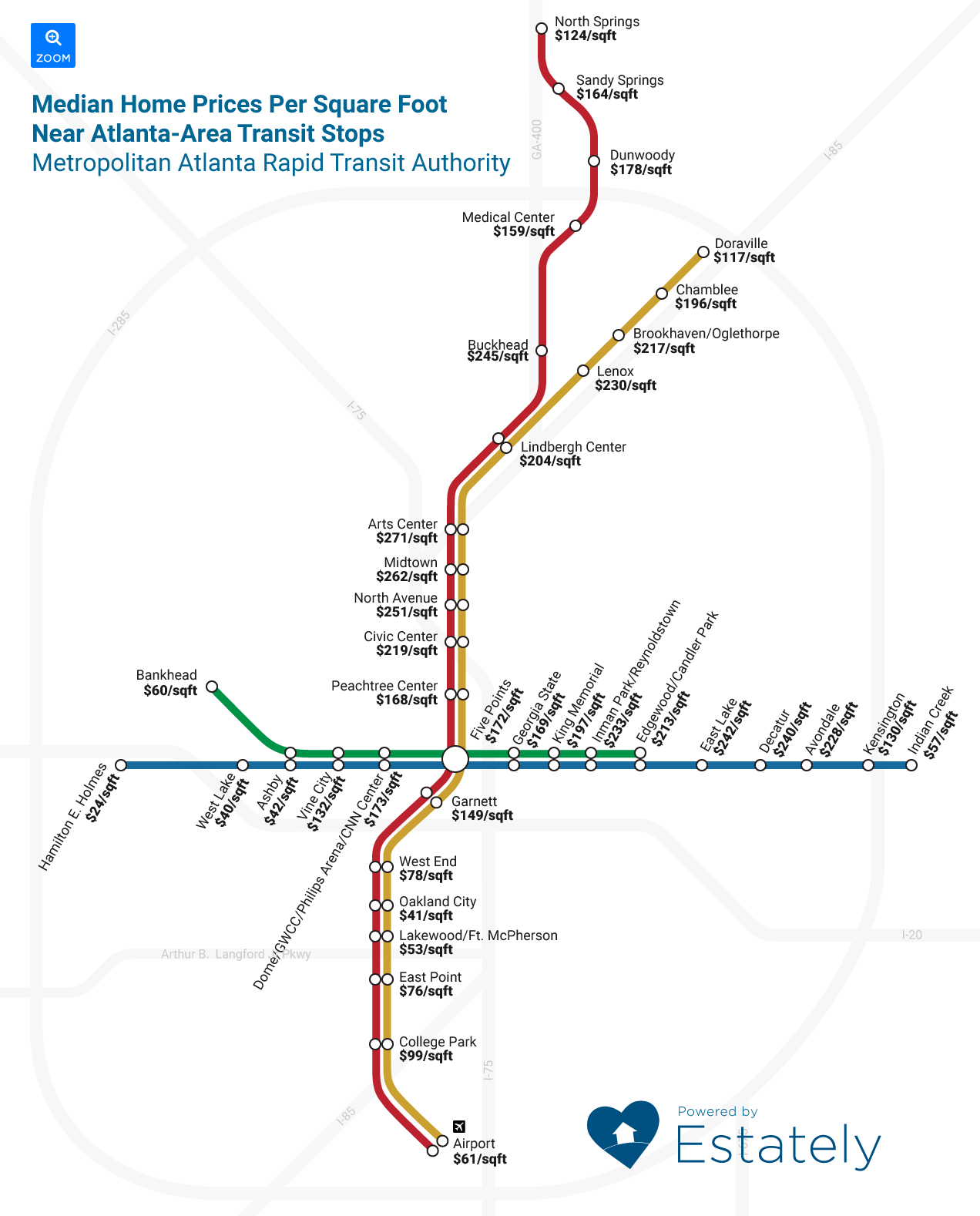 Top ten most expensive Atlanta stops
| | | | | |
| --- | --- | --- | --- | --- |
| Arts Center | | $265,000 | $271 | Northeast Atlanta |
| Midtown | | $245,000 | $262 | Northeast Atlanta |
| North Avenue | | $230,000 | $251 | Northeast Atlanta |
| Buckhead | | $287,000 | $245 | North Buckhead |
| East Lake | | $450,000 | $242 | Eastside |
| Decatur | | $460,000 | $240 | Downtown Decatur |
| Inman Park / Reynoldstown | | $325,000 | $233 | Eastside |
| Lenox | | $320,000 | $230 | Pine Hills |
| Avondale | | $379,000 | $228 | Sycamore Street |
| Civic Center | | $201,950 | $219 | Downtown Atlanta |
Top ten least expensive Atlanta stops
| | | | | |
| --- | --- | --- | --- | --- |
| Hamilton E. Holmes | | $21,000 | $24 | Harland Terrace |
| West Lake | | $42,137 | $40 | Northwest Atlanta |
| Oakland City | | $43,075 | $41 | Intown South |
| Ashby | | $39,500 | $42 | Westside |
| Lakewood / Ft. McPherson | | $65,000 | $53 | Intown South |
| Indian Creek | | $92,750 | $57 | Stone Mountain |
| Bankhead | | $47,040 | $60 | Northwest Atlanta |
| Airport | | $184,950 | $61 | College Park |
| East Point | | $95,000 | $76 | East Point |
| West End | | $115,000 | $78 | Intown South |