Finally, All 50 States Ranked from Worst to Best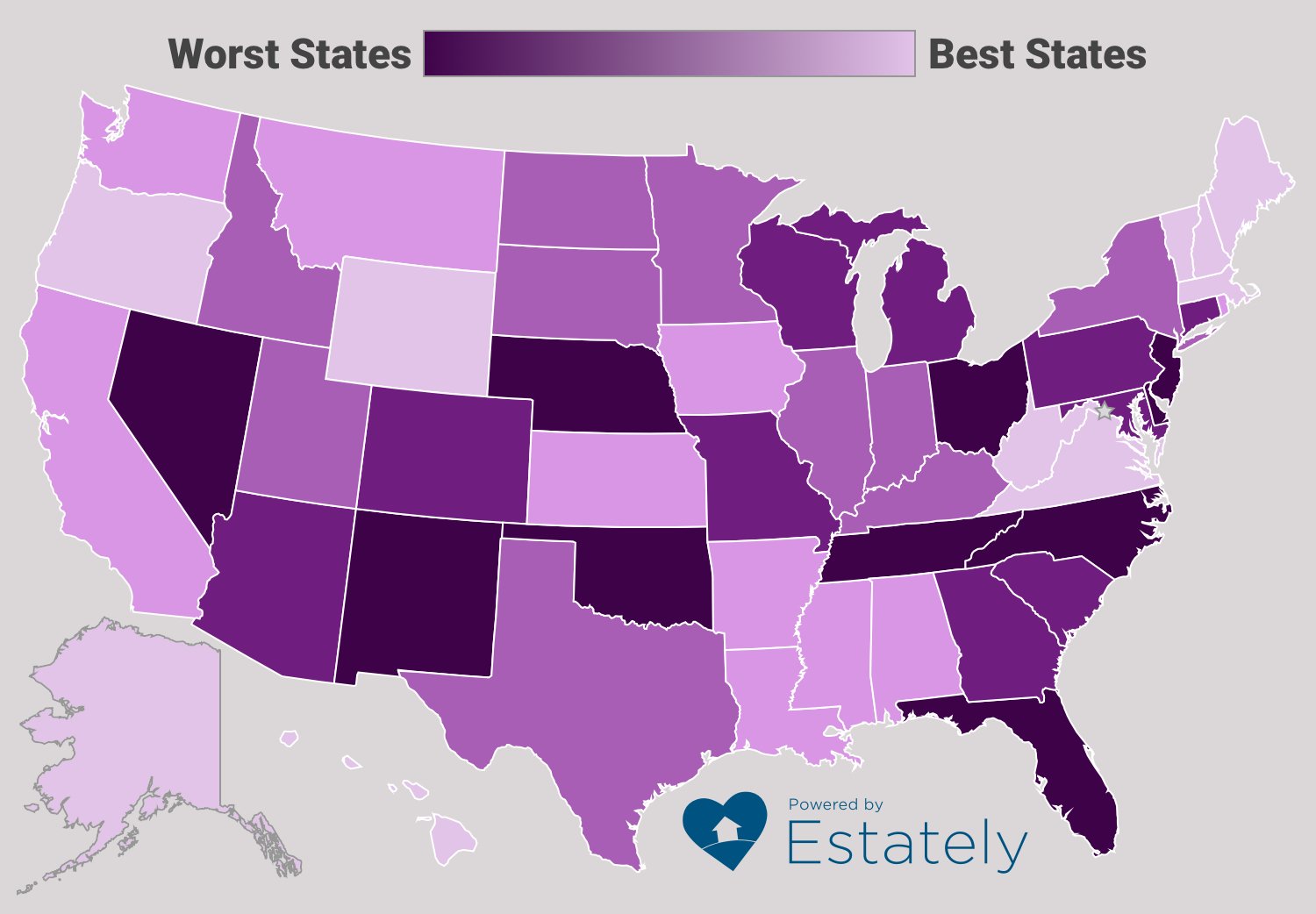 Attempting to rank all 50 U.S. states (and the District of Columbia) from worst to best is definitely a challenge. There are so many things to factor in, and people will definitely criticize you for being subjective… until now. Somehow Estately accomplished the impossible and has successfully ranked each state from absolute worst to complete best using the following eight factors.
Arby's locations per capita (source: Arby's)
Vape shops per capita (source: Yellow Pages)
Google searches by people looking to buy a hoverboard (source: Google Trends)
Google searches for egg salad recipes (source: Google Trends)
Total number of Nickelback concerts per capita held in each state (source: Wikipedia)
Facebook fans of singer Chris Brown (source: Facebook)
Magicians per capita (source: Yellow Pages)
People expressing interest in goop, Gwyneth Paltrow's lifestyle publication (source: Facebook)
In the end, Nevada claims the title of The Worst State in America, with Oklahoma and Nebraska close behind, followed by Ohio and Delaware.
As for the best, New Hampshire lays claim to the title of The Best State in America, followed by Oregon and the District of Columbia, which technically isn't a state, but maybe it should be since it's measurably better than 48 actual states. You will find our complete rankings below, as well as how each state ranked for each of our eight criteria.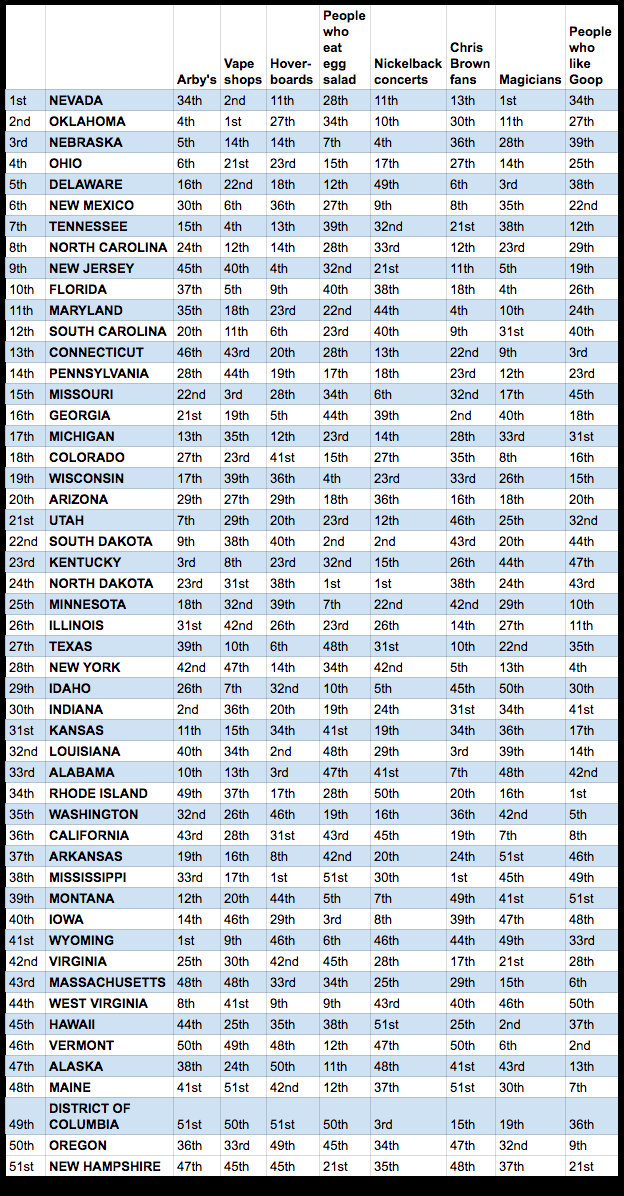 If there's one state in the country that should be abandoned, it's Nevada. The state is crawling with magicians, all hoping to become the next Criss Angel, who performs nine shows a week in Las Vegas, and spells his first name in the worst possible way.
When Oklahomans isn't stealing professional basketball teams from other states, they're standing in front of their office puffing on e-cigarettes like chumps sent from the future; a sad and miserable future.
What do people in Nebraska do besides root for the Cornhuskers? Apparently they snack on egg salad sandwiches at Nickelback concerts.
You know who's thinking Arby's? Ohio. There are hundreds of chain restaurants to choose from in this country, so why would anyone choose to eat at Arby's? C'mon, Ohio!
There are few ways to advertise that you're a bad person as effectively as being a Chris Brown fan, and they're sadly abundant in Delaware. If only one of the state's many magicians could somehow make Chris Brown disappear.
People in New Mexico thankfully don't spend much time perusing the overpriced absurdities on Goop, Gwyneth Paltrow's lifestyle blog, but perhaps that's because they're too busy vaping at Nickelback concerts.
Riding your hoverboard (self-balancing scooter) through the drive-thru at Arby's while shouting, "They have the meats!!!" is an ordinary daily endeavor for many people in Tennessee.
North Carolina doesn't crack the top ten in any of the eight categories, but they're consistently terrible in all factors listed here.
Ever seen a New Jersey magician do that magic trick where he makes his hoverboard suddenly catch fire?
We didn't even factor in meth, alligator attacks, or the Miami Dolphins' running game, and Florida still cracked the top ten.