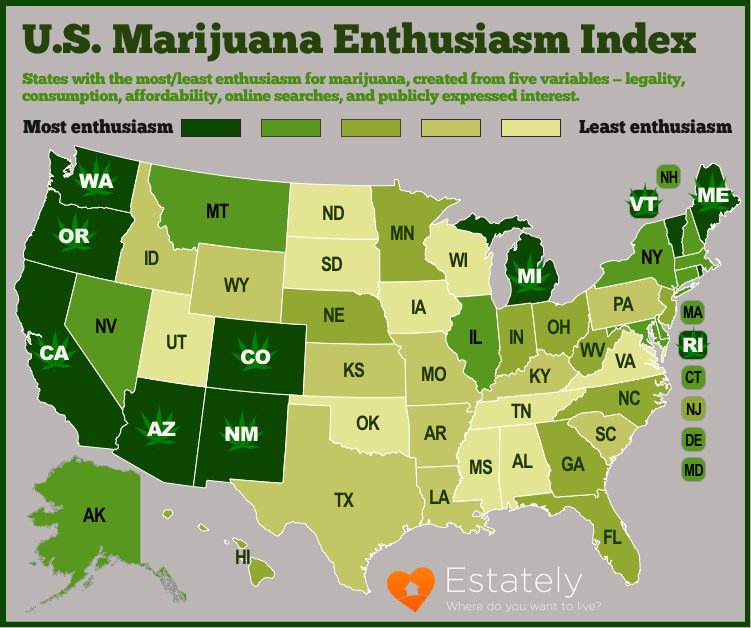 Recreational marijuana is legal in only four U.S. states (and the District of Columbia), but its use stretches much farther than that. With its popularity growing, and more states leaning toward legalizing it, Estately set out to map which states are the best places for marijuana enthusiasts to live and buy a home. To do this we gave each state a score from 1-100 based on the following five criteria. Then we added up the scores to determine our final rankings.
Marijuana users—percentage of people reporting marijuana use in the previous month (source: Substance Abuse and Mental Health Services Administration)
Marijuana affordability—average cost of high quality and low quality marijuana (source: PriceofWeed.com)
Interest in Marijuana—Cannabis-related Google searches (source: Google Trends)
Legal status of marijuana—recreational, medicinal, decriminalized, illegal (source: Drug Policy Alliance)
Publicly expressed interest in Marijuana—Facebook interest in marijuana-themed publications—High Times, Cannabis Now Magazine, 420 Magazine, Cannabis Culture, SKUNK Magazine (source: Facebook user data)
Geographically, marijuana enthusiasm is highest in the West and the Northeast. When it comes to states that do not embrace marijuana, they are largely rural and Southern states. Utah is an outlier out West, but it might be getting a contact high when the winds blow in from neighboring states. Wisconsin stands in stark contrast to Michigan, but perhaps that's because Wisconsin residents are too busy drinking to pay much attention to Michigan's enthusiasm for weed.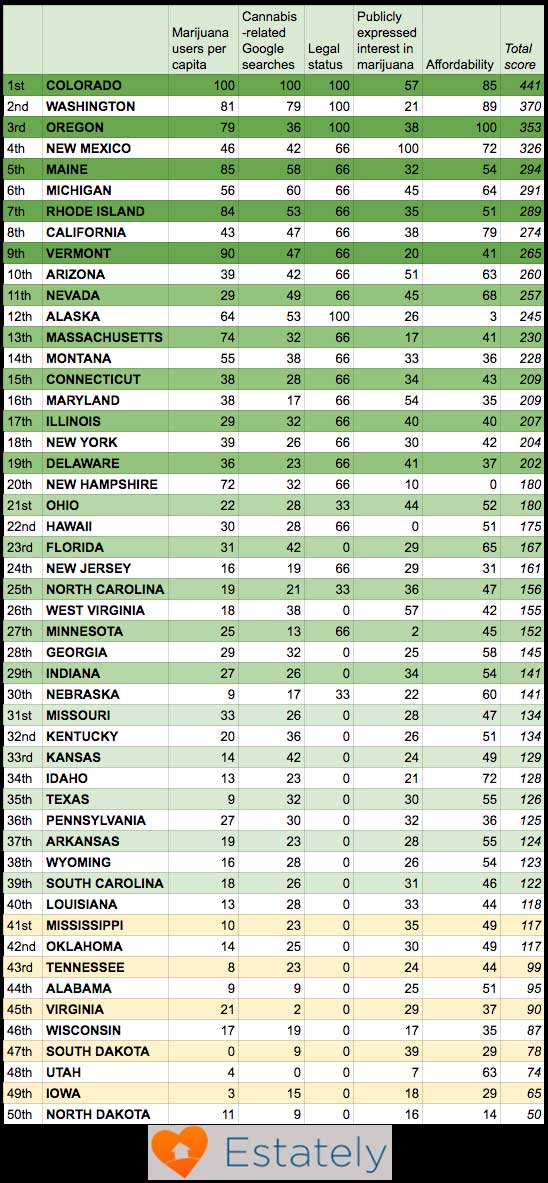 1. COLORADO
We're going to skip the obligatory "Rocky Mountain high" pun and get right to why Colorado is the nation's top oasis for marijuana lovers. Recreational weed is legal in Colorado, and it has the most cannabis-related Google searches, the highest percentage of residents who smoked in the past month (11.45%), second-most expressed interest in various marijuana publications on Facebook, and it's affordably priced— third-cheapest marijuana prices in the country. The local NBA team is even named the Denver Nuggets.
2. WASHINGTON
Along with Colorado, The Evergreen State was the first to legalize marijuana, a trend that quickly expanded to both Oregon and Alaska. Marijuana prices are the second cheapest in the country here, and it has the fifth-highest percentage of pot smokers (9.94%). Its cannabis-related Google searches are the second-highest nationally, but it strangely has the tenth lowest expressed interest on Facebook. Perhaps Washingtonians' parents keep an eye on the Facebook posts a little more closely than in other states. It's purely speculative, but we'd argue that if the French scholar Alexis de Tokeville visited America today, instead of back in 1831, he might not have written about democracy in America, but instead about marijuana in America, and Washington is the geographic heart of the weed-friendly Pacific Northwest. Obviously, it would have been his destination of choice.
3. OREGON
Perhaps the reason Oregon only ranks only 17th in cannabis-related Google searches is that the state's marijuana knowledge is more nuanced, more rooted in the past (the 1960s). Marijuana is both legal and plentiful in Oregon, and it's also home to the cheapest weed in the country. Pot smokers make up 9.80% of the population, but maybe the other 90.2% just don't realize what a bargain it is in Oregon?
4. NEW MEXICO
New Mexico is famous for being the setting of the TV series Breaking Bad, but marijuana is thankfully far more popular than meth with local residents. Medical marijuana is legal in the state, the prices are tied for 5th cheapest with Idaho (where you'll go to jail for possession), and 7.19% of local residents are prone to rolling doobies in a van down by the river (or just ingesting marijuana in some way). According to Facebook data, New Mexico residents are more interested in marijuana-related publications than any other state. So don't be surprised when neighbors post articles from High Times instead of cat memes on your Facebook page.
5. MAINE
This is going to shock a lot of people in Vermont, but Maine's passion for pot is higher than its granola-fed neighbor to the southwest. While recreational marijuana remains illegal, medical marijuana is available to residents, although at prices that make Oregonians shudder (17th cheapest in the country). Over 10.2% of residents admit to using marijuana in the past month—the third highest in the country, and it's home to the fourth most frequent cannabis-related Google searches.
6. MICHIGAN
You have to go all the way back to 2011 to find a year when Michigan was ranked this much higher than Ohio, but that was in football, not weed (the University of Michigan ranked 12th, Ohio State University was unranked). Michigan tops Ohio (20th) in these rankings because medical marijuana is legal, as opposed to just decriminalized like in Ohio. The state has the 9th cheapest marijuana prices (Ohio 19th), the 10th most pot smokers—7.95% (Ohio 28th), the third most Google searches (Ohio 27th), and the sixth most expressed interest in various marijuana publications on Facebook (Ohio 8th).
7. RHODE ISLAND
Rhode Island would no doubt be ranked higher if the state's enthusiasm wasn't diluted by its enthusiasm for any and all illegal drugs. Still, there's nothing little about Little Rhody's enthusiasm for big green—10.8% reported smoking in the previous month. Marijuana is A-OK provided it's medicinally procured, but at prices that are only the 22nd cheapest in the country. Search histories will incriminate local cannabis enthusiasts—the 6th most related Google searches in the country.
8. CALIFORNIA
Would California be ranked higher if local rapper/producer Dr. Dre hadn't flip-flopped when it came to his stance on marijuana use? No, that wasn't factored into this at all. California only ranks eighth because it has yet to legalize marijuana (medical marijuana is legal though), it has the fourth-lowest marijuana prices, 13th most smokers—6.97%, eighth-most cannabis-related Google searches, and 13th most expressed interest in various marijuana publications on Facebook.
9. VERMONT
First off, let's get something straight—Vermont Senator Bernie Sanders is not an advocate of legal weed across America. The Vermont senator and Democratic presidential candidate do support the right of states to fully legalize it, but his personal support only extends to medical marijuana and the decriminalization of recreational marijuana. However, within the state of Vermont there is medical marijuana to be had, but at prices higher than all but 13 other states. Despite these high costs, Vermont is home to second-most pot users per capita—10.69%, and local residents research cannabis on the old world wide web with more frequency than 41 other states.
10. ARIZONA
Wow, look who just barely slipped into the top ten, a state more famous for its putting greens than its leafy greens. Even though recreational marijuana isn't legal here like it is in Alaska (12th place), it does have medical marijuana available. The state has the 11th cheapest weed prices, the 10th most cannabis-related Google searches, the fifth most expressed interest in various marijuana publications on Facebook, and the 15th most pot smokers—6.61%.
Looking to buy a home in a state where marijuana users are plentiful, or possibly where they are few and far between? Estately makes it easy to find a home for sale with its award-winning real estate search. Check Estately.com. Your dream home might just be a click away.