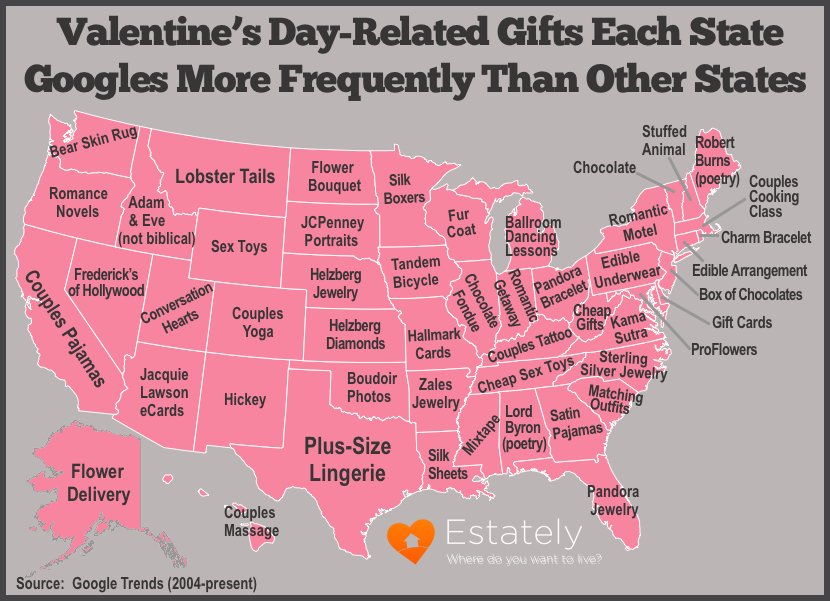 Valentine's Day is nearly upon us, which means millions of Americans are wondering what they will receive on this most romantic of days. It could be flowers or chocolates, or it could be something completely unexpected. Curiosity got the best of Estately, so we set out to find what Valentine's Day-related gifts people in each state Google more frequently than people in all other states. To do this we ran hundreds of possible gift-related search queries through Google Trends, which ranks how frequently people in each state search for each term online.
Hopefully, this information is of some use, such as to help you determine where you might like to search for a home for sale (with Estately, of course), or what type of gift you should be on the lookout for on Valentine's Day. Either way, please remember this doesn't show what people in each state Googled the most, it's what search term or terms people in each state Googled more frequently than people in all other states.
ALABAMA: Lord Byron (poetry)
ALASKA: flower delivery
ARIZONA: cubic zirconia rings, Jacquie Lawson cards
ARKANSAS: romance novels, Zale's jewelry
CALIFORNIA: gold, cubic zirconia jewelry, couples pajamas, heart-shaped sunglasses, bondage kit
COLORADO: platinum rings, fondue, dance lessons, couples yoga, aphrodisiac foods
CONNECTICUT: Edible Arrangements, smoking jacket
DELAWARE: gift card
FLORIDA: Pandora jewelry, Barry White songs
GEORGIA: satin pajamas, couples outfits
HAWAII: flower, platinum, pearls, pearl jewelry, Tahitian pearls, romantic comedy (movie genre), couples massage, tandem kayak
IDAHO: Adam & Eve (the online store, not the Adam & Eve from the Bible)
ILLINOIS: chocolate fondue
INDIANA: romantic gifts, romantic getaway, couples vacation, mood music,
IOWA: tandem bicycle
KANSAS: Helzberg Diamonds, Valentine's recipes
KENTUCKY: couples tattoos, 50 Shades of Grey (novel), 50 Shades of Grey (film), songs to ____ to, roses, porn for couples,
LOUISIANA: jewelry, men's jewelry (tie w/ Oklahoma), pearl earrings, adult sex toys, oysters, silk sheets, cheesecake
MAINE: lobster, lobster recipe, Maidenform, Robert Burns (poetry)
MARYLAND: ProFlowers (company), couples activities, Valentine's Day dinner, Sade (band), Sears portraits
MASSACHUSETTS: couples cooking class
MICHIGAN: ballroom dancing lessons
MINNESOTA: silk boxers, singing telegram
MISSISSIPPI: pearl necklace, cheap jewelry, cheap lingerie, men's cologne, mixtape
MISSOURI: Hallmark cards, couples resort, vejazzling
MONTANA: silver, lobster tails
NEBRASKA: Helzberg jewelry
NEVADA: Frederick's of Hollywood, corset, Boyz II Men, adult onesie, sexy costume
NEW HAMPSHIRE: stuffed animal
NEW JERSEY: long-stem roses, box of chocolate, chocolate gift, romantic movies, gift basket, wine gift basket
NEW MEXICO: hickey, Indiana jewelry, silver jewelry
NEW YORK: 1-800-FLOWERS, earrings, chocolate baskets, Harlequin books, wine delivery, couples spa package, Victoria's Secret, champagne, silk pajamas, candygram, romantic motel, perfume, romantic restaurants, mink coat
NORTH CAROLINA: sterling silver jewelry
NORTH DAKOTA: gifts for him, couples retreat, flower bouquet
OHIO: Pandora bracelet, romantic getaways
OKLAHOMA: Teleflora, men's jewelry (tie w/ Louisiana), relationship counseling, marriage counseling, boudoir photography, boudoir photos,
OREGON: poetry, romance novel, romance movies
PENNSYLVANIA: edible underwear, Hershey's Kisses
RHODE ISLAND: Pandora charms, charm bracelet, bracelet, couples dancing lessons, romantic hotel
SOUTH CAROLINA: matching outfits, how to be romantic
SOUTH DAKOTA: gold jewelry, Romeo and Juliet, JCPenney portraits
TENNESSEE: cheap sex toys
TEXAS: Valentines for him, edible panties, discount sex toys, plus-size lingerie
UTAH: cute valentines, men's rings, cubic zirconia, Sweethearts candy, Conversation Hearts, lingerie, couples games
VERMONT: chocolate, romantic movies
VIRGINIA: romance (TV show genre), Kama Sutra, romantic music, sexy songs
WASHINGTON: bear skin rug, platinum ring, red wine, sparkling wine, aphrodisiacs
WEST VIRGINIA: Valentine's Day ideas, cheap gifts, eCards, handcuffs, video games
WISCONSIN: teddy bear, fur coat
WYOMING: flowers, sex toys, adult toys, vibrator, bra, mail-order bride
Whether you choose to live in a state where people shower each other in chocolates and flowers, or in one where they buy discounted romantic novelty items, just be sure when it comes to finding your dream home you search online using Estately.com.