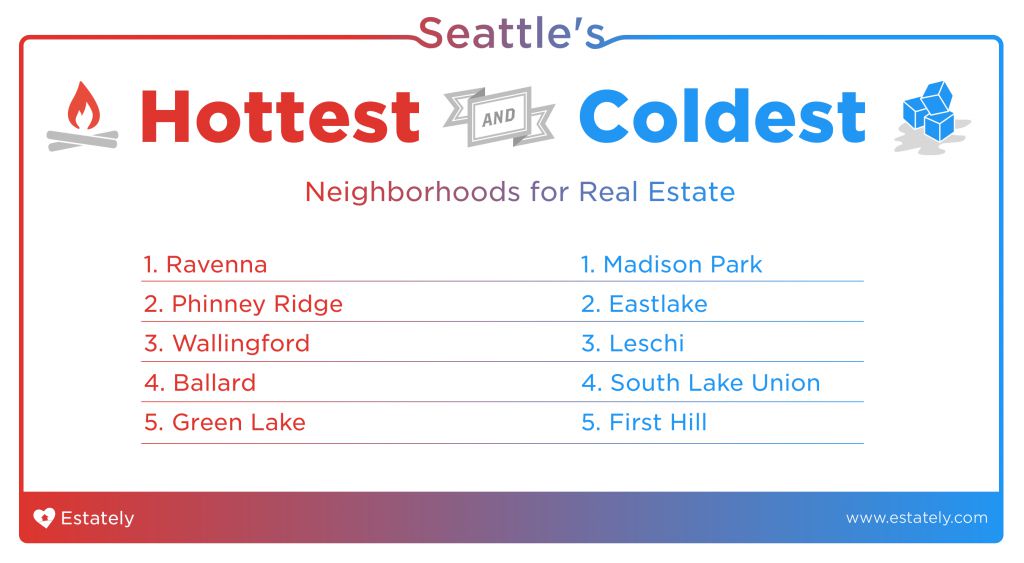 It's no secret to anyone shopping for a home in Seattle that the real estate market is one of the hottest in the country. However, while limited selection and rising prices are a city-wide phenomenon there are differences between real estate markets in the city's neighborhoods. To determine where home buyers face the toughest market conditions Estately poured over sold data from home sales for the past year to determine where each neighborhood ranked for the following three factors.
1. Percentage of homes that sold in under eight days
2. Percentage of homes that sold above asking price
3. Percentage difference between sold price and list price
The five hottest, or most competitive overall—Ravenna, Phinney Ridge, Wallingford, Ballard, and Green Lake—are all in neighborhoods with middle-tier median sale prices, and all saw the majority of homes sell in under eight days. This means bidding wars were common, and the list price was usually just a jumping off point.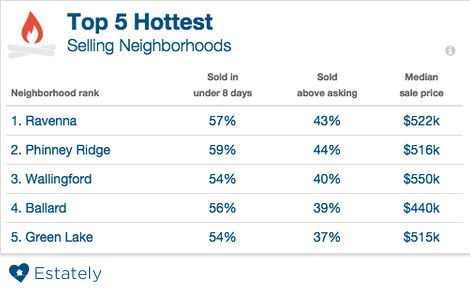 "Pretty much the entire Seattle market is hot right now, just some neighborhoods are merely hot and others are mind-blowingly competitive," said Estately CEO Galen Ward. "There are more people with more income all fighting to buy the same number of homes. Seattle's population—and its wealth—is growing a lot faster than new homes and apartments are getting built."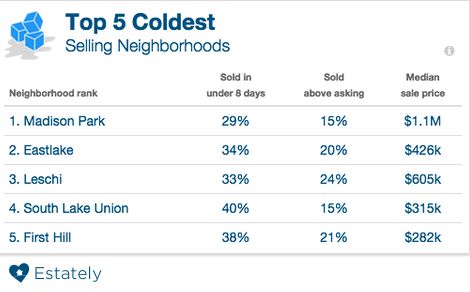 However, even in the city's five coldest neighborhoods—Madison Park, Eastlake, Leschi, South Lake Union, First Hill—it's still a competitive market. Some trends to note—people in wealthier neighborhoods like Leschi and Madison Park tend to overprice their homes so they don't sell as quickly, and rarely for over asking price. The same goes for neighborhoods with a high percentage of condos (Eastlake, South Lake Union, First Hill), which typically sell slower and for less.
"It's tough to be a home buyer right now," said Ward, "especially if you aren't already familiar with the market. Smart buyers are looking away from the hottest neighborhoods toward nearby areas, such as Rainier Valley and Highland Park, for more affordable homes."
Check out Estately's interactive map of Seattle's hottest neighborhoods HERE.
Estately.com is the best ways to search for your dream home.
OTHER ARTICLES FROM ESTATELY
37 Things You Should Know Before Moving to Seattle