A midlife crisis is not uncommon in men as they round second base in the baseball game that is life. Caused by a sudden awareness of one's mortality and regrets about missteps can cause men to behave in absurd, but painfully stereotypical ways. Whether it's ditching a spouse to chase younger women, trading in the minivan for a convertible or motorcycle, or spending the kids' college fund on some new hair plugs, a midlife crisis can cause men to do some strange things.
Estately set out to determine which metropolitan areas have the most men in the throes of a stereotypical midlife crisis. To do this we ranked the 25 largest metros in the U.S. from 1-25 based on the following five criteria.
Frequency of online searches for terms/medicines/companies related to hair loss treatments—Hair Club, Bosley, hair transplant, hair restoration, Minoxidil, and Propecia (source: Google Trends)
Percentage of recent Craigslist ads for "men seeking women" that specify the woman must be younger (source: Craigslist)
Percentage of Facebook users ages 35-55 who recently purchased a new or used motorcycle (source: Facebook user data)
Cities with a higher ratio of divorce lawyers to marriage/family counselors (source: Yellow Pages)
Percentage of area new cars for sale that are convertibles (source: Cars.com)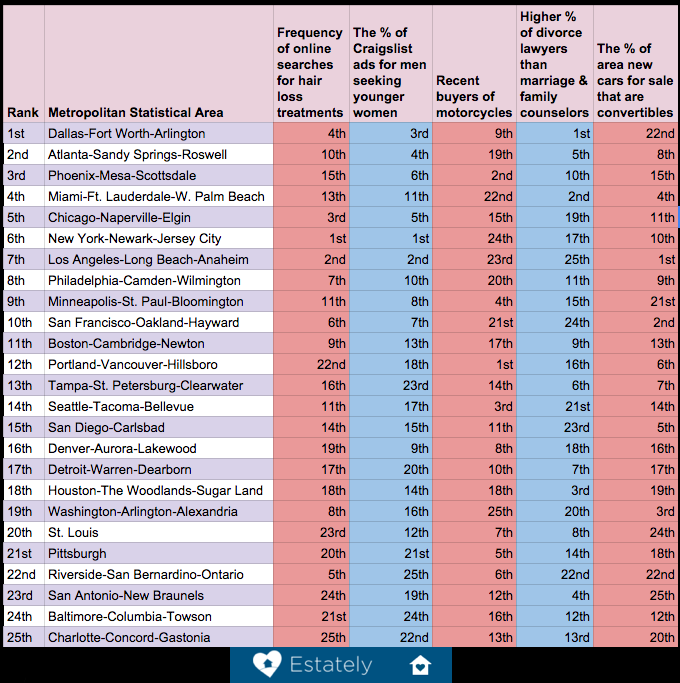 Our results show the midlife crisis phenomenon is scattered around the country, and not centered in any one particular region. However, these metropolitan areas ranked highest for men having a midlife crisis.
If you're not spending your hard-earned cash on hair plugs and sports cars then perhaps you're saving for a new home? Estately.com is the best ways to search for your dream home.