Costume Ideas Each State Googles More Than Any Other State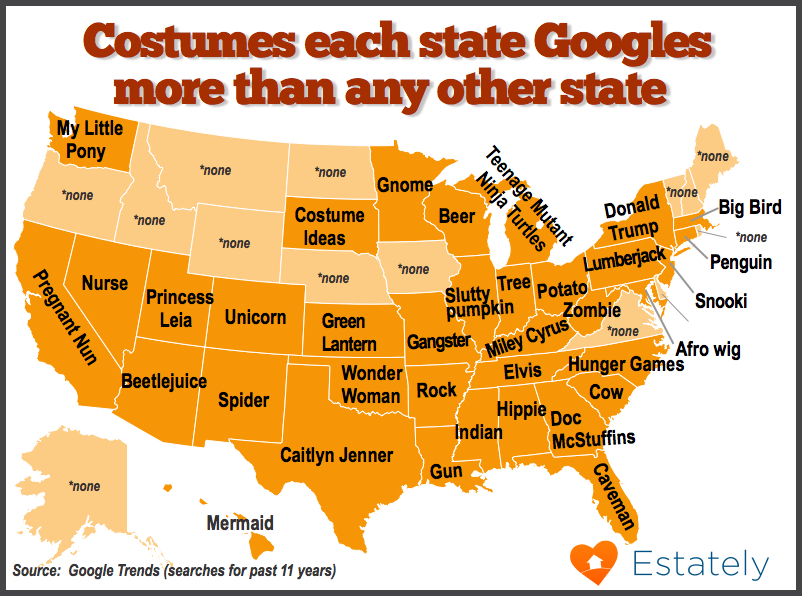 When it comes to choosing what to dress up for Halloween, America's 50 states definitely go about things differently. Internet users in some states hardly search online for costumes at all, while others are clearly spending hours searching for the perfect costume. To track America's geographical costume preferences Estately Home Search used 11 years of Google Trends data to see what costumes users in each state search for more than users in any other state.
Will this information help you decide where to live and buy a home? Maybe not, but the results were interesting. Overall we learned the Mountain West, Great Plains, and Northeast had little interest in costumes, while states like Utah and New Jersey cast wide nets in their search for a costume.
Below we've compiled a list of all the costumes in our search and paired them with the state that searched for that costume more than any other. We've also included some highly subjective analyses of each state's costume-related search history.
ALABAMA: cowgirl, hippie
Alabama costume parties report low rates of love connections.
ALASKA: (none)
Trick-or-treating is a pain in a state with the lowest population density in the country. It's simply too much trouble to get dressed up if you can only hit a couple of houses.
ARIZONA: Beetlejuice, Black Widow, Buzz Lightyear, Chief, Day of the Dead, Frankenstein (tie with Ohio/Missouri) God, The Hulk, Jack Skellington, Jason, Katy Perry, Mortal Kombat, snake, Transformer, warrior, wolf mask
How is Katy Perry going to choose between Beetlejuice or Buzz Lightyear?
ARKANSAS: rock
So awkward when you agree to dress up like a rock as part of a group costume, but then scissors and paper fail to come trick-or-treating with you. 
CALIFORNIA: Abraham Lincoln, Addams Family, Adolf Hitler, Aladdin, Black Spiderman, Breaking Bad, Borat, Boy Scout, camel, Canadian, cholo, corpse bride, David Bowie, Edward Scissorhands, Elvira, Forest Gump, Frida Khalo, Gamora, Greaser, Han Solo, Hello Kitty, hipster, illegal alien, Incredibles, Indiana Jones, James bond, Jessica Rabbit, Kim Kardashian, Mad Men, mariachi, Marie Antoinette, mechanic, Mexican, Mrs. Claus, Napoleon Dynamite, Oktoberfest, panda, Pocahontas, pregnant nun, Princess Jasmine, Queen Elizabeth, racist, Roger Rabbit, Rugrats, Sherlock Holmes, Snoopy, Sriracha, Steve Jobs, Ursula, vagina, Village People, Wayne's World, Zoro
What California lacks in water it makes up for in abundant costume searches. Unfortunately, a high percentage of them are racist as hell.
COLORADO: Assassin's Creed, Avengers, disco, elephant, fake mustache, gorilla, nun, pilot, robot (tie with Washington), Rocky (tie with Pennsylvania), unicorn, Yoda (tie with Arizona)
Most of these costumes are probably just for costumed 1/2 marathons.
CONNECTICUT: penguin
But is it the adorable Antarctic creature or Batman's nemesis?
DELAWARE: (none)
No need to Google how to write "COSTUME" in Sharpie on a white T-shirt because that's what you wore last year as well.
FLORIDA: Adam & Eve, Adult Elsa, alligator, Avatar, Carrie (Sex and the City), caterpillar, caveman, dolphin, flamingo, G.I. Joe, geisha, gladiator, hamster, Hooter's, hula, Captain Jack Sparrow, lion tamer, Little Mermaid, Naruto, Obama mask, panther, pimp, sheriff, stripper, Tarzan, Tinkerbell, tourist, villain, 1960s, 1970s
By Florida standards this is a really tame list, even with the strippers and pimps.
GEORGIA: Doc McStuffins
There is a stark contrast between Georgia and its neighbor to the south.
HAWAII: DIY costume, lion, mermaid, ninja, sailor,
Hawaiians are both crafty and aquatic in their costuming.
IDAHO: (none)
Maybe instead of wearing costumes they just put people clothes on the sheep and feed?
ILLINOIS: Barrack Obama, beer girl, bull, Care Bear, Cruella De Vil, flight attendant, foot, Girl Scout, Grim Reaper, golfer, hedgehog, hot dog, milk, Oompa Loompa, Optimus Prime, Mr. Potato Head, parrot, raccoon, slutty pumpkin, taco, ugly holiday sweater
There weren't enough search results to measure "slutty nurse," but Illinois' "slutty pumpkin" was no contest.
INDIANA: Tree
Bold choice for a state that was once completely forested.
IOWA: (none)
There's no trick-or-treating allowed in Iowa because all candy is used to fatten up the hogs, and the hogs are used to fatten up the rest of America, and hey… what cannibalistic plot are these Iowans coming up with?
KANSAS: Green Lantern
Utah came in first for practically every superhero, but Kansas has some crazy love for the Green Lantern
KENTUCKY: Anna, chicken, Chucky, clown (tie with Louisiana), cowboy, elf, horse, Michael Myers mask, Mickey Mouse, Miley Cyrus, pig, scarecrow, strawberry, wizard
Halloween is pretty farm-themed in Kentucky.
LOUISIANA: alien, cake, Catwoman, cheerleader, clown (tie with Kentucky), cop, duck, gun, Indian (tie with Mississippi), king, Lady Gaga, Mardi Gras, Minnie Mouse, prince, tiger, the 1980s
MAINE: (none)
That's no fun, Maine.
MARYLAND: Afro wig
If blondes really do have more fun then how come everyone in Maryland is buying afro wigs?
MASSACHUSETTS: ballet, banana, Big Bird, cheetah, corn, elephant (tied with Colorado), fish, firefighter, French maid, Game of Thrones, hockey, Jesus, lobster, Marilyn Monroe, pilgrim, slutty costume, Top Gun, Taylor Swift, zebra
Some pretty conflicted people in a state that loves slutty costumes and French maid costumes, as well pilgrims and Jesus.
MICHIGAN: Pikachu, pig mask, Robin Hood, Teenage Mutant Ninja Turtles
If you ever see a group of kids dressed up as Teenage Mutant Ninja Turtles hold up a trick-or-treater in a pig mask for his Pokemon cards you'll know you're in Michigan.
MINNESOTA: gnome, pizza
Pizza gnomes lurk under the front steps and snatch pizzas from unsuspecting delivery drivers. They're the scourge of the state, and apparently a popular costume.
MISSISSIPPI: Indian (tie with Louisiana)
Racist, but not as racially offensive as one might have expected.
MISSOURI: baseball, corn, frog, Frankenstein (tie with Ohio/Arizona), gangster, Scream mask, Woody (from Toy Story)
So awkward when you show up to a party and someone else is wearing the same corn costume.
MONTANA: (none)
Instead of Halloween people in Montana save cash on costumes by celebrating Wear Your Spouse's Clothes to Work Day.
NEBRASKA: (none)
Maybe, if Nebraska starts hitting the internet really hard, it can have something up on the map next year.
NEVADA: Alice in Wonderland, Goldilocks, Harley Quinn, kitten, nurse (tie with Oklahoma), Poison Ivy, schoolgirl.
Perhaps it's Nevada's large population of escorts who are the ones Googling these costumes.
NEW HAMPSHIRE: (none)
It's rumored people in New Hampshire just dress up like people in Vermont, and vice versa.
NEW JERSEY: Annie (the little orphan one), Angry Birds, astronaut, ballerina, Barney, Batgirl, chef, Cookie Monster, crayon, cupcake, devil, Easter Bunny, egg, Elmo explorer, fireman, flower, football player, genie, Ghostbusters, iPhone, Italian, ladybug, leprechaun, Little Bo-Peep, Luigi (of Mario Brothers), Luke Skywalker, M&M, Michael Jackson, Nicki Minaj, oriental, penis, Playboy Bunny, police, Pokemon, Power Rangers, prisoner, referee, samurai, Santa Claus, Sleeping Beauty, Smurf, Snooki, snowman, soldier, Spongebob Squarepants, Strawberry Shortcake, Thing 1 (from The Cat in the Hat), Transformers, Walking Dead, Wolverine, WWE
It's a real blend of pop culture, fun kids stuff, and sexualized costumes. Basically, it's Halloween in a nutshell.
NEW MEXICO: spider
Walking into a crowded costume party in New Mexico is nothing but spider legs whacking you in the face.
NEW YORK: Ace Ventura, Austin Powers, Bush, Betty Boop, Black Swan, construction worker, Donald Trump, donkey, farmer, fat suit, harem, I Love Lucy, inmate, Justin Bieber, lederhosen, Madonna, Muppets, Oscar the Grouch, octopus, ragdoll, rapper, Ron Burgundy, Statue of Liberty, toilet, Tooth Fairy (tied with Texas), Uncle Sam, vixen, Where's Waldo?, Willy Wonka, Xena: Warrior Princess.
If only Xena: Warrior Princess would battle Donald Trump in real life.
NORTH CAROLINA: Hunger Games, jester
Attending a Halloween party in North Carolina could be the closest you'll come to meeting Jennifer Lawrence in real life.
NORTH DAKOTA: (none)
Instead of celebrating Halloween, every October 31stthe locals like to put old shirts over tumbleweeds and watch them blow across the plains into Montana.
OHIO: Boba Fett, burger, Charlie Brown, Chewbacca, couples costume ideas, eagle (tie with Pennsylvania), Flo (from those Progressive commercials), Frankenstein (tie with Arizona/Missouri), potato, Reaper, squirrel
At this very moment, there are hundreds of people in Ohio filled with dread as they watch their significant other Google "couples costume ideas" and see the horrifying results appear on the computer screen.
OKLAHOMA: dog, Dorothy (Wizard of Oz), flapper, hippie, hunter, Minion, monkey, nurse (tie with Nevada), Olaf (from Frozen), pet, turtle, Wonder Woman
The worst costume in Oklahoma has to be the Seattle Supersonics who dress up in Oklahoma Thunder jerseys.
OREGON: (none)
Oregonians don't dress up for Halloween because they're probably getting naked. No people like to take their clothes off in public like Oregonians.
PENNSYLVANIA: bacon, basketball, biker, butler, eagle (tie with Ohio), Eskimo, goth, Jesus, KISS (the band), lamb, lumberjack, marshmallow, Nemo (of Finding Nemo), priest, Rocky (tie with Colorado), Rocky Horror Picture Show, reindeer, Shrek, skunk, Tin Man, wrestler
Aside from the racist Eskimo costume, everything else about Pennsylvania Halloween is pretty awesome.
RHODE ISLAND: (none)
On Halloween America likes to dress up Rhode Island as Delaware and almost nobody can tell the difference.
SOUTH CAROLINA: Cow
You were thinking it would be a Robert E. Lee uniform costume? Well, there are a number of confederate uniform costumes on the market, but there wasn't enough search traffic to measure it. That's progress
SOUTH DAKOTA: Halloween costume ideas
Looks like South Dakota gave up after its initial search to come up with costume ideas.
TENNESSEE: Beast (Beauty and the Beast), Captain Hook, Elvis Presley
It takes a lot of Elvis Presley costume searches to beat out Las Vegas.
TEXAS: ant, barbarian, Bigfoot, Caitlyn Jenner, Cat in the Hat, Cowboys cheerleader, Dalmatian, Daphne (Scooby Doo), Dr. Who, Duck Dynasty, Flintstones, football, Fred Flintstone, Freddy Kreuger, gingerbread man, goat, good witch, hillbilly, hobo, Honey Boo Boo, Klu Klux Klan, lizard, luchador mask, movie star, NASCAR, Nazi, Pacman, Pebbles Flintstone, Predator, Rainbow Bright, Rainbow Dash, rock star, Roman soldier, saloon girl, Tooth Fairy (tie with New York), white trash, Wilma Flintstone, the 1950s
The funniest part about the Texas costume party is when the people wearing KKK and Nazi costumes get beat up by those in Rainbow Bright and Rainbow Dash costumes.
UTAH: angel, Batman, bear, Belle, bird, bride, butterfly, Captain America, Cinderella, Cleopatra, Darth Vader, dinosaur, dragon, fairy, fox, goddess, gypsy, Jedi, knight, Halo, Harry Potter, Iron Man, Little Red Riding Hood, Mad Hatter, Maleficent, maid, Mario, mummy, nerd, Peter Pan, Pirate, princess, Princess Leia, pumpkin, Queen, Robin, skeleton, Snow White, Spiderman, Superman, Thor, vampire, wolf
Not surprising that this land of Disney princesses and superheroes was named the Nerdiest State in America.
VERMONT: (none)
Vermont has no need to Google costume ideas. Residents simply have to choose which brother from Hansen they're going as.
VIRGINIA:(none)
Virginia doesn't come in first for any costume searches, but it does search for "armpit photos" more than any other state (proof).
WASHINGTON: bumblebee, ewok, My Little Pony, robot (tie with Colorado), Star Trek, sushi, wench, Where the Wild Things Are
You'll know when a Washington costume party has gotten out of hand because the Ewoks are trying to ride the My Little Ponies.
WEST VIRGINIA: bunny, cat, Elsa (from Frozen), monster, mouse, Up (the movie), zombie
So this is what West Virginians wear when they come down from the mountains to scare costume-less Virginia.
WISCONSIN: badger, beer, deer, German, Scooby Doo
Wisconsin's results provide absolute proof as to the accuracy of this data.
WYOMING: (none)
Halloween isn't a big deal in Wyoming because every Friday the locals dress up as wolves and chase the antelope around.
Regardless of which state you live in, if you're looking for a home for sale there's no better way to find it than with Estately. Visit Estately.com to start your home search.