Top U.S. States to Celebrate Cinco de Mayo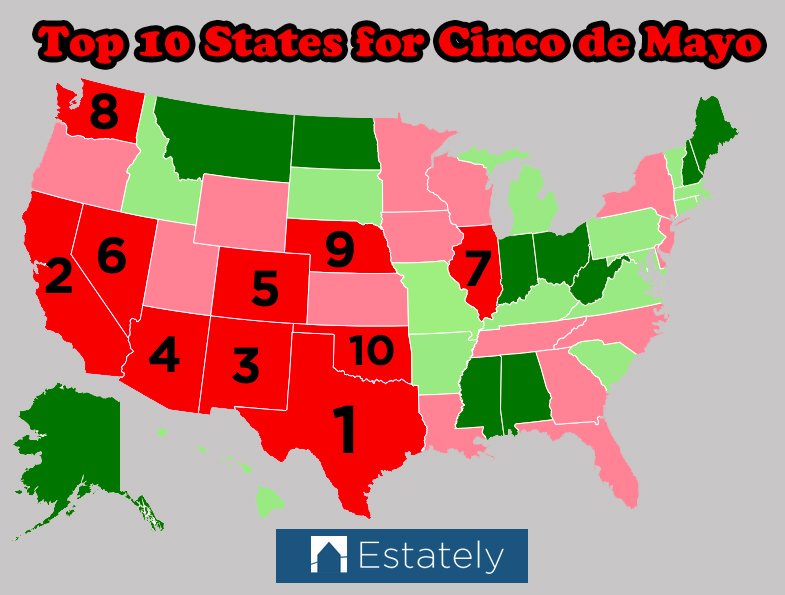 Originally, Cinco de Mayo was the celebration of the Mexican army's upset victory over French forces at the Battle of Puebla in 1862. And while that was a significant, if largely symbolic victory, it is not the biggest of deals in Mexico. Somehow it has become a more celebratory affair north of the border, turning into a day reserved for large quantities of Mexican food and beer, and various concoctions made with tequila. Basically, it's an awesome day, and Estately wanted to determine which states are most likely to have the most festive Cinco de Mayo.
To determine this we ranked each state from 1-50 using the following five criteria and then averaged the results. As a tie breaker we used a formula weighted to punish states who perform a high number of Google searches for "Mexican costumes." For states without that data, we used online searches for reality star "Tila Tequila" instead of "Tequila," and more Google searches for obnoxious sports commenter Skip Bayless instead of his brother—famed Mexican culinary expert Rick Bayless.
Percentage of local population made up of Mexican Americans (source: U.S. Census)
The ratio of Mexican restaurants to Taco Bell locations (source: Yellow Pages)
Expressed interest in margaritas on Facebook and through Google searches for the past ten years (source: Facebook/Google Trends)
Expressed interest in mariachi (form of folk music from Mexico) on Facebook and through Google searches for the past ten years (source: Facebook/Google Trends)
Expressed interest in Cinco de Mayoon Facebook and through Google searches for the past ten years (source: Facebook/Google Trends)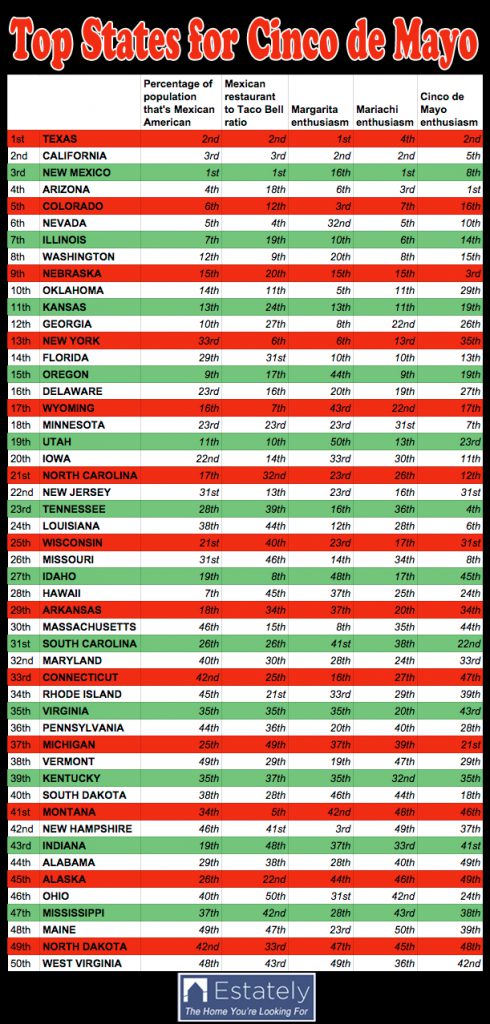 Profiles of the top ten states
1. Texas
Texas is in the top five for each category, including being the #1 State for Margaritas. The taco capital of America, Texas is the best state to be if you're feeling celebratory on the fifth of May.
2. California
According to the Guinness Book of World Records, California was the site of the largest margarita ever made (over 10,000 gallons), and the state consumers more Corona than any other beer. California also cracks the top five in all categories, but it sadly does more online searches for "Mexican costume" than any other state.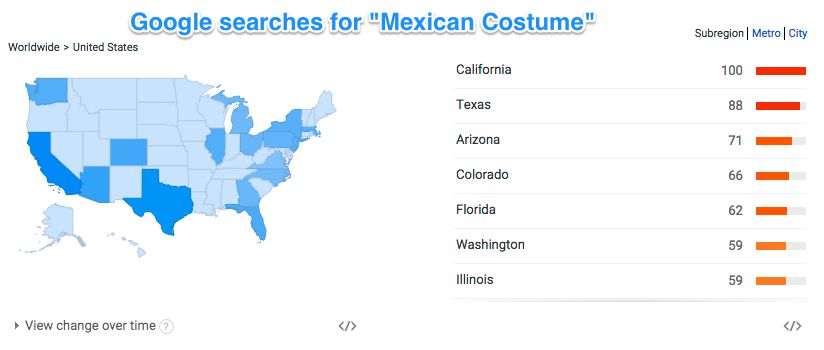 3. New Mexico
Home to the highest percentage of Mexican-Americans in the country, what New Mexico lacks in Margarita enthusiasm it makes up for with mariacha bands and an abundance of real Mexican food.
4. Arizona
While Taco Bell is abundant in Arizona, the state is still tops when it comes to expressed interest in Cinco de Mayo.
5. Colorado
Home to the sixth largest percentage of Mexican Americans, Colorado is a state that relishes the opportunity to drink margaritas.
6. Nevada
Despite an average level of interest in margaritas, Nevada is still a great state to celebrate the crushing defeat of the French army. Given the odds, there are plenty of people in Nevada who wished they could go back in time and place a bet on that battle.
7. Illinois
Illinois is the Midwestern capital of Cinco de Mayo celebrations, an oasis of mariachi and margaritas.
8. Washington state
Despite being pushed up against the Canadian border, the Evergreen State prefers the celebrations of America's other NAFTA partner. No disrespect to their Canadian neighbors, but the Mexicans have tacos and tequila.
9. Nebraska
Despite having the just the 15th largest percentage of Mexican Americans, Nebraska has the third most enthusiasm for the Cinco de Mayo celebration.
10. Oklahoma
Oklahoma's enthusiasm is real, but it could also be that the Cinco de Mayo festivities in Texas are just so wild that they spill over the border into Oklahoma.
Check out Estately.com, an incredible tool to use when searching for a home for sale.