The 2015 NFL Draft is upon us, and with it the hopes and dreams of hundreds of aspiring NFL players. With NFL careers being notoriously short, Estately set out to determine which teams offer draftees the best chance for a lucrative career. Primarily, we wanted to determine which teams could afford to pay more for players, which were in endorsement-rich markets (winning teams in major media markets), offered the likelihood of a good fit, had low income taxes, and affordable housing.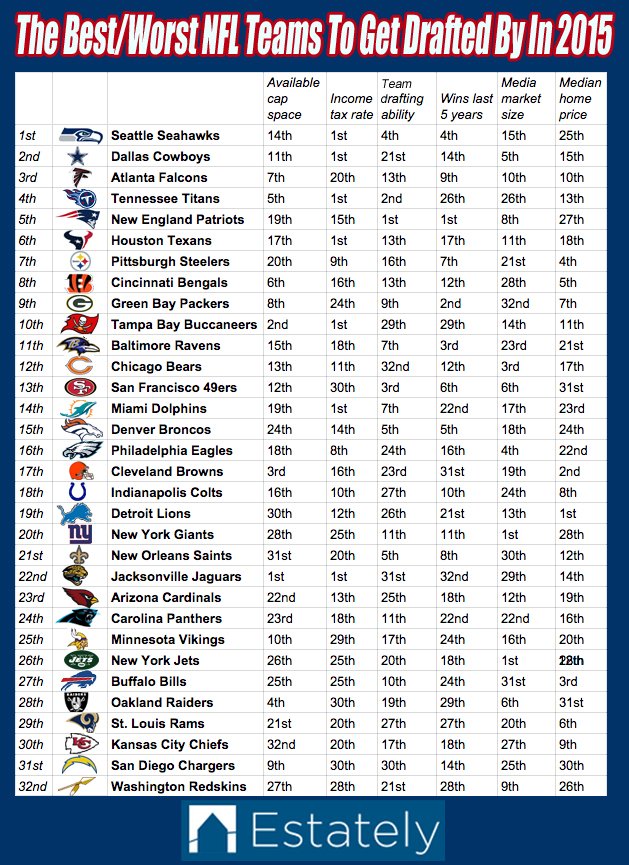 We ranked each team from 1-32 for each of the six criteria in our study and then averaged them to determine the overall rankings.
The amount of available cash each teams has under the salary cap — (source: Spotrac)
Income tax rate for highest earners in each team's home state — (source: Robert Raiola, CPA)
Draft grades for each team (2009-2013) — (source: Sportswire)
Total wins for past five years (regular season and playoffs wins/byes)
Rankings within the top-100 media markets — (source: News Generation)
Median home price in team's major metropolitan area — (source: Estately)
1. Seattle Seahawks
The Seahawks draft well, pay their core players better than most teams, and there's no income tax in Washington state. Plus, players in this once maligned football town is suddenly swimming in national attention, lucrative endorsements, and even invitations to the White House.
2. Dallas Cowboys
America's Team offers plenty of financial incentives to its players, including a state that has no income tax. Also, Jerry Jones is more than happy to overpay on contracts.
3. Atlanta Falcons
Atlanta is a team on the rise even though defensive players drafted by the Falcons will find little competition for playing time. That's called job security.
4. Tennessee Titans
Tennessee's lack of income tax and its affordable housing give its players a boost, as does the team's drafting ability.
5. New England Patriots
Many Patriots players earn salaries that aren't equal to what they'd make on the open market, but winning makes up for that, and it helps in landing a big free agent contract with someone else.
6. Houston Texans
If you're a franchise quarterback being drafted the table is pretty much set for a lucrative career in Houston.
7. Pittsburgh Steelers
Affordable housing market, low income taxes, and the possibility of having a sandwich named after you are all bonuses in Pittsburgh.
8. Cincinnati Bengals
While it's probably not most players' first choice, Cincinnati is an affordable place to live, and the team tends to pay the players it drafts since it hates to spend money in free agency.
9. Green Bay Packers
Being drafted by Green Bay is extremely lucky. Not only does the team win, but it prefers to spend money on its draft picks instead of free agents. Green Bay may be a small market, but Packers fans are abundant and nationwide. Make friends with Aaron Rodgers and you might just be in his next State Farm ad ($$$).
10. Tampa Bay Buccaneers
No income tax, a sizable media market, and few recognizable players means the Bucs are a great place to come and be the face of the franchise. However, it helps if you don't have numerous off-field issues.
11. Baltimore Ravens
The Ravens win, they draft well, and even someone with modest charisma will probably be chosen over quarterback Joe Flacco for local endorsement deals.
12. Chicago Bears
The third largest media market in the country is in dire need of a new face of the franchise, mostly because quarterback Jay Cutler's petulant expressions just makes people angry.
13. San Francisco 49ers
The 49ers are ranked highly mostly for recent successes, but many expect them to decline this year. With high taxes and housing costs, the Bay Area is also an expensive place to play your pro career.
14. Miami Dolphins
No state income taxes + a team that overpays = $$$
15. Denver Broncos
One of the more successful franchises in recent years, Denver drafts well, and its free agents tend to get overpaid by other teams when they hit the open market.
16. Philadelphia Eagles
Even if Chip Kelly trades you away to someplace cold and miserable, you'll still get paid a fortune.
17. Cleveland Browns
Plenty of cap space, little competition to make the team, and affordable home prices all make Cleveland a financially prudent place to play your pro career.
18. Indianapolis Colts
Not only will players save money on housing, but they'll save money on going out as well. The Indianapolis nightlife mostly consists of meeting friends for pancakes.
19. Detroit Lions
If Matt Stafford has a great season in 2015 he can buy his rookie lineman and receivers houses for the same price as new watches in most other cities.
20. New York Giants
Sure, Coach Tom Coughlin will be breathing down your neck on a daily basis, but you can possibly convert your on-field successes into a morning talk show or some other lucrative media job.
21. New Orleans Saints
The team seems to be shedding contracts faster than a husky sheds hair in a Louisiana summer, but this could mean more money for new players.
22. Jacksonville Jaguars
The Jags have ample cap space to pay players and Florida has no income tax, but the team has few fans, a terrible record, and almost no interest nationally. It's like playing basketball in some European league.
23. Arizona Cardinals
Since so many NFL players train during the offseason in Arizona it's probably convenient to play for the Cardinals as well. However, the team has limited cap space, high home prices, and sub-par drafting.
24. Carolina Panthers
Outside of drafting ability the Panthers are in the bottom half of all categories.
25. Minnesota Vikings
The team has cap space, and even more if they trade Adrian Peterson. At that point they'll need a new face of the franchise, and Minnesota is the 16th largest media market.
26. New York Jets
Being in the number one media market is about all the Jets have going for them right now.
27. Buffalo Bills
Nobody circles the wagons like the Buffalo Bills, and there's little money in circling wagons.
28. Oakland Raiders
The perennial dumpster fire that is the Oakland Raiders is surprisingly high on this list. It's no place to win or rack up endorsements, but they will pay you above-market value not to sign with someone else.
29. St. Louis Rams
The only thing going for the Rams is that housing is affordable, and that all goes out the window if the team moves to Los Angeles.
30. Kansas City Chiefs
It's hard to pay your new players much when you don't have any cap space.
31. San Diego Chargers
Interesting that three of the bottom five teams are all trying to move to Los Angeles.
32. Washington Redskins
If you're sitting in the Green Room when the fifth pick of the 2015 NFL Draft is turned in you could find yourself praying you drop all the way to the Browns.
Check out Estately.com searching for a home for sale.