What Does Each State Have More Of Than Any Other?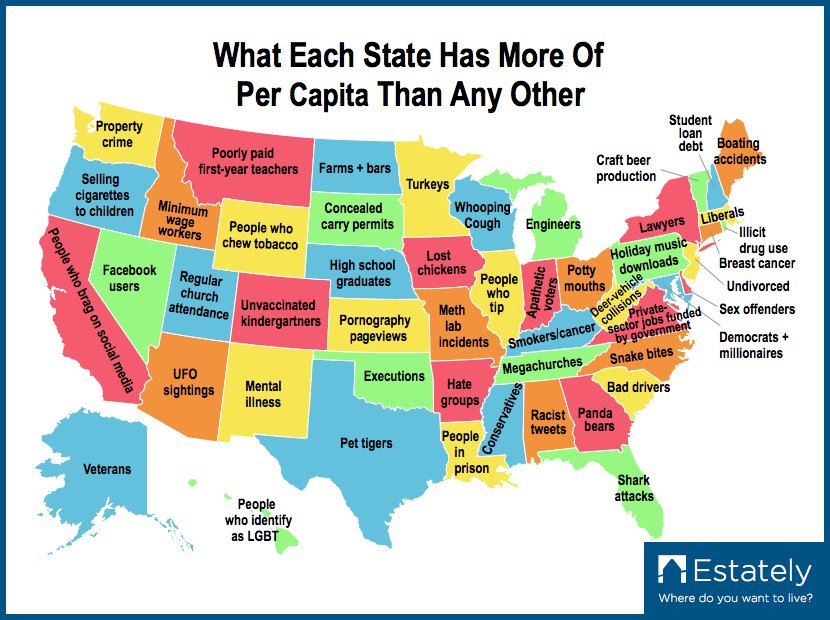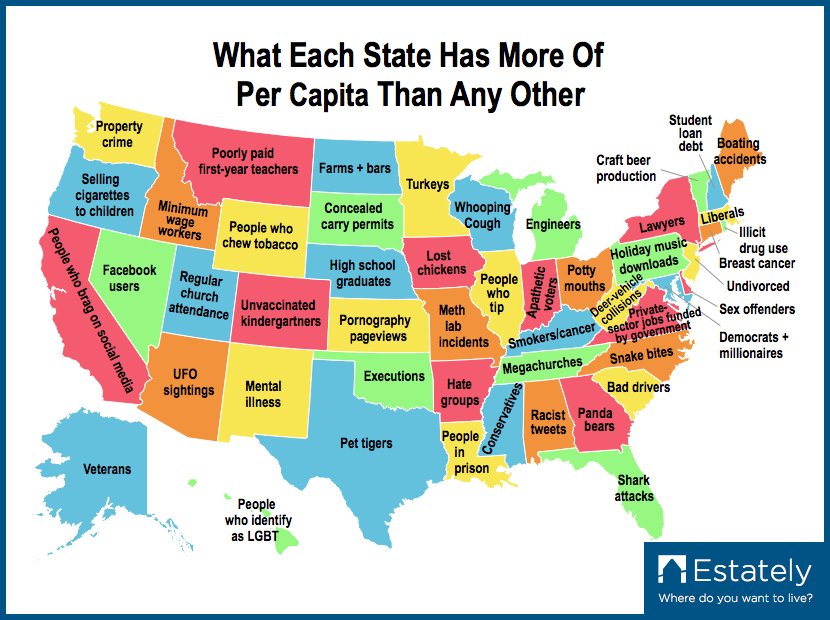 Deciding which American state to live in isn't easy. It's like entering an all-you-can-eat casino buffet with the limitation of only being able to choose one food item. Before deciding where to live and buy a home it's important to be informed, which is why Estately has compiled this map and list of what each state has more of per capita than any other. Some are good, some are bad, but all are unique to that specific state.
ALABAMA—racist tweets
The state's health woes and poverty provide plenty of other options (highest percentage of strokes, diabetes, homeless children, etc.), but the avalanche of racist tweets during the 2012 presidential election really set it apart from the rest of the country—not counting Mississippi, which was a close second.
ALASKA—veterans
The Last Frontier State is unfortunate in its per capita first-place finishes for violent crime, rape, and gun violence, but America can find solace in Alaska having the highest percentage of veterans per capita, and by far the most bald eagles.
ARIZONA—U.F.O. sightings
Look! Up in the Arizona sky! It's a bird. It's a plane. It's… an alien spaceship.? With over four UFO sightings for every 100,000 people Arizona had the most reported UFO sightings of any state. Maine was second.
ARKANSAS—hate groups
Not exactly one for Arkansas' travel brochures, but with 24 local hate groups Arkansas has the most per capita, narrowly edging out Montana and Mississippi. In addition, Arkansas is also top for salmonella cases. Is it possible local white supremacists are keeping their chicken breasts out on the counter because they don't want white meat mixing with dark meat chicken thighs in the fridge?
CALIFORNIA—People who brag on social media
The Golden State is tops for owning electric cars, stealing cars, eating vegetables, and producing vermouth, but you probably already know that because Californians love to brag on social media. A whopping 77% of Californians surveyed say they frequently engage in self-promotion on social media, the highest in the country.
COLORADO—unvaccinated children
Colorado ranks highly for fitness, regular exercise, low obesity, and other health metrics, but that's only made them arrogant when it comes to the health and well-being of children. The state ranks highest for children who have not been vaccinated for measles, mumps, and rubella—19.9% of kindergartners.
CONNECTICUT—breast cancer
Sadly, Connecticut has the highest rate of breast cancer in the country—136.6 for every 100,000 women. On the plus side, the state has the highest percentage of people who go to the dentist regularly, so at least they'll flash a great smile when they beat cancer.
DELAWARE—registered sex offenders
Delaware has the highest percentage of homes with just a landline, infrequent exercisers, political moderates, customers who don't tip, and safe boaters (tie), but the stat that really jumped out was Delaware having the most registered sex offenders per capita.
FLORIDA—shark attacks
The Sunshine State comes in first place for highest Cesarean delivery rate, fatal boating accidents, and identity theft, but "shark attacks" just really grabs your attention more. Somewhat related—we could find no stats measuring the most purchases of cassette tapes for Great White's "Once Bitten, Twice Shy."
GEORGIA—panda bears
There are a few pandas at zoos in D.C, San Diego, and Memphis, but Georgia's Zoo Atlanta has the most pandas of any American zoo (5) because Lui Lui and Yang Yang are highly successful at mating.
HAWAII—people who identify as LGBT
According to a Gallup Poll, Hawaii has the highest percentage (5.1%) of people who identify as lesbian, gay, bisexual, or transgender. North Dakota had the lowest percentage—1.7%. Apparently, LGBT people prefer to live in a tropical paradise.
IDAHO—minimum wage workers
The state is tops for water use, underpaid women, and minimum wage workers. However, we were unable to find stats on fly fishing spots per capita.
ILLINOIS—people who tip
According to a recent study by Square, people in Illinois tip on 61% of transactions, the most of any state, and far more than last place Delaware—38%. However, a recent Gallup poll found 50% of people in Illinois would move to a different state if they could, which was the highest in America. Maybe they want to move to Delaware so they can ease up on the tipping.
INDIANA—apathetic voters
Last year Indiana had the most players in the NBA per capita, but Louisiana took over that title this year. In place of that, Indiana can cling to its title of "Most Apathetic Voter" until 2016! In the 2014 mid-term elections a whopping 72% of registered voters in Indiana stayed away from the polls, the highest in the country.
IOWA—lost chickens
Iowa has the highest percentage of people who are drug-free, the fewest killers, and the most eggs produced, but that doesn't mean the state doesn't have a dark secret—lost chickens. According to the USDA, a stunning 27 million chickens were lost, and by "lost" they mean "rendered, died, destroyed, composted, or disappeared for any reasons except sold during the 12-month period." The lesson—chickens who lay eggs commercially do not live forever.
KANSAS—pornography pageviews
When it comes to viewing pornography online, Kansans definitely clear their search history the most frequently. According to Pornhub, the state had 194 pageviews per capita, which was more than 2.5 times as much as last place Arkansas, which still has a box of adult magazines in a shed out back.
KENTUCKY—smokers/cancer
Kentucky produces the most tobacco per capita, has the most smokers, the highest rate of lung cancer, and the most cancer deaths. There might just be a connection in here somehow.
LOUISIANA—people in prison
The state puts more people in the NFL per capita than any other state. Unfortunately, the same goes for prison—one out of every 75 people in the state. That's 13 times more than in China. Louisiana is also top for murders, STIs, and electricity consumption (air conditioners?).
MAINE—boating accidents
Having the highest concentration of timberland does nothing to prevent boating accidents. Maine is tops for that—one for every 24,598 people. However, Florida has the most fatal boating accidents and far less timberland.
MARYLAND—millionaires/Democrats
Maryland has the highest concentration of millionaires and Democrats, so it's a great place to fundraise if your name is Hillary Rodham Clinton.
MASSACHUSETTS—liberals
Massachusetts must make Mississippi sick to its collective stomach. The state is tops for Obama approval ratings, people who identify as "liberals," energy efficiency, people with health insurance, and primary care physicians.
MICHIGAN—engineers
Michigan has the most lighthouses and the most engineers per capita. So if you're a photographer looking for a romantic getaway weekend with an eligible engineer then Michigan is your paradise.
MINNESOTA—turkeys
If you're a turkey farmer with excellent heart health who enjoys recreational boating there's a good chance you live in Minnesota. Nearly 15% of state residents have a boating license, it has the lowest rate of heart attacks, and it's tops for total number of turkeys produced.
MISSISSIPPI—conservatives
Mississippi is tops for poverty, obesity, gonorrhea, high blood pressure, infant mortality, unemployment, access to high-speed internet, people who can't afford food, residents on food stamps, and total deaths. However, the state's name is the most fun to spell.
MISSOURI—meth lab incidents
The Show Me State is tops for meth lab incidents (1,825 in 2012), which is 16.3% of all in America.
MONTANA—poorly paid first-year teachers
Teaching is a famously underpaid profession, but Montana really comes up short when it comes to starting salaries for teachers. First-year teachers in Montana make just $27,214, which is considerably less than neighboring Wyoming—$43,269. Montana also is home to the nation's worst drivers, but it has to share the title with South Carolina. What it doesn't share with South Carolina is its obesity ranking. Montana is the least obese state in the country.
NEBRASKA—high school graduates
The graduation rate in Nebraska is 93%, nearly 33% higher than last place Nevada. However, Nevada has the least amount of student loans per capita so there is some upside.
NEVADA—Facebook users
Nevada is tops for divorce, robberies, dropping out of high school, being unemployed or underemployed… you know, all the usual stuff people share on Facebook.
NEW HAMPSHIRE—student loan debt
New Hampshire has the highest student loan debt per capita of any state, as well as testicular cancer cases (7.4 per 100,000), but it does have the most amusement parks per capita, which is pretty great.
NEW JERSEY—people who don't get divorced
Sure, a higher percentage of people are moving out of New Jersey than any other state, but those that stay can enjoy long-lasting marriages because New Jersey has the lowest divorce rate in the country.
NEW MEXICO—mental illness
The state is tops for teen births, mental illness, and aggravated assaults, but on the upside since the state has the lowest percentage of Facebook users they likely send the fewest invites to play Candy Crush.
NEW YORK—lawyers
Would America change the way it funds education if it knew that New York's highest spending per pupil on elementary-secondary school students somehow would lead to the most lawyers per capita—8.5 per 1,000?
NORTH CAROLINA—snake bites
North Carolina has the highest rate of snake bites in America, so that kind of casts a shadow on all those NCAA basketball championships.
NORTH DAKOTA—farms / bars / golf courses
North Dakota may not have much in terms of population, but when it comes to per capita rankings the state is tops for a wide variety of things:  bars, people working full time, farms, golf courses, good drivers, and more.
OHIO—potty mouths
A recent study found Ohio residents swears the most. They also commit the most metal thefts, which is a real #%&$ing shame.
OKLAHOMA—executions
Texas may be more famous for executing prisoners, but Oklahoma actually executes more inmates per capita than its neighbor. Oklahoma also has the most people who don't eat their vegetables, so maybe that's one more reason you should eat your vegetables.
OREGON—selling cigarettes to children
Oregon is seeing the highest inbound migration of any state, but perhaps it's fueled by people who want to send their kids to the store to them up some smokes. The state is also tops for non-medical painkiller use.
PENNSYLVANIA—listening to holiday music
According to AccuRadio, Pennsylvania streamed more hours of holiday music per capita than any other state. Meanwhile, neighboring New Jersey proved to be the most bah humbug of the bunch by streaming the least.
RHODE ISLAND—illicit drug use
Psss… want to get high? Rhode Island sure does. The state is way out in front when it comes to using illegal drugs and marijuana. in 2014, 20% of residents over 12 reported using marijuana, and 4.3% reported using illegal drugs.
SOUTH CAROLINA—bad drivers
They have to share the title with drunk driving Montana, but South Carolina is the top state for bad drivers, largely because of fatal accidents and careless driving.
SOUTH DAKOTA—concealed carry permits
South Dakotans are tops when it comes to packing heat, getting the most sleep, and avoiding having their identities stolen.
TENNESSEE—megachurches
They like them bigger in Tennessee, at least when it comes to their houses of worship. The state has 67 megachurches, which comes out the most per capita of any state.
TEXAS—pet tigers
With an estimated 10,000 to 20,000 pet tigers in Texas the state has more per capita than any other U.S. state. Not only that, there are more tigers in Texas than exist in the wild.
UTAH—regular church attendees
At 51%, the largely Mormon state of Utah has the highest percentage of regular church attendees in the country, and nearly three times as much as last place Vermont. Utah is also tops for Republicans—59%, non-smokers—88.8%, prostate cancer (170.6 per 100,000), and skin cancer (31.9 per 100,000).
VERMONT—craft beer production
When it comes American craft beer production, the people of Vermont have done the most to quench America's thirst, over 15 gallons per person. Vermont is also tops for non-religious people, produce consumption, frequent exercise, museums, brain cancer (4.3 per 100,000), and safe boaters (tie).
VIRGINIA
There are plenty of Virginians who work directly for the government, but the state is also tops for private-sector jobs dependent on federal contracts.
WASHINGTON
If you'd like your mail stolen or your iPhone snatched or your car broken into you should move to Washington state. The state is tops for property crime and number of incidents is only increasing.
WEST VIRGINIA—deer-vehicle collisions
West Virginia comes in the unfortunate first place for fatal drug overdoses, cervical cancer, deer-vehicle collisions, heart attacks, and women without jobs. On the upside, it has the lowest percentage of people with STIs.
WISCONSIN—whooping cough
In addition to the most recorded cases of whooping cough per capita (2012-2014) Wisconsin was also tops for black men incarcerated—13%, binge drinking, and leukemia (16.2 per 100,000).
WYOMING—people who chew tobacco
In addition to being home to more tobacco chewers than any other state (9.1%), Wyoming has the most suicides, government workers (over 10%), registered gun owners (19.6%), and people who don't approve of President Obama (80.7%).
If you're looking for a great way to find your next home check out Estately.com.
OTHER ARTICLES FROM ESTATELY
U.S. States Most/Least Likely to Survive the Zombie Apocalypse