Which Washington Cities Are Home To The Most Enthusiastic Seahawks Fans?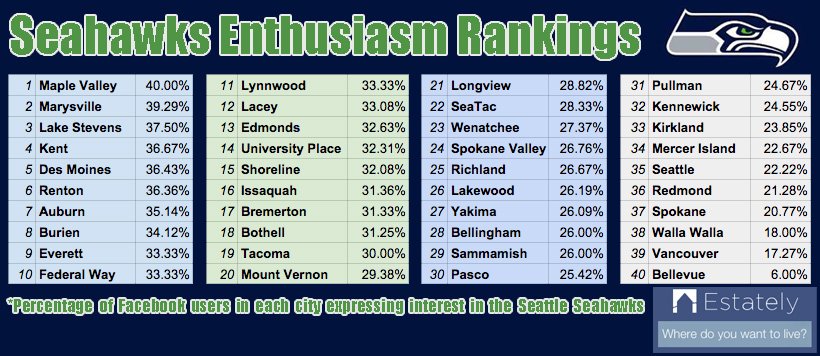 Seattle Seahawks fans can be found in droves across Washington state, but Estately wondered which cities in the state were home to highest concentration of Seahawks fans. To do this we used Facebook user data to determine which of the 40 most populated Washington cities had the highest percentage of Facebook users expressing interest in the team. Out of the 40 largest cities, Maple Valley had the highest percentage of Seahawks fans expressing interest on Facebook (40.0%) and Bellevue had the lowest (6.0%). Obviously, not every Seahawks fan is on Facebook, much less expressing their love of the team on it, but it does provide a way to poll millions of people in the region.
If the city or town you live can't match your passion for the Seahawks then consider moving and buying a home in one of these top ten cities for Seahawks passion.
– – – – – – – – – – – – – –
Looking for a great way to find your next home? Check out Estately.com.