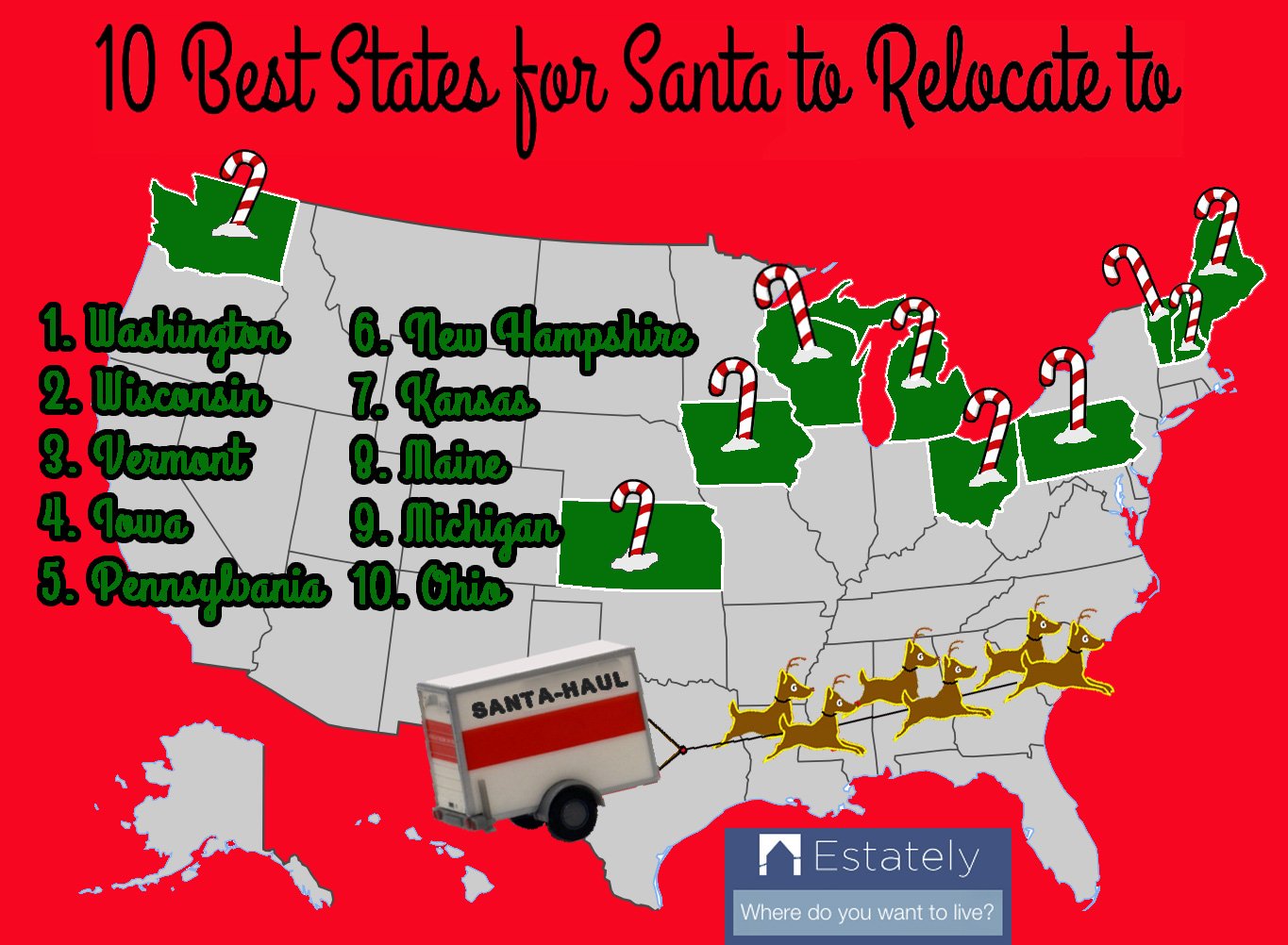 With the polar ice caps melting it won't be long before Santa Claus is forced to abandon the North Pole and relocate his home and workshop. But where in America would this jolly old elf be most at home? Estately ranked each state from 1-50 using the seven Santa-specific criteria below to determine which U.S. states would be the best places for Santa Claus to buy a home for sale.
Cookie stores per capita (source: Yellow Pages)
Suitable habitat for reindeer—states with existing caribou population, previous caribou population, coldest average temperatures, percentage of land that's forest and/or tundra habitat (sources: Defenders of Wildlife, NOAA National Climatic Data Center, and National Geographic)
Strong manufacturing sector—states with most manufacturing jobs (source: Bureau of Economic Analysis)
Eggnog enthusiasm—expressed Facebook interest in eggnog and Google searches for eggnog (source: Facebook and Google Trends)
Proximity to family—residents with last name "Kringle" (source: White Pages)
Expressed interest in Santa Claus on Facebook (source: Facebook)
Milk production per capita (source: USDA)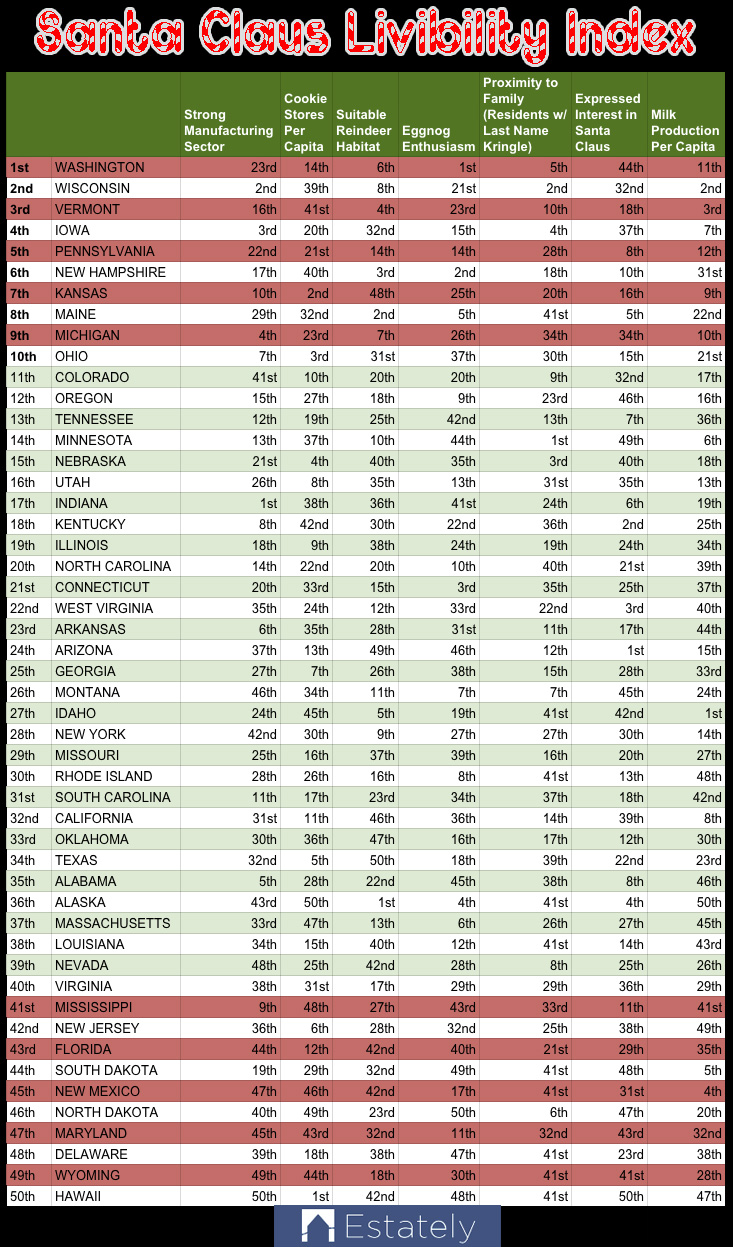 Profiles of Top Ten States for Santa
1. WASHINGTON STATE
When it comes to eggnog consumption (and production), there's no state that's more enthused for this alcoholic holiday beverage than The Evergreen State. Santa should have no trouble creating holiday cheer by imbibing with others in this classic cocktail. Also, his reindeer can mingle with the small numbers of caribou (very similar species) who wander down from Canada to roam a small section of eastern Washington.
2. WISCONSIN
With a strong manufacturing sector and immense milk production Wisconsin would be a great spot for Santa to set up his workshop. Plus, the state has second most Kringles per capita making it much easier to catch up with family.
3. VERMONT
Reindeer habitat, plenty of milk, and brutally cold winters ensure Santa would feel right at home in Vermont.
4. IOWA
When the Kringle family hosts its next family reunion it might just choose Iowa as the destination. The state is home to the fourth most Kringles per capita. Santa might choose Iowa for that alone, or also because it has an experienced manufacturing workforce and plenty of milk production.
5. PENNSYLVANIA
Both Santa Claus and Philadelphia Eagles are sick and tired of people talking about that time 46 years ago when Santa was pelted with snowball during halftime. They're both over it and ready to move forward, and Santa Claus would be wise to consider The Keystone State for its affordable real estate, eggnog enthusiasm, and the high percentage of residents interested in Santa Claus.
6. NEW HAMPSHIRE
While New Hampshire's hunters are more likely to shoot Santa's reindeer than hunters in neighboring Vermont, The Granite State is still prime real estate for Santa Claus. There's enough eggnog produced to fill every stocking in the state, and the locals have a genuine interest in the fat man in the red suit.
7. KANSAS
What Kansas lacks in reindeer habitat it more than makes up for in cookie stores. Santa's favorite snack is abundant in Kansas, which will come in handy the next time Mrs. Claus tries to put old Santa on a diet. Also, Kansas' central location makes a great starting spot for delivering presents to Americans.
8. MAINE
Maine is the fifth for santa enthusiasm, and it's already attempted to reintroduce caribou populations before. Plus the locals are happy to drink eggnog, even out of season.
9. MICHIGAN
Affordable real estate, prime reindeer habitat, and substantial milk production make Michigan a fine option for Father Christmas.
10. OHIO
Cookies are abundant in Ohio, and with its high obesity rates Santa won't be insecure when his belly shakes like a bowl full of jelly.
— — — — — — — — — — — — — — — — — — — — — — — — — — — — — — — — — — — — — — — —
Estately is an online national real estate search site that's transforming the home buying experience with selection, speed, and simplicity. Home shoppers can search for the most up-to-date real estate listings by neighborhood, maps, past sales, Walkscores, local schools districts, and more. If you're looking for a home, get the most out of your search efforts with Estately— the premier home shopping resource. Learn more about Estately's real estate search at http://www.estately.com
— — — — — — — — — — — — — — — — — — — — — — — — — — — — — — — — — — — — — — — —