Which U.S. States Most Love the 1980's?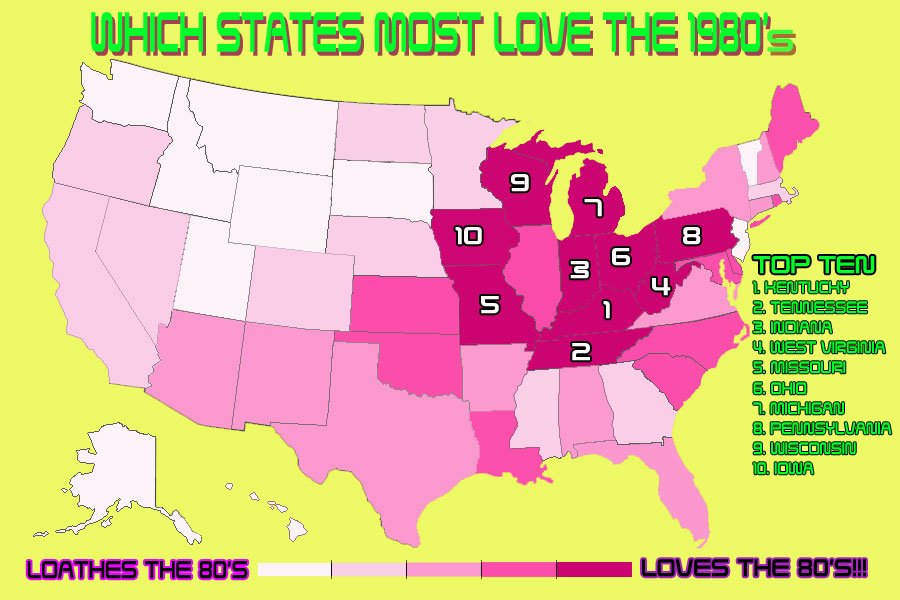 The year may be 2014, but that doesn't mean every American is truly living in the present. There is a large swath of the country that still waxes nostalgic for the decade of the 1980s. For those who still keep time on their Swatch watches there are a handful of states to buy a home where the neighbors still do Jane Fonda's workout in their leg warmers. Estately crunched Facebook user data for every state to determine which states had the most interest in these 15 bands, movies, companies, people, and pop culture icons most representative of the 1980s…
Whitney Houston (singer)
Michael Jackson (performer)
Van Halen (band)
Madonna (performer)
Pee-wee Herman (TV personality)
Ronald Reagan (the President)
Mr. T (actor who pities fools)
Dirty Dancing (movie)
The Breakfast Club (movie)
Dallas (TV show)
Miami Vice (TV show)
The Cosby Show (TV show)
The Golden Girls (TV show)
Atari (video game company)
DeLorean DMC-12 (car from Back to the Future)
The study clearly shows enthusiasm for 1980's pop culture is strongest in the Midwest and Appalachia, particularly in America's rust belt. The West Coast and Mountain West, on the other hand, seems to have little love for the 1980's and all its neon glory.
Profile of Each U.S. State
1. KENTUCKY
We assume that every night, before they go to sleep, thousands of Kentuckians kiss the framed photo of Patrick Swayze they keep on their bedside table. Not only does Kentucky have the second most interest in the classic 80's movie Dirty Dancing, it's the top state when it comes to overall 80's nostalgia.
2. TENNESSEE
There is currently no statue of Whitney Houston in all of Tennessee, but that's probably just because Whitney Houston lives in the hearts of Tennessee's residents. If you ever forget the lyrics to a Whitney Houston song you can probably call any number with the area code 615. They'll know it.
3. INDIANA
Indiana loves 80s movies, but does that explain why the state's teenage boys still decorate their bedroom walls with photographs of Christie Brinkley and Elle Macpherson from old Sports Illustrated Swimsuit Issues?
4. WEST VIRGINIA
There are three 1980's things West Virginia loves more than the rest of America—the movie Dirty Dancing, the TV show The Golden Girls, and the 40th President of the United States, Ronald Reagan. And while it's true West Virginia does love it some Van Halen, that love isn't equal to their love of The Gipper. The same can't be said for 26 other states.
5. MISSOURI
Instead of Casual Fridays, employers in Missouri demand employees wear Cosby sweaters on alternating Thursdays.
6. OHIO
Five-to-one odds that Alf is living somewhere in Ohio.
7. MICHIGAN
At any given time, there are dozens of teenagers attempting to create the perfect woman (Kelly LeBrock circa 1985) in their bedrooms by hooking up a Barbie doll to their computer during an electrical storm.
8. PENNSYLVANIA
Why do Pennsylvania residents execute more internet searches for "flux capacitor" than any other state (this is true)? Because they're trying to build a time machine to travel back to 1980s to be there when Phoebe Cates steps out of the pool in Fast Times at Ridgemont High.
9. WISCONSIN
A reasonable guess would estimate one out of every five dogs in Wisconsin are named "Spuds Mackenzie." For newborn babies, that ratio is probably one out of ever seven.
10. IOWA
Inspired by The Bangles, people in Iowa continue to "walk like an Egyptian."
11. OKLAHOMA
The toughest decision any Oklahoman will make is whether to ask their hair stylist for a mullet or a flock of seagulls hair cut.
12. RHODE ISLAND
Rhode Island ignored the stern warnings of Nancy Reagan, which is why it has the highest number of cocaine users in the United States, which is sooo 80's.
13. ILLINOIS
The question isn't whether Illinois will eventually build a statue of 80's filmmaker John Hughes, the question is whether they'll one day rename the state for him.
14. KANSAS
Is it true that Kansas high schools allow students to play Frogger to earn a P.E. credit?
15. NORTH CAROLINA
Legend has it that long ago, when people threw out their acid wash jeans, those jeans all rented a van and moved to North Carolina to be around people who would accept them indefinitely.
16. SOUTH CAROLINA
A popular bucket list item that's unique to South Carolina is wanting to hear Bill Cosby say "pudding pop" in person.
17. MARYLAND
Maryland has the most interest in the DeLorean DMC-12, the only 80's-built car capable of time travel.
18. MAINE
Nearly 35% of all internet traffic in Maine is people taking BuzzFeed's quiz "Which The Breakfast Club Character Are You?" The state has the most interest in the 1985 John Hughes movie… and a lot of free time at the office.
19. LOUISIANA
On Thursday nights, Louisiana residents still turn their TVs on in hopes Stevie Wonder is making a surprise appearance on The Cosby Show, a program that's been out of syndication since 1992. Louisiana is tops for interest in The Cosby Show.
20. DELAWARE
When people in Delaware sleep at night, they dream that Jon Bon Jovi, Bruce Springsteen, John Mellencamp, and Bryan Adams have formed a super group to play at their high school reunion.
21. ARIZONA
Rumor has it, people in Arizona are still really mad about New Coke.
22. NEW YORK
New York state loves both Michael Jackson and Madonna more than any other state, but it can't decide between the two.
23. ARKANSAS
If you've never put a Def Leppard tape in a Teddy Ruxpin doll then you didn't grow up in Arkansas in the 80's.
24. ALABAMA
Aside from Mississippi, no state likes Pee-wee Herman less than Alabama. Down south, they don't take kindly to a funny dressed man-child dancing on the bar when "Tequila" comes on the juke box.
25. VIRGINIA
In Virginia, every child named Abe Froman dreams of growing up to be the Sausage King of Chicago.
26. FLORIDA
Florida is home to Billy Mitchell, the first person to attain a perfect score in Pac-Man. He was named one of "The 10 Most Influential Video Gamers of All Time" by MTV.
27. NEW MEXICO
New Mexico is far from the sunny beach of Miami, but the state still keeps Crocket and Tubbs in its heart. While rarely worn in public, it's probably a large number of local residents wear a white suit and a turquoise T-shirt when hanging out around the house. The state has the highest percentage of Miami Vice fans.
28. TEXAS
Texas is home to the most fans of the TV drama Dallas, but many still wrongfully believe that J.R. was shot by former 49ers coach Bill Walsh.
29. CONNECTICUT
Connecticut residents long for the good old days, back when a single mom/advertising executive could hire a retired baseball player to be her housekeeper, and eventually they could fall in love…
30. NEW HAMPSHIRE
New Hampshire residents would be more nostalgic for the 1980s if they hadn't lent money to Charlie Sheen.
31. GEORGIA
Georgians often sit on their porches sipping sweet tea and talk about a simpler time in Hazzard County, a time when a couple good ol' boys, who were never meaning no harm, somehow ended up in trouble with the law since the day they were born.
32. COLORADO
While it's true that many people in Colorado are "Runnin' with the Devil," it's not because they Satanists. It's just the state has highest percentage of Van Halen fans.
33. CALIFORNIA
Californians still carry a torch for Madonna, but it's not a state consumed with 80's nostalgia, mostly because everyone's embarrassed about all the movie scripts they wrote in the hopes Emilio Estevez would play the lead.
34. NEBRASKA
Even though Nebraska is nowhere near the ocean, local residents still like to walk around in their Aqua Socks.
35. NEVADA
All that heat really makes you thirst for a glass of Crystal Light.
36. OREGON
Half of all states have no measurable Facebook enthusiasm for Mr. T. Not so for Oregon. The state is tops when it comes to pitying fools, possibly because Oregon knows how to treat their mamas right (please watch the video below—you will not regret it).
37. MISSISSIPPI
There are only three things from the 80s that Mississippi really likes—Ronald Reagan, Whitney Houston, and the TV show "Dallas". Also, Facebook users in Mississippi prefer Nancy Reagan to Mr. T by more than a 2-1 margin.
38. MASSACHUSETTS
Massachusetts residents use their ghetto blasters to quietly play opera music for their houseplants while they're at work.
39. MINNESOTA
Remember the government agents who captured E.T.? They were probably recruited from Minnesota.
40. NORTH DAKOTA
Before North Dakota can truly embrace the style and pop culture of the 1980's it has to let go of the style and pop culture of the 1970's, and that seems to be taking a while.
41. WYOMING
Wyoming would definitely put Baby in a corner.
42. VERMONT
Even though the state has experienced decades of successful Domino's Pizza deliveries, Vermont residents still live in fear of the Noid. The 80's were a dark time for Vermonters, and they have no desire to go back.
43. WASHINGTON STATE
The Evergreen State has the least amount of interest in "Miami Vice," and it's tempting to believe that's simply because those living in dreary weather hate to see Crockett and Tubbs fighting crime in all that sunshine.
44. NEW JERSEY
Have you ever noticed that regardless of the list, New Jersey is always at the bottom. Why is that? Does listicle gravity just pull harder on New Jersey?
45. IDAHO
The primary reason Idaho residents hold little nostalgia for the 1980s is because many are still bitter about not getting a Teddy Ruxpin for Christmas.
46. ALASKA
If this was about nostalgia of the 1890's instead of 1980s Alaska would definitely atop the list.
47. MONTANA
There are no shortage of ranches in Montana, but there is no Neverland Ranch. Montana has the second fewest Michael Jackson fans in the entire country.
48. UTAH
Some say Utah's dislike of the 80s has nothing to do with the decades materialistic values and everything to do with residents failure to solve their Rubik's Cube without peeling off the colored stickers and rearranging them.
49. SOUTH DAKOTA
Out of all 50 U.S. states, South Dakota likes Whitney Houston the least. You know who they like more than Whitney Houston? Mariah Carrey. That's insane.
50. HAWAII
Apparently, Hawaii had enough of the 80s after "Magnum P.I." was cancelled, and once Tom Selleck shaved off is iconic mustache they never looked back, except for when it comes to Atari video games. Hawaii is a state that's still playing Frogger and Ms. Pac-Man at their mom's house (#1 for Atari interest).