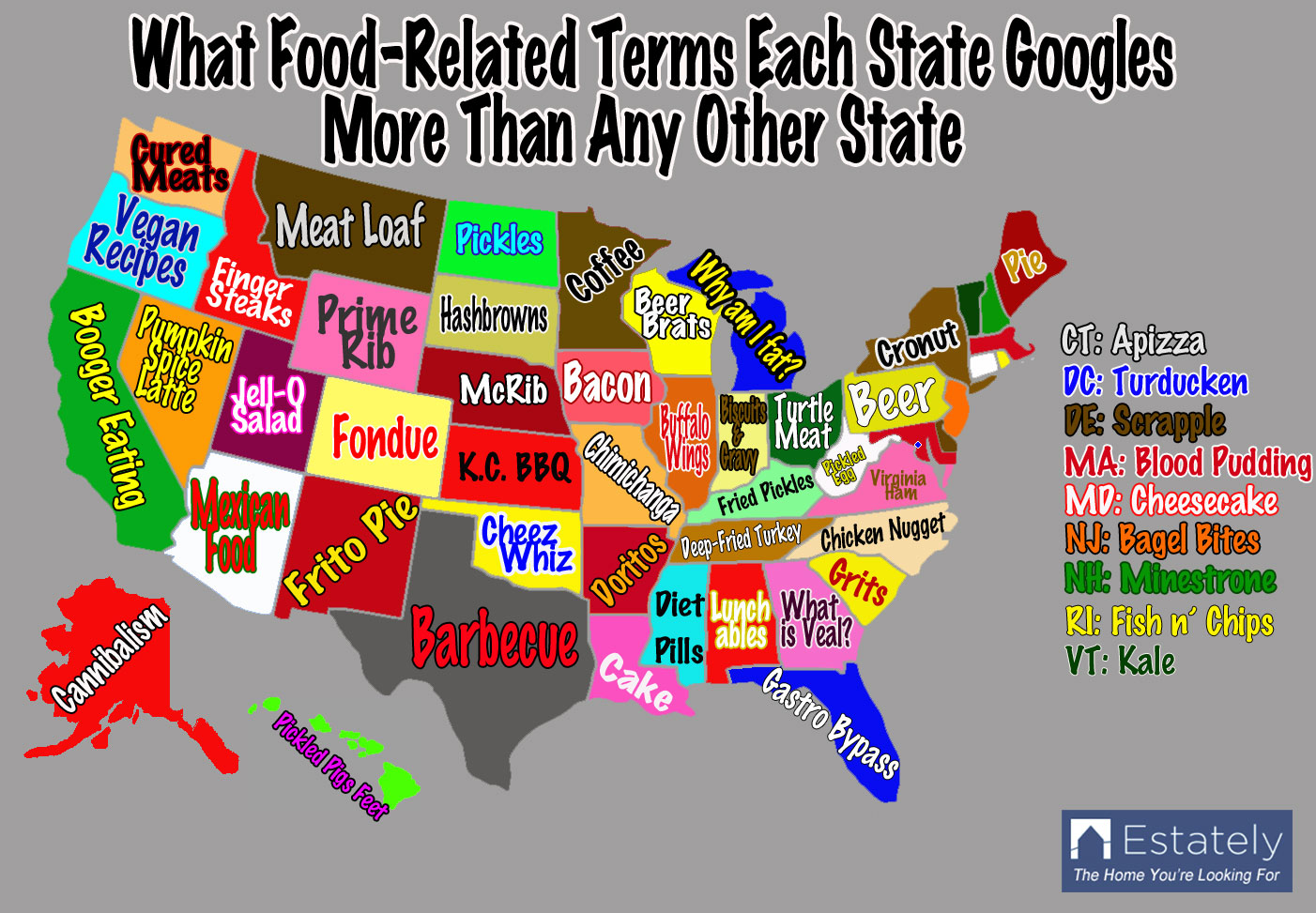 Estately ran hundreds of search queries through Google Trends to determine which food-related words, terms, and questions each state was searching for more than any other. The results weren't entirely disturbing like our previous study of (view here) internet searches, but it did show some stark geographical differences. Some were unsurprising—Vermont is a land of granola and kale. Some raised eyebrows, like why is Alaska so interested in cannibalism? Regardless of your food preferences, this information will come in handy if you're trying to decide which state to& buy a home in, especially for those curious about what their potential neighbors might bring to a neighborhood potluck. The results on the map above are just the tip of the online search iceberg for each state's food interests. Check out what else residents of each state search for more than the other 49 states (and the District of Columbia) in the list below…
ALABAMA: Paula Deen / cornbread / sweet tea / fried green tomatoes / Lunchables
Analysis: Alabama is the culinary capital of the south.
ALASKA: King crab / smoked salmon / deviled egg / pad thai / white bread / baked Alaska / cannibalism
Analysis: Neighborhood cookouts take an ugly turn if the prepared food runs out.
ARIZONA: Mexican food / fried bread / Jack in the Box / Olive Garden (tie)
Analysis: Arizona residents appear to be trying to even turn their sandwiches into chimichangas.
ARKANSAS: Atkin's Diet / fried pie / cream pie / Doritos / spaghetti / fish finger
Analysis: It's either all carbs or no carbs at all in Arkansas.
CALIFORNIA: Vietnamese food / shark fin soup / sriracha / meat on a stick / carne asada / pig's trotters / Denny's / Cheetos / fruit rollup / booger eating / nom nom
Analysis: There are thousands of California Instagram accounts featuring photos of boogers accompanied with a description that includes the term "nom nom." You people are monsters.
COLORADO: Burrito / chili con carne / Rocky Mountain oysters / buffalo burger / gluten free / What is gluten? / paleo diet / Pepsi / fondue
Analysis: "Excuse me, Waitress? Sorry to bother you, but is the fondue gluten free? No? Oh, well then I'll just have the pan-seared bull testicles and a Pepsi."
CONNECTICUT: Apizza
Analysis: Basically, apizza is just a New Haven term for pizza. That's really creative. Have you tried famous Connecticut aclam chowder or atater tot?
DELAWARE: Scrapple
Analysis: In case you couldn't think of any other excuse not to pull off the freeway in Delaware, it's roadside diners are full of scrapple.
DISTRICT OF COLUMBIA: Turducken / cupcakes
Analysis: The art of politics, much like sausage making, is a mildly disgusting process, much like stuffing a deboned chicken into a deboned duck into a deboned turkey (turducken). However, it is delicious.
FLORIDA: Cuban sandwich / Caribbean food / Red Lobster / gastro bypass / Alka-Seltzer (tie)
Analysis: Residents at local nursing homes aren't about to give up their delicious Cuban sandwiches.
GEORGIA: Chicken and waffles / waffles / International House of Pancakes / Coca-Cola / What is veal?
Analysis: The chicken piccata is more popular than the veal piccata, but less popular than chicken and waffles.
HAWAII: Baozi / tofu / bean sprouts / Kobe beef / Spam / pickled pigs feet / molecular gastronomy / raw food / green tea / muesli / sushi / kimchi / balut / quinoa / rice cake / stir frying / eggs benedict / mayonnaise
Analysis: Hawaii is the top state to sample all types of Asian cuisines.
IDAHO: Finger steaks / cinnamon roll / potato / tater tots
Analysis: When you're the top supplier of french fries in the country it's understandable that you'd start deep frying narrow strips of steak, too.
ILLINOIS: Deep dish pizza / Buffalo wings / Doritos Locos Tacos / popcorn / gyro / Jell-O Casserole
Analysis: Illinois residents only Google food terms after they've been drinking for quite a while.
INDIANA: Cheeseburger / biscuits and gravy / mutton / sugar cream pie / Arby's
Analysis: Food sticks to ribs in Indiana.
IOWA: Bacon / bacon cheeseburger / B.L.T. / chipped beef / chocolate milk / Oreo cookie / loose meat sandwich / Jell-O
Analysis: If you grew up on chipped beef and loose meat sandwiches you'd run away with bacon the first chance you got.
KANSAS: Kansas City Barbecue
Analysis: Kansas has kind of a one-track mind when it comes to food.
KENTUCKY: Chicken and dumplings / Manwich / fried pickle / hot brown / burgoo / horse recipe / KFC / Imodium AD / Mylanta
Analysis: Your stomach would be upset also if you just ate your horse… and then a Manwich.
LOUISIANA: Alligator meat / cake / muffaletta / Mississippi mud pie / cracklins / break pudding / Bavarian cream / gumbo / jambalaya / rabbit recipe / red beans and rice
Analysis: Louisiana is very loyal to its local food traditions, but it will steal dessert recipes from its neighbors.
MAINE: Hot cross bun / pie / chicken pot pie / lobster / lobster roll / butter / chowder, pudding / brownies / onion rings / foraging / vegetarian recipes
Analysis: ;A traditional three-course meal in Maine consists of the lobster course, the pie course, and then the dessert course.
MARYLAND: Crab cake / Chesapeake blue crab / cheesecake / pickled herring / How to use chopsticks?
Analysis: Maryland residents would like to expand their culinary horizons beyond local crab, but they don't know how to use chopsticks.
MASSACHUSETTS: Blood pudding / Cobb salad / ice cream / doughnut (tie) / McDLT / cannoli / bacon ice cream / french fries / frozen yogurt
Analysis: Instead of a hunger strike, the state apparently has gone on a dessert strike until McDonald's brings back the McDLT. IT KEPT THE HOT SIDE HOT, AND THE COOL SIDE COOL!!!
MICHIGAN: Omelette / Why am I fat? (tie)
Analysis: It seems unlikely it's from all the eggs. Maybe Michigan is just big boned?
MINNESOTA: Salad recipe (tie) / T-bone steak / Jucy Lucy / coffee / latte / pop rocks / toast / chow mein
Analysis: Neighboring North Dakota stole most the terms one would expect to see searched for in Minnesota.
MISSISSIPPI: How to gain weight? / sweet potato pie / pecan pie / pudding / diet pills / Alka-Seltzer (tie)
Analysis: It's just a weight roller coaster in Mississippi. First you're too skinny so you eat pie, then you're too fat so you take diet pills…
MISSOURI: Early bird special / chimichanga
Analysis: In Missouri, the early bird gets the chimichanga.
MONTANA: Irish recipes, soup recipe / cole slaw / pumpkin pie / bear claw / jerky / meatloaf / venison recipe (tie) / pork ribs / enchilada /
Analysis: Seriously, Irish food?
NEBRASKA: Chicken noodle soup, McRib, Velveeta, Patty Melt
Analysis: Maybe the reason everyone's eating chicken noodle soup when they're sick is because of everything else they're eating?
NEVADA: Buffet / Guy Fieri / pumpkin spice latte / Wagyu beef / Fruit Loops
Analysis: Nobody embraces trendy, annoying food trends like Nevada.
NEW HAMPSHIRE: Macaroni and cheese / pulled pork / minestrone / corned beef / meatball
Analysis: New Hampshire in the yin to Vermont's yang.
NEW JERSEY: Bagel bites / Nutella (tie) / prune juice / biryani / Indian cuisine / Jenny Craig
Analysis: Not as sophisticated as New York's searches, but nothing to be outright ashamed of (like NY's "British cuisine" search).
NEW MEXICO: Frito pie / shrimp cocktail
Analysis: ;It's projected that this year could see record Frito and shrimp harvests in New Mexico.
NEW YORK: Truffle oil / foie gras / steak tartare / ostrich meat / falafel / calamari / guacamole / nose-to-tail / Nutella (tie) / bagel / salami / jelly doughnut / Italian food / Chinese food / British cuisine
Analysis: Right this second, some enterprising hipster chef is tapping his trust fund to start a pretentious food truck selling gourmet garbage plates covered in truffle oil, foie gras, and steak tartare.
NORTH CAROLINA: Chicken nugget / sweet potato / bento box / milkshake / broccoli
Analysis: Great travel slogan—"Chicken Nugget Capital of America"
NORTH DAKOTA: Beer cheese / mozzarella sticks / fettuccine alfredo / sloppy Joe / bison / kuchen / hot dish / French toast / pickles / lutefisk
Analysis: Hop inside the culinary time machine that is North Dakota.
OHIO: Weight Watchers / Curves International / chili / grinders / goetta / turtle meat / hard tack / sauerkraut
Analysis: It's like some sort of German weight loss group's hiking trip is running dangerously low on provisions.
OKLAHOMA: Chicken fried steak / Cheez Whiz
Analysis: Chicken fried steak and Cheez Whiz together now you know you're in trouble.
OREGON: Vegan recipes / Marionberry pie
Analysis: If you had to exclude one state from the American potluck, which one would it be…
PENNSYLVANIA: beer / cooking with beer / competitive eating / Why am I fat? (tie) / Fruit Gushers / hoagies / cheesesteak / Lucky Charms / biscotti / Tums / Gas-X
Analysis: In Pennsylvania, the food pyramid is inverted, and the triangle comes in the form of a funnel you pour beer and high calorie snacks down.
RHODE ISLAND: Clam cakes / doughnut / calzone / fish n' chips / zeppole / veal
Analysis: Each home in Rhode Island comes with two deep fryers—one for desserts and one for seafood.
SOUTH CAROLINA: Grits / shrimp and grits / hoppin' John / barbecue sauce / collard greens
Analysis: Yum.
SOUTH DAKOTA: Hash browns / fruit salad / chislic / salad recipe (tie)
Analysis: All you really need to know is that "chislic" is cubed red meat that's deep fried, flavored with garlic salt, served on a toothpick, and comes with crackers.
TENNESSEE: fried chicken / deep-fried Turkey / hot chicken / chitlins / corn cakes / ham
Analysis: Given the variety of poultry being fried in this state, it's probably time Tennessee laid claim to Buffalo wings as well.
TEXAS: Barbecue / brisket / chalupa / Olive Garden (tie) / chile con queso / menudo (both the soup and the band) / edible bugs / snake meat / stadium buddy / taco / armadillo eggs / tea
Analysis: You had us at "taco."
UTAH: Twinkie / Hot Pockets / Chocolate / Jell-O salad / pancake / rice pudding / cookie / What is quinoa? / Heimlich maneuver
Analysis: Avoid choking by slowing chewing your hot pocket. It's not a race and the Twinkies are not the prize at the finish line.
VERMONT: Kale / kale chips / granola recipe / maple syrup / poutine / quiche / brussel sprouts / Vegemite / Michael Pollan
Analysis: Anyone who doubts the validity of this study had better try and explain why Vermont's search terms are so spot on.
VIRGINIA: Virginia ham
Analysis: Virginia does not use the internet to search for anything food related. The only reason it's tops for "Virginia ham" is because it has its name in it.
WASHINGTON: Humbow / Thai food / pho recipe / cured meats / hand forged / heartburn cure / geoduck / caesar salad / maple bacon donut / pemmican / mushroom
Analysis: "Excuse me, waiter? Are the burgers hand forged or are they uniform in size? Uniform? No, thank you then."
WEST VIRGINIA: Shake N' Bake / Blooming Onion / pineapple upside down cake / pickled egg / peanut butter
Analysis: "Presentation" means placing the pickled egg in the center of the Blooming Onion and lightly dusting it with Shake N' Bake.
WISCONSIN: Cherry pie / pot brownie recipe / SpaghettiOs / beer brats, deep-fried cheese curds / lasagna / submarine sandwich / venison recipe / cucumber sandwiches
Analysis: There's nothing like eating cucumber sandwiches with the crusts cut off while tailgating before a Packers game.
WYOMING: German chocolate cake / prime rib
Analysis: Apparently, everyday is Valentine's Day in Wyoming.