The Most Barbecue-Crazed States In America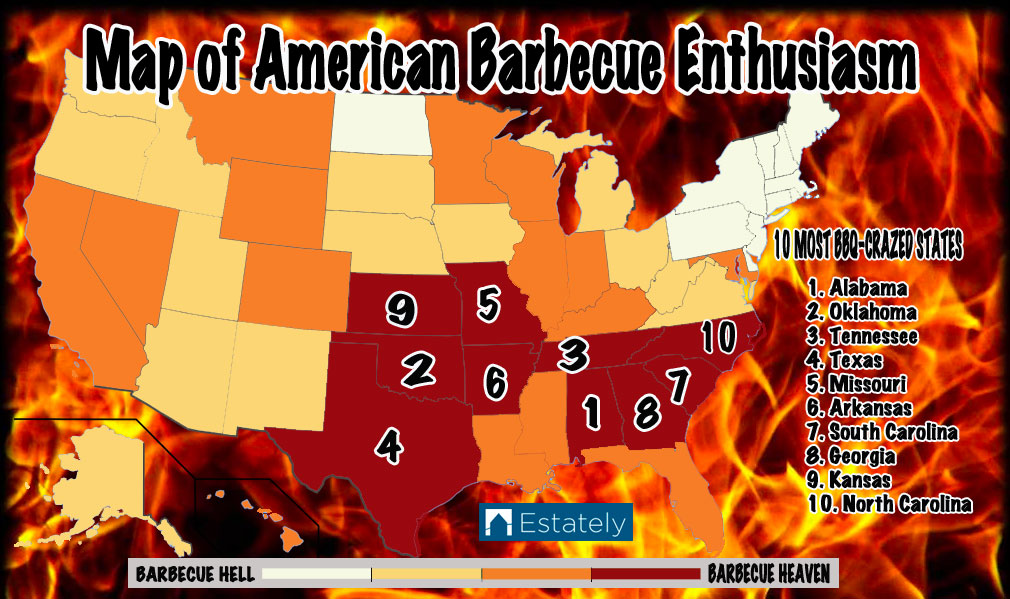 America is home to millions of passionate barbecue fans, people who love the marriage of smoke, fire, and meat. It's also filled with poor, misguided souls whose idea of barbecue is an annual McRib from McDonalds. The difference between these two largely comes down to geography. For those barbecue aficionados deciding where to buy a home, Estately has created this handy map charting which states are home to the most barbecue enthusiasts, and which states are prime habitat for people who cook turkey dogs over high heat on gas grills. Choose your neighbors wisely, otherwise you'll endure some truly miserable neighborhood block parties.
To determine which states are the most barbecue crazed in America we used five sets of data…
Barbecue restaurants per capita (source: Yellow Pages)
Facebook interest in barbecue (source: Facebook)
Percentage of restaurants that are barbecue (source: Yellow Pages)
Google searches for "barbecue" (source: Google Trends)
Barbecue accessory stores and charcoal producers (Yellow Pages)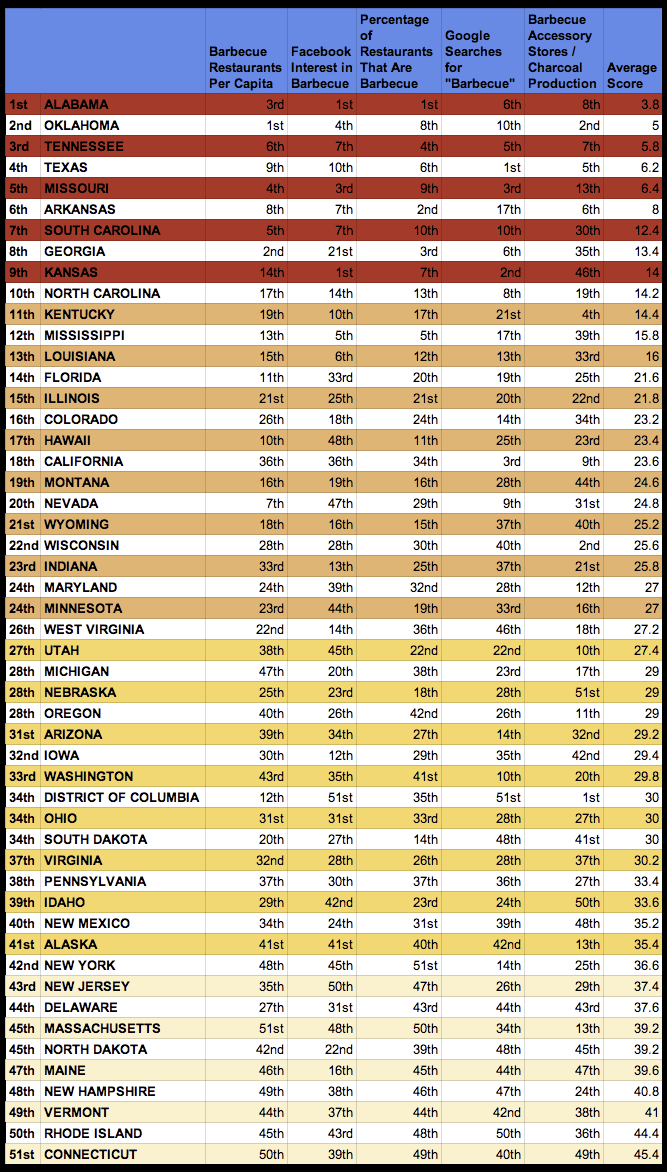 1. ALABAMA
Alabama believes in the sanctity of the marriage of meat and smoke, a love so pure it burns low and slow for eternity. What Alabama lacks in fame for a uniquely Alabama barbecue style it more than makes up for with unrivaled barbecue enthusiasm. A whopping 8.27% of all eateries in Alabama are barbecue restaurants, the highest percentage in the nation, and the state is tops for expressing their love for barbecue on Facebook.
2. OKLAHOMA
The air quality in Oklahoma may suffer from all the smoke, but locals wouldn't have it any other way. The state is home to the most barbecue restaurants per capita, with a barbecue joint for every 5,000 residents.
3. TENNESSEE
Tennessee is in the top seven in all categories, and it's home to the iconic barbecue city of Memphis. The state loves its barbecue so much it's dedicated over 6.59% of all eateries to barbecue.
4. TEXAS
If it weren't for all the delicious Tex-Mex and Mexican food, Texas just might have claimed the top spot. The Lone Star State has the sixth-highest percentage of barbecue restaurants, and it's home to some of the most iconic barbecue joints in the whole country. Styles vary across the state, but beef is king and brisket is the holy grail of Texas barbecue.
5. MISSOURI
Anchored by Kansas City in the west and St. Louis in the east, Missouri is a true barbecue state. It has the highest number of charcoal producers in the country, and some say it consumes more BBQ sauce than any other state.
6. ARKANSAS
Arkansas has the second-highest percentage of barbecue restaurants of all its eateries—6.9%. There are no stats on what the percentage of tailgating meals consists of barbecue, but it's high. Very high. Very, very high.
7. SOUTH CAROLINA
North Carolina may have more of a reputation when it comes to barbecue, but South Carolina appears to have more enthusiasm. It was in the top ten in all but one category, and it has the fifth highest number of barbecue restaurants per capita.
8. GEORGIA
Barbecue is abundant in the Peach State, with the second most barbecue restaurants per capita of any state. That doesn't even include all the barbecue being cooked while tailgating.
9. KANSAS
Kansas is a state consumed with thoughts of barbecue, especially when they're online. The state has the most barbecue-related Google searches over the past decade, and the second most barbecue interest expressed on Facebook.
10. NORTH CAROLINA
One of the barbecue capitals of America, North Carolina may have been the birthplace of barbecue, and it's home to a variety of local styles. It was surprising to find it so on this list, but we couldn't find stats on which states cook the most whole hogs.
11. KENTUCKY
Kentucky features a variety of barbecue styles, particularly in regards to meat, making use of mutton, turkey, as well as all the other usual suspects. What it lacks in total number of barbecue restaurants it more than makes up for with the enthusiasm of its home cooks.
12. MISSISSIPPI
Over 6.36% of all eateries in Mississippi are barbecue restaurants—the fifth highest in the country. If there was data available showing the frequency with which residents host a backyard barbecue the state might have been listed even higher.
13. LOUISIANA
Cajun and Creole restaurants still outnumber barbecue joints in Louisiana, but there are still plenty of both.
14. FLORIDA
Barbecue is big in Florida, with hundreds of competitive teams across the state. Florida doesn't have its own distinctive style, but there's plenty to go around.
15. ILLINOIS
Overshadowed by Kansas City, Memphis, Texas, and North Carolina, Chicago is considered the fifth Beatle when it comes to the great barbecue capitals of America. And it doesn't use mustard-based sauces, so that's a plus.
16. COLORADO
Colorado's style of barbecue is a blend of other American barbecue traditions, but in the state's early years it featured more lamb than beef or pork. Not so anymore.
17. HAWAII
Hawaiians were slow-roasting whole hogs hundreds of years before there even were any pigs in the rest of America. This obviously is worth something.
18. CALIFORNIA
California actually has a strong and unique barbecue tradition that's rooted in its Spanish cowboy past. Tri-tip is king, typically cooked over red oak coals and served with beans.
19. MONTANA
With the third most beef produced per capita, Montana has plenty of meat to put on the grill.
20. NEVADA
With the seventh most barbecue joints per capita, Nevada's got barbecue for days.
21. WYOMING
Because man cannot live on barbecue alone, Wyoming combines its barbecue with a bluegrass festival.
22. WISCONSIN
For decades, Wisconsin has guzzled gallons of beer in preparation for the coming barbecue renaissance. Is it here yet?
23. INDIANA
Located on the edge of America's Barbecue Belt, Indiana has the potential to grow into a barbecue power if it can keep up with its neighbors.
24. MARYLAND (tie)
Maryland is probably going to use its plethora of blue crabs as an excuse for not being barbecue fanatics.
24. MINNESOTA (tie)
When Minnesota residents put their head to the pillow at night they dream of pastries and baked goods because Minnesota is a land with three times more bakeries than barbecue joints.
26. WEST VIRGINIA
If you dig through the internet search histories of West Virginians you won't find many barbecue-related searches (6th fewest), but you'll discover they search for these terms more frequently than any other state: ferrets, meat loaf recipe, and belly button piercings. Seriously, there's proof.
27. UTAH
There's nothing like washing down a plate of ribs with a cold glass of milk… if you're in Utah.
28. MICHIGAN (tie)
Michigan has the fifth-fewest barbecue restaurants per capita of any state in America.
28. NEBRASKA (tie)
Nebraska produces the second most beef per capita of any state, but the locally produced brisket seems to all wander off to Texas.
28. OREGON (tie)
If Oregon chefs can figure out how to incorporate pulled pork into their brunch menus then there will be a dramatic increase in the amount of barbecue consumed in Oregon.
31. ARIZONA
Dry cleaners probably have significantly less business than in other states due to the lack of barbecue sauce dripping on people's shirts.
32. IOWA
For a state that produces more pigs than any other they sure aren't converting them into much local barbecue.
33. WASHINGTON
Newcomers lament the lack of barbecue in Washington state, but locals are getting curious about it. Washingtonians Google "barbecue" as much as Oklahoma.
34. OHIO (tie)
Ohio may not be known for its barbecue, but luckily it's got Kentucky right across the border if it gets hungry.
34. DISTRICT OF COLUMBIA (tie)
Freddy's Barbecue on "House of Cards" is fictional, but there is still some good barbecue to be had in our nation's capital.
34. SOUTH DAKOTA (tie)
Out of all the Dakotas, South Dakota is the most enthused about barbecue, which isn't really saying much.
37. VIRGINIA
The only state south of the Mason-Dixon Line that ended up in the bottom half of this list. That's shameful, Virginia. Shameful.
38. PENNSYLVANIA
There are more soup restaurants in Pennsylvania than barbecue restaurants.
39. IDAHO
Most people order a pulled pork sandwich with a side of fries. In Idaho they apparently order a side of fries with a side of fries.
40. NEW MEXICO
Maybe all those people sneaking across the border into Texas are actually people from New Mexico trying to find some barbecue?
41. ALASKA
The weather isn't conducive to year-round grilling, but Alaskans still find time to smoke tons of fish.
42. NEW YORK
Nobody is saying New York is lacking in fantastic food, we're just saying they have the lowest percentage of barbecue restaurants in the entire country.
43. NEW JERSEY
You'll see a lot of tramp stamps in New Jersey, but you won't see one depicting a rack of ribs.
44. DELAWARE
What's small, shaped like a hangnail, and suffering from an utter lack of barbecue? Delaware.
45. MASSACHUSETTS (tie)
There are 18 pizza places for every barbecue joint in Massachusetts, and most of them wouldn't even consider putting pulled pork on a pizza.
45. NORTH DAKOTA (tie)
The state has three times more steakhouses than barbecue joints, so it's not that North Dakota's vegetarian or anything.
47. MAINE
Maine gets a pass on this one because the state is in danger of being overrun by lobsters. Their only option is to eat them as fast as they can to ward off an invasion. Also, the whoopie pie is the state's official treat.
48. NEW HAMPSHIRE
How can the residents of New Hampshire drink the most beer of any in American state when they're not even using it to wash down a plate of ribs? That's called alcoholism.
49. VERMONT
There are a number of recipes for Vermont-style maple syrup barbecue sauce, which is the kind of thing you'll find in the third least enthused state for barbecue.
50. RHODE ISLAND
There are more than two hot dog stands for every barbecue restaurant in Rhode Island. It's an island of sadness.
51. CONNECTICUT
There are seven times more donut shops in Connecticut than barbecue joints. Seven. It also has the second fewest barbecue restaurants per capita of any state. No state has ever been kicked out of America, but this might be grounds for it.
– – – – – – – – – – – – – – – – – – – – – – – – – – – – – – – – –
Estately is a national online real estate search site whose articles have been featured in the The Wall Street Journal, The Washington Post, CNET, San Francisco Chronicle, Time, GeekWire, The Denver Post, and more.