The Geography of Each U.S. State's Favorite Food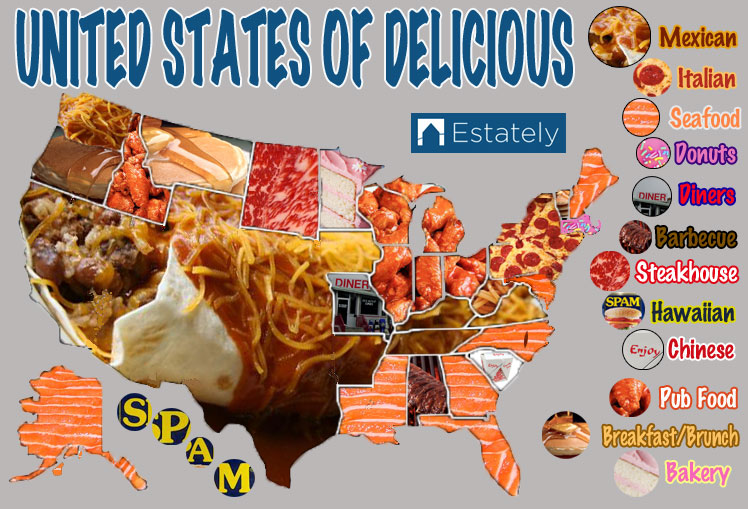 From all-you-can-eat buffets to cooking-themed reality TV shows, America is a nation obsessed with food. While this obsession obviously influences where Americans eat out, it's also a factor in where people choose to buy a home. Many a Texan has moved away only to return after discovering their new home lacks good barbecue and Tex-Mex.
With this in mind, Estately crunched the numbers for each state's Urbanspoon page to find out what type of restaurants each state has in abundance. We discovered every state is filled with restaurants in these categories—American, fast food, burgers, sandwiches, and pizza. We left those out because they're common to all states and just focused on the differences. Each state is represented by the category of food which had the most restaurants, not counting the five previously mentioned.
The results showed some broad geographical trends. Coastal states in the South are obsessed with seafood, and not just because shrimp and grits is glorious. The Northeast clings to its Italian food traditions, except Massachusetts, which has gone all in on donuts. The Midwest is a land of pub food, and beef is what's for dinner in the Dakotas. Most of the West is devoted to Mexican food, while brunch is king in the whitest of states. Minnesota is getting a large percentage of its calories from cake and pastries, Hawaii shows its pride with an abundance of Hawaiian restaurants, and fortune cookie companies are making a fortune in South Carolina.
Barbecue: Alabama
Bakery: Minnesota
Breakfast/Brunch: Montana, Oregon, Vermont
Chinese: South Carolina
Diners: Missouri
Donuts: Massachusetts
Hawaiian: Hawaii
Italian: Connecticut, New Jersey, New York, Pennsylvania, Rhode Island, and West Virginia
Mexican Food: Arizona, Arkansas, California, Colorado, Iowa, Kansas, Kentucky, Nebraska, Nevada, New Mexico, Oklahoma, Tennessee, Texas, Utah, Virginia, Washington state, and Wyoming
Pub Food: District of Columbia, Idaho, Illinois, Indiana, Michigan, Ohio, and Wiscosin
Seafood: Alaska, Delaware, Florida, Georgia, Louisiana, Maine, Maryland, Mississippi, New Hampshire, and North Carolina
Steakhouse: North Dakota and South Dakota
– – – – – – – – – – – – – – – – – – – – – – – – – – – – – – – – –
Estately is a national online real estate search site whose articles have been featured in the The Wall Street Journal, The Washington Post, CNET, San Francisco Chronicle, Time, GeekWire, The Denver Post, and more.