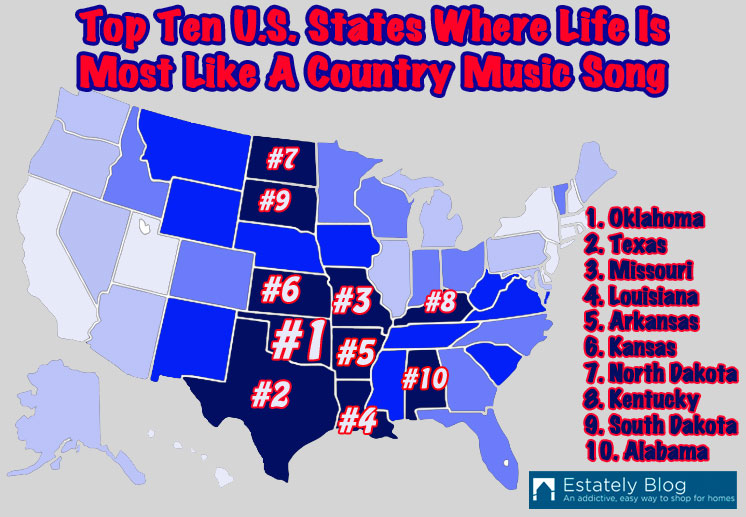 Estately set out with the simple mission—to determine which U.S. states have a lifestyle most similar to the themes in country music songs. To do this, we researched where people are most likely to drive pickups down dirt roads, have their heart broken by a cowboy or cowgirl, or sip cold beers or whiskey by the river after a long day of work. Here's the criteria we used to find our results…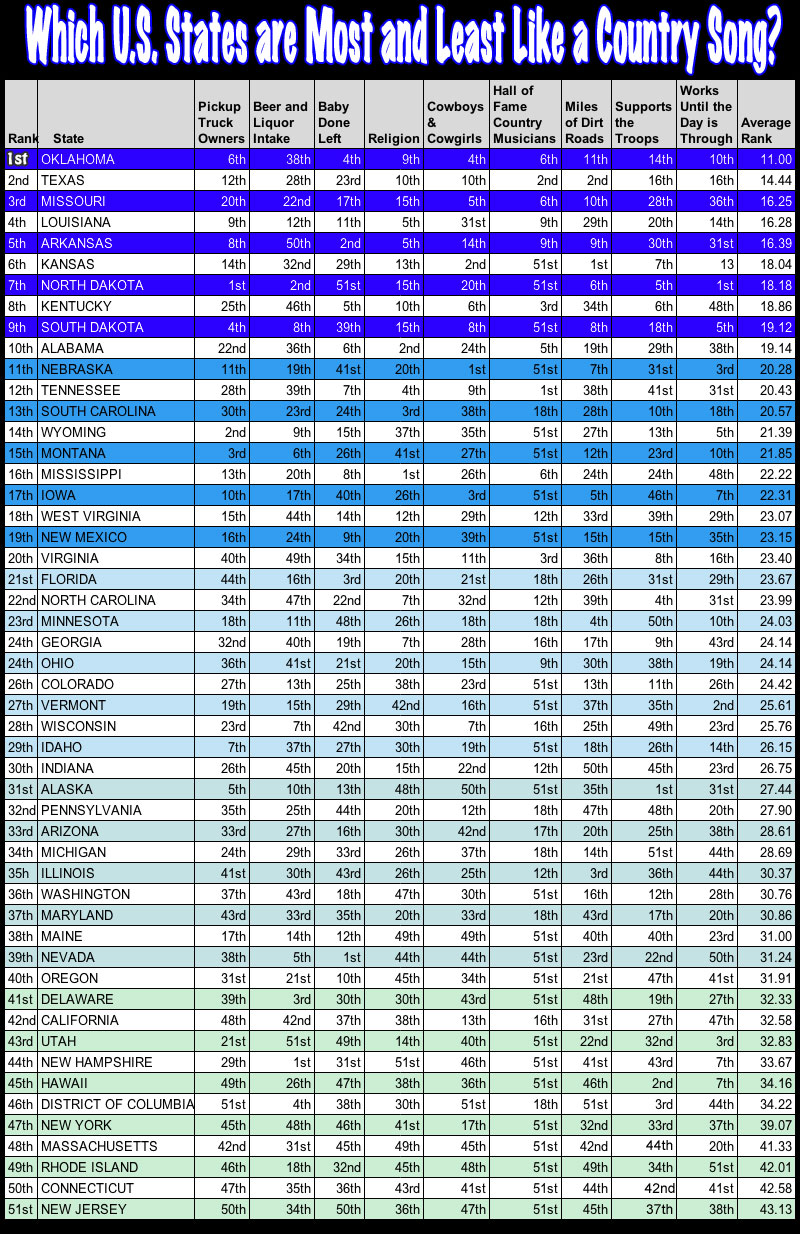 Profiles of Each State:
ALABAMA (10th): Sweet home Alabama is the second most religious state, but that doesn't mean it's honoring its wedding vows (6th highest divorce rate).
ALASKA (31st): If you replace dirt roads with ice roads, and cowboys with commercial fishers, Alaska's ranking probably comes out a lot higher.
ARIZONA (33rd): Arizona's country singers probably write more songs about a woman leaving her man after the air conditioner broke than any other.
ARKANSAS (5th): The great state of Arkansas might have come in first if it didn't fill its red Solo cups primarily with non-alcoholic grape juice (50th for boozing).
CALIFORNIA (42nd): You're far more likely to spot a celebrity in California than to see a pickup truck with a cooler of beer in the back (48th for pickup sales and 42nd for beer/liquor purchases).
COLORADO (27th): High on the mountain top, the rest of the world's just a little bitty spot, so perhaps altitude is the reason Colorado has nobody in the Country Music Hall of Fame.
CONNECTICUT (50th): Connecticut's ideal form of country music would be Carly Rae Jepsen performing her one hit over and over while wearing Daisy Duke's.
DELAWARE (41st): The state may be 3rd for beer and liquor purchases, but all that boozing has so far failed to inspire any iconic country music drinking songs.
DISTRICT OF COLUMBIA (46th): Pickup trucks are none too popular with the fine lobbyists who reside in our nation's capital (51st in pickup truck sales).
FLORIDA (21st): For every jacked up truck in Florida driven by someone with cut-off sleeves there's a retired investment banker strolling through town in yellow thong that really hurts the state's ranking here.
GEORGIA (24th-tie): Do not rock the jukebox in Georgia. This is Alan Jackson country.
HAWAII (45th): If by "country music" you mean "Taylor Swift," then yes, Hawaiians do love country music.
IDAHO (29th): All of Idaho's rowdy friends are living the country life in Montana and Wyoming.
ILLINOIS (35th): Man, if you want to meet a bunch of people who know all the words to Sheryl Crow's "All I Wanna Do Is Have Some Fun" then you need to go to Illinois.
INDIANA (26th): Southern Indiana is resenting the northern part of the state even more for this low ranking.
IOWA (17th): The state is thick with cowboys and cowgirls (3rd), and has miles of dirt roads (5th), but that setting hasn't put any locals in the Country Music Hall of Fame. Those corn maizes make it too hard for locals to find their way to Nashville!
KANSAS (6th): Chillin' on a dirt road is always an option in Kansas since it's got the most miles of dirt road per square mile of any state in America.
KENTUCKY (8th): The odds of you being an unemployed cowboy whose wife just walked out are very high in Kentucky.
LOUISIANA (4th): When you're sad and lonely and got no place to go you can always go honkey tonkin' in Louisiana. Always.
MAINE (38th): Mamas in Maine don't have to worry about their babies growing up to be cowboys because the state is largely devoid of any cows (49th in beef production). However, all hope is not lost as country music is still waiting for songs about the hard lives of America's lonesome blueberry farmers.
MARYLAND (37th): In Maryland, most locals still believe Dolly Parton was one of the actresses on the TV show Trading Places.
MASSACHUSETTS (48th): The only country band anyone will admit listening to in Massachusetts is the Dixie Chicks.
MINNESOTA (23rd): Someday the artist formerly known as Prince, and now once again known as Prince, is going to make an awesome country album and nobody will question Minnesota's surprisingly high 23rd place ranking.
MICHIGAN (34th): Big belt buckles are commonly stolen in Michigan.
MISSISSIPPI (16th): Mississippi is the most religious state in America, but it's also the state where someone is most likely to sell their soul to the devil at a crossroads in exchange for music success.
MISSOURI (3rd): It's fifth for cowboys/cowgirls and it's got the sixth most performers in the Country Music Hall of Fame.
MONTANA (15th): Many a cooler of beer can be found in back of a pickup, but few of those pickup trucks are found in church parking lots.
NEBRASKA (11th): In Nebraska, baby's got her blue jeans on because she works on a ranch (first for cowboys and cowgirls).
NEVADA (39th): Nevada is fifth for beer and liquor consumption, and it's first for divorce. Perhaps if Nevada was more familiar with the works of Loretta Lynn they wouldn't come home a drinkin' with lovin' on its mind.
NEW HAMPSHIRE (44th): Someday, Toby Keith is going to cause a riot in New Hampshire when he sings about giving beer to his horses. Beer is sacred in New Hampshire, and certainly not something given to livestock.
NEW JERSEY (51st—last place): Eventually, when the whole world's gone country, New Jersey will still be playing that one cassette tape filled with Paula Abdul songs recorded off a Top 40 radio station.
NEW MEXICO (19th): The odds of your husband driving off in your pickup truck and never returning are quite high in New Mexico (16th for pickup sales and 9th for divorce).
NEW YORK (47th): You won't hear much country outside of rural New York, unless you're in a Brooklyn bar filled with hipsters ironically singing it at karaoke.
NORTH CAROLINA (22nd): North Carolina's residents could dramatically increase their state's ranking on this list by trading in their sedan for a pickup, and then filing for divorce.
NORTH DAKOTA (7th): The average day in a North Dakota person's life involves driving the pickup (1st for sales) along dirt roads to the oil fields, working all day (1st for employment), drinking all night (1st for beer/liquor consumption), and then waking up alone because he/she never got married.
OHIO (24th-Tie): Ohio is home to the ninth most members of the Country Music Hall of Fame, and a good number of coal miners' daughters.
OKLAHOMA (1st place): Even though they don't drink much beer and liquor in the land of Garth Brooks, the state is still in the top fourteen in all other categories, which makes it the number one state on this list.
OREGON (40th): Loretta Lynn may drink sloe gin fizz by the bucket in Portland, but that's about as country as that state gets.
PENNSYLVANIA (32nd): Wow, it's hard to believe that Eagles fans would would allow Pennsylvania to be home to so many cowboys (12th most).
RHODE ISLAND (49th): Is the rumor true that the only country station in Rhode Island just plays an old Hootie & the Blowfish album on repeat 24/7?
SOUTH CAROLINA (13th): How come nobody in South Carolina has written a country song about the roof on the mobile home collapsing under the weight of the DIRECTV satelite dish?
SOUTH DAKOTA (9th): Carpooling to work is a challenge in a state where everyone owns a pickup truck (fourth most).
TENNESSEE (12th): Tennessee coming in 12th place was the most surprising finding on this list. Despite being a center for country music and home to the most residents in Country Music Hall of Fame, the Volunteer State came up in short in a number of other key categories.
TEXAS (2nd): Texas was country before country was cool, including back when Texas was its own country.
UTAH (43rd): Folks in Utah mate for life (50th in divorce rate), so there's little heartbreak to croon about. Could be one factor in why it's in last place for local residents in the Country Music Hall of Fame, and probably partly responsible for the lowest rate of alcohol intake.
VERMONT (27th): The maple syrup life ain't a good life, but it's Vermont's life.
VIRGINIA (20th): Virginia is home to the third most members of the Country Music Hall of Fame, but locals probably toast to this accomplishment with sweet tea (49th for beer and liquor consumption).
WASHINGTON (36th): Willie Nelson music career began by singing about loggers in Washington state, but it has yet to inspire the Evergreen State to go country. However, 100.7 The Wolf is working on it.
WEST VIRGINIA (18th): Some say when West Virginians talk about having friends in low places they're talking about having friends in Ohio.
WISCONSIN (28th): Wisconsin isn't known for its country scene, perhaps because it inspires lyrics like this, "Somebody will buy another round / and with every drinks are free / what made Milwaukee famous / has made a fool out of me."
WYOMING (14th): In Wyoming, an alleged 30% of all marriages start in traffic jams because there's just something women like about a pickup man (2nd for pickup sales).
– – – – – – – – – – – – – – – – – – – – – – – – – – – – – – – – –
Estately is a national online real estate search site whose articles have been featured in the The Wall Street Journal, The Washington Post, CNET, San Francisco Chronicle, Time, GeekWire, The Denver Post, and more.