The Geography of American CrossFit Enthusiasm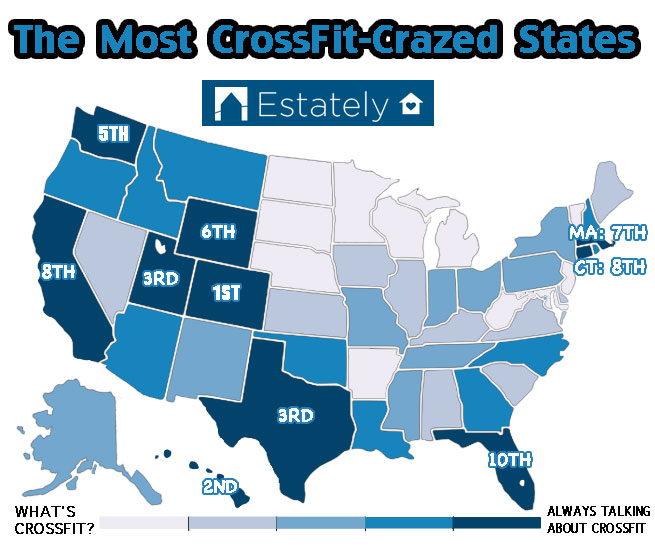 There's a popular joke online that the first rule of CrossFit is never shut the (bleep) up about CrossFit. And as anyone with a Facebook account can surely attest, once someone starts the popular fitness regimen it's about all they can post about.
Over the past few years, CrossFit has become one of the most popular workouts in America, with an army of devoted followers who can't stop shouting its praises. It made us wonder which states were the most enthusiastic about CrossFit (and possibly most ripped), and which ones can go an entire dinner party without a discussion of WODs? Obviously, this information is of critical importance for anyone deciding where to buy a home through Estately.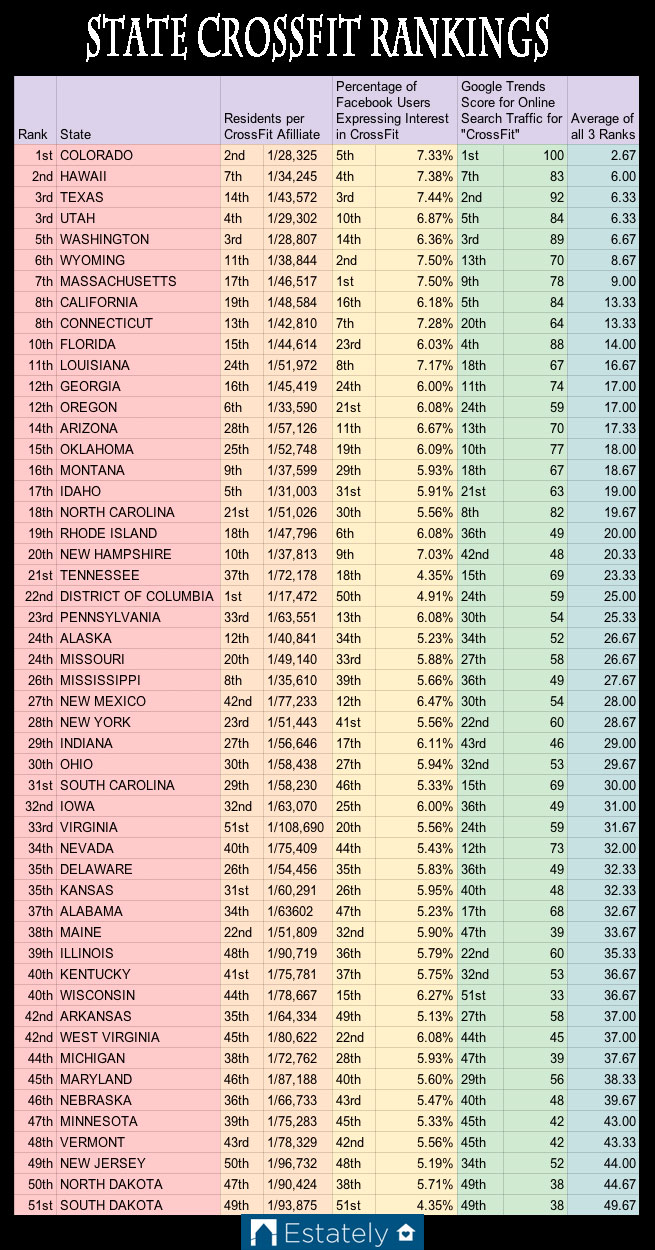 Aside from the Dakotas being a CrossFit black hole, there were a few interesting things that stood out. First, there are more CrossFit affiliates per resident in the District of Columbia, but Facebook users in the nation's capital are the second least likely to post about it. There should be some sort of prize for that. Nice job D.C.
Nevada did the 12th most online searches for CrossFit, but the state came in 40th for actual CrossFit affiliates. The state is obviously interested in CrossFit, but just can't seem to pull the trigger. Maybe it's scared of injuries, or perhaps it's just lazy?
The most obnoxious CrossFit participants are in Massachusetts, a state that came in first for posting about it on Facebook, but is just 17th in terms of actual CrossFit affiliates per resident. That's a lot of talk, but not much action.
– – – – – – – – – – – – – – – – – – – – – – – – – – – – – – – – –
Estately is a national online real estate search site whose articles have been featured in the The Wall Street Journal, The Washington Post, CNET, San Francisco Chronicle, Time, GeekWire, The Denver Post, and more.ica