11 Best Cities for Feminists
Though it's become a pejorative in some settings, feminism is still alive and well in these United States, largely because there remains a great deal of work to be done to achieve equality between the genders. But for gender-equality activists (and women who just want to be paid the same amount and be taken seriously and have the same freedoms and safety as their male counterparts), finding a community of like-minded folks can be difficult.
Cities that are great for feminists aren't just those with a high population of women (because you don't have to identify as female — or any gender, for that matter — to be a feminist), or even those where the gender gap is less gaping, though those factors do help.
A great city for a feminist is one which supports inclusive dialogues, has at least a small undercurrent of inclusion, and the potential for new grassroots movements to take hold. Oh, and it should be in a state that's supportive of (or at least not actively limiting) women's health concerns.
Even in widely-considered liberal cities you may still hear someone at the table next to you ranting about how Title IX is sexist against men, but at least in those which are feminist-friendly, you might be able to find a Radical Cheerleader chapter to keep you sane.
Washington, DC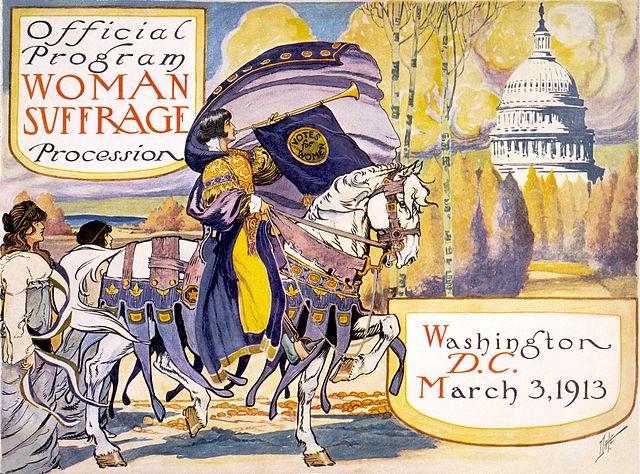 WIKIMEDIA COMMONS
The District may still statistically be a boy's club, but it's also one of the places in the U.S. where women stand to make the most money and effect the most change. Women earn about 75% of what men do — which is higher than most cities. They also are rapidly moving into more positions of power; there are more women in congress than ever before, and DC was recently named a top city for female entrepreneurs looking to start their own businesses.
Honolulu, HI
No, feminists aren't all angry — in fact, focusing on self-care is pretty important to a lot of activists. So it makes sense that a state with a great quality of life and high happiness rankings, like Hawaii, would be a perfect fit for a subversive gender movement. Hawaii is one of the top states for women, period, according to one 2013 survey.
Additionally, Hawaii's political and business climate are rapidly growing more female (and female-identified)-friendly; a third of all businesses in the islands are owned by women, the state elected its first female Senator in 2012, and last year, veteran Tulsi Gabbard took office as a State Representative.
Philadelphia, PA
With a big Planned Parenthood presence and the potential for a pretty progressive new female Governor, Philly is a pro-women city to be sure. It also boasts more than a few networks, non-profits, and other helpful organizations and publications that benefit gender equality, including Philly Now and Women's Way. The city's Chamber of Commerce even gives a scholarship called the Paradigm Award (great name, non?), which acknowledges working women.
Oakland, CA
San Francisco is another high-paying city for women, but the cost of living can make it hard to get ahead. To cope, many feminists have moved out to Oakland, home of Mills College and more than a few feminist vigilante groups. Women in Oakland can take advantage of the Bay Area's business climate and California's Office of Health Equity, while also remaining active close to home with pro-women and LGBT (because feminism is also about being an ally) organizations like Women's Initiative and Pacific Center.
New Orleans, LA
Contrary to what you may have learned on Twitter, feminism isn't (or shouldn't be, anyway) just for white women. NOLA Black Professionals does incredible work to offer information and community support to progressive professionals of color, particularly working women.
New Orleans also benefits from the presence of academia; Loyola's Women's Resource Center frequently organizes inclusive events, and this month, Tulane held an entire week of celebration of icon Audre Lorde.
Bridgeport, CT
Time and again, Connecticut has been ranked one of the best states for women. 90% of the women living in Connecticut are insured, and the vast majority hold degrees. Noted for having a socialist mayor for over 20 years, Bridgeport has a history of stirring the political pot, and today, boasts a burgeoning community of artists and activists.
Look no further than Bloodroot, the city's feminist restaurant and bookstore, to find community and conversation — though be aware, this city is far from perfect. According to Forbes, women in Bridgeport earn just 53% of what men do. Still, it's one of the highest-paying cities in the US for women. Which could be why we still need feminism.
Macon, GA
I know what you're thinking — Georgia?! But come on, feminists can't all live on the liberal coastlines. Change happens from within!
The home of Wesleyan College (the first college to ever grant degrees to women!), Macon has a surprising little pocket of active allies. It's also just an hour from Atlanta, which is the home to the Feminist Women's Health Center, among other supportive organizations. Macon is also one of the few cities in the state where the city council is partisan and largely democratic. And Georgia needs feminists more than ever right now — a bill that hopes to ban abortion coverage is moving through the state's legislature.
Worcester, MA
Voted one of the best mid-sized cities for working women, Worcester has the benefits of Massachusetts — hello, healthcare! — without the high childcare and other costs of larger cities like Boston. Additionally, women in MA, who outnumber men by about 3%, tend to earn a competitive salary, and can take advantage of a climate of academia, which is great for coming up with big ideas.
Portland, OR
Home to Bitch Media, Portland is an epicenter for progressive thought and action. With myriad feminist organizations, you'll have no problem finding a community of rad fems to change the world with. Portland also exists in Oregon, a state with a higher-than-average minimum wage, which is great for working women. Unfortunately, Portland does have one major drawback — it has a terrible history regarding racial diversity.
Detroit, MI
As Detroit continues its effort to rebuild its empire, one of the keys for Michigan has been luring smart women to a state traditionally fueled by male-dominated industries. But with GM's new female CEO, Mary Barra, things might be looking up for women in the workplace. Detroit also has an active feminist collective, which hosts events like readings of the Vagina Monologues, and an active web community for women called Shetroit, which covers everything from parenting to disabilities to racial issues.
Madison, WI
With plenty of emerging technology, Madison is a great place for women in STEM to make a good living, while also taking advantage of the University of Wisconsin's many academic forums and opportunities. Wisconsin Women in Government also does great work to advance the number of females serving in political office.
– – – – – – – – – – – – – – – – – – – – – – – – – – – – – – – – –
Estately is a national online real estate search site whose articles have been featured in the San Francisco Chronicle, Houston Chronicle, NBC News, Philadelphia Magazine, GeekWire, The Denver Post, and more.