This Map Shows The United States If Each State Were Named For The Most Similar Foreign Country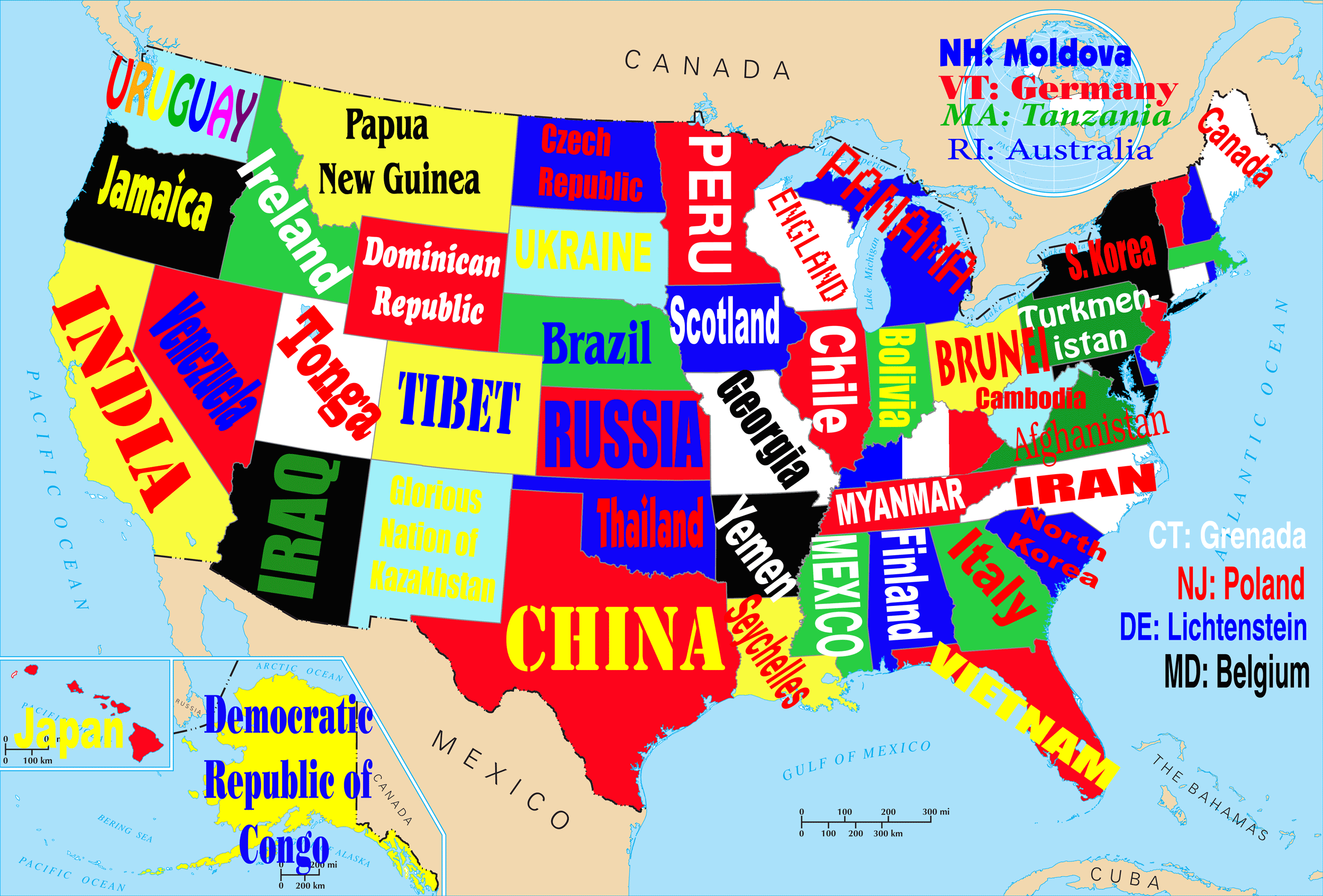 From geography and politics to economy and lifestyle, every U.S. state  is different, but each has surprising similarities with at least one other country. We at Estately crunched big numbers and did some important science stuff to determine the foreign country that has the most in common with each U.S. state.
Alabama = Finland
Common Bond: Athletes / Winning
Little old Alabama may not be highly ranked for literacy and overall health, but their college football teams sure win some B.C.S. championships. Between Auburn and Alabama, the two schools have won four of the last five. Finland is also no athletic slouch, having won 300 Olympic medals, the most per capita of any country (one for every 18,023 people!)
Alaska = Democratic Republic of Congo
Common Bond: Rapists / Resources
What's big, filled with natural resources, and inhabited by lots of rapists? Sadly, it's Alaska and the Democratic Republic of Congo. Alaska has the highest rate of the reported rape of any U.S. state, nearly three times the national average. The Democratic Republic of Congo is a living nightmare, with an estimated 1,152 women raped each day.
Arizona = Iraq
Common Bond: Sandstorms / Sunsets
Whether you're in Arizona or Iraq, you'll witness the shared problems of sandstorms, a porous/lawless border, high murder rate, and serious heat. However, the sunsets are incredible.
Arkansas = Yemen
Common Bond: Guns / Prohibition
Much like Yemen, Arkansas is famous for its rugged mountains, excellent fishing, high gun ownership, and disdain for alcohol. Arkansas has more guns per capita than all but five other states and Yemen has the third-highest percentage of guns in the world with 58.2 per 100 residents. Also, with half its counties dry, Arkansas consumes the second least amount of alcohol in America—1.72 gallons of pure alcohol per person, just behind Utah. Yemen drinks the least of any country in the world, a meager 0.005 gallons per person.
California = India
Common Bond: Entertainment / Inequality
California is home to Hollywood and much of America's tech and software industry. India is home to Bollywood and a growing technology and software industry. India has actor Amitabh Bachchan and California has Al Pacino, but if you look closely you may start to wonder if they're actually the same person! And given the economic disparity between rich and poor, one could argue that both places have a caste system of sorts.
Colorado = Tibet
Common Bond: Buddhists / Altitude
You probably thought Colorado would be the Netherlands because of the legal marijuana, huh? No dice. Colorado is Tibet. Swap out the yaks for cows, trade the Coors for fermented mare's milk, and you'll see these two are filled with Buddhist cowboys and cowgirls living at high altitudes.
Connecticut = Grenada
Common Bond: Little / Nutmeg
Ahh, little Connecticut—the Nutmeg State. So boring. Grenada produces a lot of nutmeg and its travel slogan is "Grenada—Live the Rhythms of Spice." They're both little.
Delaware = Liechtenstein
Common Bond: Stash Spot / Tax Dodge
Delaware is small, produces little, and owes much of its prosperity the business-friendly corporation laws that make it such a corporate haven that 63% of Fortune 500 companies are incorporated there. Likewise, Liechtenstein is a country that produced next to nothing and earns a fortune by letting various entities hide their money there.
District of Columbia = Honduras
Common Bond: Murder
Unfortunately for these two, what they have in common is murder. If Washington, DC were a state, it would have the highest murder rate in America—13.9 homicides per 100,000 people. That can't touch global leader Honduras, with a shocking 82.1 homicides per 100,000 people.
Florida = Vietnam
Common Bond: Danger of Rising Sea Levels
Florida and Vietnam may seem like an unlikely pairing, but each is a land of swaying palms and questionable elections, and both will be severely impacted by global warming. Of any U.S. state, rising sea levels pose the greatest danger to low-lying Florida. Vietnam would be the most-impacted country in the world from rising sea levels.
Georgia = Italy
Common Bond: Peaches (not the musical group)
I want to say one word to you. Just one word. Are you listening? Peaches. There's a great peach connection between Georgia and Italy. Georgia, the Peach State, is the third-largest producer in the country. Italy is the second largest in the world. So, if they get stuck in an elevator together they'll at least have that to talk about.
Hawaii = Japan
Common Bond: Growing Old
Sure, there's that whole Pearl Harbor thing to move beyond, but both Hawaii and Japan are collections of islands, and both are leaders in life expectancy. Hawaii is tops among U.S. states at 81.3 years, and Japan is second in the world at 84.6 years.
Idaho = Ireland
Common Bond: Spuds
Idaho and Ireland. Because… potato.
Illinois = Chile
Common Bond: Robbing / Stealing
Finish the joke:  Illinois and Chile bump into each other in an alley. Who robs the other one first? It's hard to know because Illinois is the American leader when it comes to robberies, but can it compete at an Olympic level with Chile, the global robbery leader?
Indiana = Bolivia
Common Bond: Land of Indians
"Indiana" translates to "Land of the Indians," which is currently inaccurate because there are statistically very few living there today. Bolivia, on the other hand, is a true "Indiana," with Amerindians making up a majority of its citizens.
Iowa = Scotland
Common Bond: Golf
Thankfully, few of Iowa's men wear kilts, but like their Scottish counterparts, they do enjoy hitting the links. Scotland has the most golf courses per capita of any country. Iowa has the third most per capita of any U.S. state, behind both the Dakotas, which we're not counting because they're sparsely populated.
Kansas = Russia
Common Bond: Homophobia
Possibly inspired by Russian President Vladimir Putin's anti-gay laws, Kansas decided its ban on same-sex marriage didn't go far enough. The state's House of Representatives passed a law allowing individuals, groups, and businesses to refuse services to same-sex couples, particularly those looking to get married. Things aren't very friendly in the land of Dorothy.
Kentucky = France
Common Bond: Fast Food
Kentucky is the second-largest consumer of fast food in America. France is the second-largest consumer of fast food in the world (after the U.S.). Perhaps it's time they both sat down together over a tub of "freedom fries."
Louisiana = Seychelles
Common Bond: Prisoners / Low Elevations
America is the global leader when it comes to putting people in prison, but Louisiana manages to imprison more than twice the U.S. average—1,619 per 100,000 residents. That number doesn't include those in jail, just prison. That number is twice that of the island nation of Seychelles, which has 709 prisoners per 100,000 residents (2nd most being America.). In addition to prisoners, both places are at low elevations and endangered by rising sea levels.
Maine = Canada
Common Bond: Northern Latitude
Most of Maine lies north of Toronto anyway so it's inevitable these two are going to run off together. Who are we to stand in the way of true love?
Maryland = Belgium
Common Bond: Taxes
Maryland has the highest taxes of any American state:  income tax 5.5%, sales tax 6%, and property tax per capita $1,171. However, that's nothing compared to Belgium, where taxpayers are taxed at a marginal rate of 54.9%.
Massachusetts = Tanzania
Common Bond: Killing Witches
Modern day Tanzania and olden days Massachusetts are no country for accused witches. Between 2005 and 2011, more than 3,000 accused witches were murdered in the East African country. By comparison, the Salem witch trials in Massachusetts weren't really that bad, right?
Michigan = Panama
Common Bond: Colons
Michigan and Panama share one odd thing in common—they each are home to a city called Colon. Michigan's Colon is famous for its annual magic festival and is known as "The Magic Capital of the World." Colón, Panama is famous for crime, primarily its many pickpockets and muggers who make wallets vanish.
Minnesota = Peru
Common Bond: "Snow"
During much of the year, Minnesota is almost completely covered in pure snow. Do you realize the street value of that? Coincidentally, Peru has now become the largest producer of cocaine in the world.
Mississippi = Mexico
Common Band: Being Obese
Tubby Mississippi is America's most obese state, but surprisingly America is not the world's most obese country. That title now belongs to Mexico because apparently America is even outsourcing its obesity.
Missouri = Georgia (Republic of Georgia)
Commong Bond: Wine and Caves
The former Soviet republic of Georgia and the great state of Missouri share a lot in common. Georgia invented winemaking thousands of years ago and produces hundreds of varietals still unknown to most wine drinkers. At one time, Missouri produced more wine than any other state and has seen a revival in recent years. Also, both have lots of caves.
Montana = Papua New Guinea
Common Bond: Stubby Buildings
Montana and Papua New Guinea don't need to build giant skyscrapers to compensate for anything. Both are content with having no buildings taller than 300 feet. Montana's tallest building is 272 feet, while Papua New Guinea's is all of 295 feet.
Nebraska = Brazil
Common Bond: The Beef
Sure, Nebraska is lacking Brazil's nightlife, and there's (hopefully) no bikini waxing called a "Nebraskan," but if there's one thing these two do have in common it's cows. Brazil has 200 million cattle,  more than any country in the world, and 1.07 cows per person. Kansas has the second most of any U.S. state with 6 million, nearly 3.3 per person.
Nevada = Venezuela
Common Bond: Paying for Sex
Unfortunately, it's prostitution that binds these Nevada and Venezuela together. Nevada has the highest percentage of population arrested for prostitution-related offenses (0.14%). Venezuela has the highest percentage of sex workers—119 for every 10,000 people.
New Hampshire = Moldova
Common Bond: Booze
Someday, the eastern European country of Moldova and the state of New Hampshire may meet in a bar and become best of friends. New Hampshire is the "drunkest state in America" with an annual consumption of 4.7 gallons of pure alcohol per person (313 cans of beer, 36.5 bottles of wine, and 18.8 bottles of spirits). Moldova tops that with an annual consumption of 5.7 gallons per person.
New Jersey = Poland
Common Bond: Shameful Reality TV
New Jersey this could have gone a lot of different ways so just be grateful you got paired up with Poland. They've even got "Warsaw Shore," their own MTV version of "Jersey Shore."
New Mexico = Kazakhstan
Common Bond: Uranium for Days
Who's number two in uranium reserves? For U.S. states it's New Mexico, and for countries, it's the glorious nation of Kazakhstan. New Mexico, your own Borat resides somewhere within your borders. When you find him, please share him with the world.
New York = South Korea
Common Bond: GDP / Intimidating Neighbors
New York State (1.04 trillion) and South Korea (1.13 trillion) have nearly the same GDP, both are dominated by enormous cities (New York City and Seoul), and both have neighbors that loathe them (Pennsylvania and North Korea).
North Carolina = Iran
Common Bond: Vote Suppression
Iran's rulers have banned opposition parties from running in elections, disqualified candidates, and performed various other acts of electoral sabotage to hold on to power. North Carolina has drawn harsh criticism after instituting the most sweeping anti-voter laws in decades. North Carolina does have better barbecue.
North Dakota = Czech Republic
Common Bond: Beer
Despite being on separate continents, it's always the same time in North Dakota and the Czech Republic, and that's Miller Time. North Dakota leads the U.S. in beer consumption per person—45.8 gallons per year. The lager heads in the Czech Republic lead the world with 34.9 gallons per person, per year. Don't worry, the Czech Republic, you can always drink more next year.
Ohio = Brunei
Common Bond: Roller Coasters
Ohio and the tiny country of Brunei have bound together like brothers thanks to their shared love of roller coasters. Ohio is home to Cedar Point, the "roller coaster capital of the world, "and there are 43 roller coasters within the state's boundaries—one for every 267,411 people. Itty bitty Brunei has just three roller coasters, but that's one for every 131,054 people.
Oklahoma = Thailand
Common Bond: Women Behind Bars
Do you know what they say about Thai women? The same thing they say about Oklahoma women:  There sure are a lot of them behind bars. When it comes to female incarceration Oklahoma is tops for America, and Thailand is number one globally.
Oregon = Jamaica
Common Bond: Buds / Beards
Oregon is a state famous for marijuana, dreadlocks, men with beards, and refusing vaccinations. Is Oregon some kind of Rastafarian paradise?
Pennsylvania = Turkmenistan
Common Bond: Down to Frack
In recent years, Pennsylvania has seen the most dramatic increase in natural gas production in the United States. Turkmenistan is sitting on the fourth-largest natural gas reserves in the world. It's also home to the "Door to Hell", a natural gas fire that's been burning since 1971. And that's the least frightening thing about Turkmenistan.
Rhode Island = Australia
Common Bond: Getting High
Australia is the world's largest island. Rhode Island is not actually an island. However, both places love to get high. Rhode Island has more drug users per capita than any other state, and the Aussies are the biggest recreational drug users in the world.
South Carolina = North Korea
Common Bond: Corruption
Relatively poor South Carolina recently received an F grade as one of the most corrupt states in America. Pariah state North Korea is tied for the absolute most corrupt in the world. Both are overshadowed by a similarly named, but more esteemed neighbor, but at least South Carolina isn't friends with Dennis Rodman.
South Dakota = Ukraine
Common Bond: Sunflowers
In 2013, South Dakota produced more sunflowers than any other state in the country—over 2 billion pounds. Ukraine is the world's largest sunflower oil producer, with over 3.3 million tons each year.
Tennessee = Myanmar
Common Bond: Meth
Tennessee is not controlled by a ruthless military junta like Myanmar is, but the two do share an enthusiasm for methamphetamine. Things broke badly for Tennessee in 2013 when it surpassed Missouri for most meth use. Myanmar is the primary producer of methamphetamine pills in the Asia-Pacific region.
Texas = China
Common Bond: Executions / Wind Power
Texas is the American leader in wind power with 12.4 GW in capacity for 2013. China leads the world with 75.4 GW. Texas leads America in capital punishment with 510 executions since 1976—nearly five times more than any other state. China leads the world in capital punishment, with thousands of executions each year.
Utah = Tonga
Common Bond: Lots of Mormons
Members of The Church of Jesus Christ of Latter-day Saints make up 62.2% of Utah's population, the highest of any state in America. That narrowly tops Tonga's 57%, the highest of any country in the world.
Vermont = Germany
Common Bond: Lack of Reproduction
If Vermont is a-rockin' it's probably safe to come-a-knockin' because there ain't much baby-making going on up there. Vermont has the lowest birth rate in American (tied with Maine) at 10.6 births per 1,000 residents. The world leader in lowest baby production is Germany, with just 8.1 births per 1,000 residents. Perhaps a romantic getaway could help Vermont and Germany restart the fire?
Virginia = Afghanistan
Common Bond: Corruption / Dependence on U.S. Government
Thousands of Virginia residents work for the federal government, and Afghanistan has received enormous amounts of aid and financial assistance. Both also rank at the bottom when it comes to corruption, with Afghanistan tied with North Korea for worst, and Virginia scoring a solid F in a recent state integrity investigation.
Washington = Uruguay
Common Bond: Same-Sex Marriage / Legal Weed
Washington State is the only state—and Uruguay is the only country—where both marijuana and same-sex marriage are legal. Both places share a moderate climate, plenty of precipitation, but they disagree on how best to caffeinate. Seattle is a land of coffee drinkers and Uruguay prefers its yerba mate.
West Virginia = Cambodia
Common Bond: Poverty / Polluted Water
West Virginia is one of America's poorest states, and after a recent chemical spill it's now suffering from a polluted water supply. Cambodia remains one of the poorest countries in Asia, and 84% of the population lacks access to clean, safe water. Both places are home to hill peoples with very different customs.
Wisconsin = England
Common Bond: Head Cheese / Bing Drinking
Wisconsinites are best known for making cheese, wearing cheese on their head, and binge drinking. It's quite a state. England is known for making head cheese (a terrine made from the flesh of an animal head), and for being the Western European leader in binge drinking. When Wisconsin and England get drunk they probably send lewd text messages to each other.
Wyoming = Dominican Republic
Common Bond: Traffic Fatalities
When it comes to traffic fatalities, Wyoming and the Dominican Republic are unsafe at any speed. Wyoming has 27.46 traffic fatalities per 100,000 people, by far the worst in America. The Caribbean nation of the Dominican Republic tragically leads the world with 41.7 deaths per 100,000.
Disagree with the map? Let us know which country best matches your state in the comments.
– – – – – – – – – – – – – – – – – – – – – – – – – – – – – – – – –
Estately is a national online real estate search site whose articles have been featured in the San Francisco Chronicle, Houston Chronicle, NBC News, Philadelphia Magazine, GeekWire, The Denver Post, and more.
– – – – – – – – – – – – – – – – – – – – – – – – – – – – – – – – –
OTHER ARTICLES FROM ESTATELY
17 Best U.S. Cities for Hippies
11 Best U.S. States for Bigfoot to Live