America Has Problems—Here's a Prescription for Each State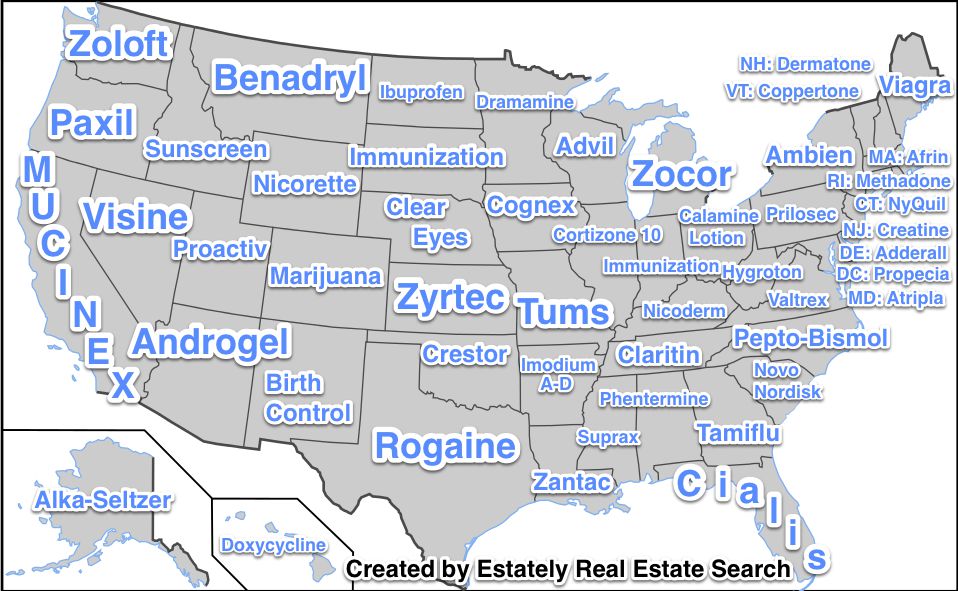 Searching through a person's medicine cabinet is a socially unacceptable, but insightful way to learn about someone. Likewise, descending into the dregs of internet search can turn up a lot about each U.S. state's problems. We did that, and then we came up with one common medicine that could be prescribed to each state to deal with its own unique issues.
Alabama = Phentermine
Alabama is so fat it's second only in obesity to Mississippi, which is the Jabba the Hut of U.S. states. Diet and exercise are key, but there are also prescription appetite suppressants like Phentermine.
Alaska = Alka-Seltzer
Alaska was named "the most hungover state" in 2013, earning points for high numbers of binge drinkers, bars, booze stores, and breweries. Gotta stay warm somehow.
Arizona = AndroGel
Arizona is clearly suffering from "Low T." The state dreams of reclaiming an imagined glorious past, before it was ruined by change… such as people suddenly being repulsed by it.
Arkansas = Imodium A-D
Arkansas has the fifth most cases of salmonella poisoning, and it's poor overall when it comes to food poisoning incidents. Because of this, Arkansas residents spend more time trapped in the bathroom enduring the horrors of diarrhea.
California = Mucinex
For all the talk of green energy and environmental causes, California is a horribly polluted place. According to the American Lung Association, eight of the ten most-polluted cities in America are in California. That air pollution creates a lot of mucus.
Colorado = Legal Weed
Colorado recently legalized marijuana and just in time to smoke away any depressing memories of Super Bowl XLVIII, as well as work up an appetite for Papa John's Pizza.
Connecticut
It's that sniffling, sneezing, coughing, aching, stuffy head, fever so you rest and then wake up and commute to Boston or New York to spread your crummy Connecticut cold to the whole Eastern Seaboard.
Delaware = Adderall
If you took a U.S. geography class, and each day of class the professor discussed a different state, you would most definitely fall asleep during Delaware day. The only way to keep you awake would be with medication prescribed to those with narcolepsy.
District of Columbia = Propecia
Even with Rep. Lamar Smith's (R-TX) bald head hidden under a copper-colored toupee, the nation's capital is still the second-baldest city in America. Not sure if congressional staffers' health care covers Propecia, but they could certainly use it.
Florida = Cialis
Florida has the most senior citizens of any state (17.6% of population), but that doesn't mean romance isn't being prescribed in God's waiting room. Also, the shape of the state is flaccid in appearance.
Georgia = Tamiflu
Georgia is America's sickliest state, with the most cases of influenza (the flu). Not ideal, but that's a better title than others have that are located in the south's diabetes/obesity/STD belt.
Hawaii = Doxycycline
When you lead the nation in most confirmed cases of Chlamydia per capita, you have to take your antibiotics.
Idaho = Sunscreen
Idaho is nearly as white as the slopes of Sun Valley after a snowstorm—93.8%. However, when that sunshine reflects off the fresh snow there's a real danger of sunburns for the state's fairer citizens.
Illinois = Cortizone 10
Home to Chicago, America's most bed bug-infested city, Illinois might as well stock up on anti-itch creams like Cortizone 10.
Indiana = Immunization
Indiana has the second-lowest percentage of immunized children (61.4%). Is Jenny McCarthy really that influential in Indiana?
Iowa = Cognex (Alzheimer's drug)
As people age, the odds of developing Alzheimer's disease increases, and Iowa has the highest percentage of people age 85 and older. Another way to look at it is Iowa is a fountain of youth.
Kansas = Zyrtec
In many states, fall is best know for the changing colors of the leaves. In Kansas, it's known as a miserable time of allergy sufferers—the worst in the nation.
Kentucky = Nicoderm
Kentucky is #1 in America when it comes to smoking, with a whopping 28.3 percent of residents smelling like ashtrays or using their coffee cups as spittoons.
Louisiana = Zantac
Spicy Cajun and Creole food, heavy drinking, and plenty of fried food isn't doing heartburn sufferers any favors.
Maine = Viagra
With a median age of 42.7, Maine has the oldest population in the country. The state has reached the age when giving up isn't who it is. This is the age of knowing how to make things happen. So why let erectile dysfunction get in the way, Maine?
Maryland = Atripla
It's terrible, but Maryland has the highest rate of AIDS diagnosis in America—one out of every 3,623 residents.
Massachusetts = Afrin
Whether you like the Massachusetts accent, or you think it sounds like Fran Drescher after a bottle of whisky, everyone can agree the nasally accent would benefit from clearer nasal passages.
Michigan = Zocor
A whopping 41.8% percent of Michigan residents have been told they have high cholesterol, which is almost as much as Mississippi—42.3%. That's sad.
Minnesota = Dramamine
Minnesota's has more registered boats per capita than any other state (16,731 registered boats per 100,000 residents) so motion sickness is a problem.
Mississippi = Suprax
Suprax is not a medicine to treat being super, it's an antibiotic used to treat gonorrhea. In addition to being a leader in obesity, diabetes, and frequent other miserable categories, Mississippi is also tops in confirmed cases of gonorrhea. Missouri = Tums With the barbecue paradises of Kansas City and St. Louis located within it's borders, The Show Me State is known to show its residents some serious heartburn. Save room for toasted ravioli.
Montana = Benadryl
Montana is the fifth-best honey-producing state, meaning it's also a state filled with bees. When bees sting, there's Benadryl.
Nebraska = Clear Eyes
When those cold winds blow down from the Rockies and sweep across the plains they blow a lot of Colorado's marijuana smoke into Nebraska.
Nevada = Visine
Filled with deserts and low on precipitation, Nevada is an extremely dusty state, and Las Vegas is tied for the dustiest city in America, according to EyeHealthWeb.com. As if all that dust doesn't get in your eye, going days without sleep will definitely bring the red out.
New Hampshire = Dermatone
This little sliver of a state has the fifth most ski resorts in the country, so chapped lips on the chairlift is a problem.
New Jersey = Creatine
Like a little man compulsively lifting at the gym to bulk up, New Jersey imagines itself as something far grander than it is, or ever will become.
New Mexico = Birth Control
The highest rate of teen pregnancy in America is in New Mexico, where 93 out of every 1,000 teens become pregnant each year.
New York = Ambien
Jay-Z prescribes Ambien for the city/state that never sleeps, but he's not even a doctor. Rest is important, but Ambien can be habit-forming so be careful.
North Carolina = Pepto-Bismol
Food poisoning and salmonella incidents are high in North Carolina, which means so is diarrhea. It's not as frequent as in neighboring South Carolina, but it does have the second most salmonella cases in the nation.
North Dakota = Ibuprofen
With the most bars per capita of any state in America, the party people in North Dakota are known to frequently wake up with a headache.
Ohio = Calamine Lotion
According to Terminex's 2012 study, Ohio was home to three of the top 20 cities for bedbugs—Cincinnati (2), Columbus (7) and Cleveland (15). That's gross, Ohio. Calamine lotion will treat the itch, but it's time to do a better job of preventing bedbugs in the first place.
Oklahoma = Crestor
Oklahoma—where men are men and cholesterol is really high.
Oregon = Paxil
The skies are gray for much of the year, but when the sun comes out it reveals high unemployment, childhood hunger, and other depressing realities of life in Oregon.
Pennsylvania = Prilosec
Pennsylvania is famous for its Philadelphia cheesesteaks, which is a leading cause of acid reflux in the Keystone State. On top of that, Pennsylvania is home to scrapple, Tastykakes, hoagies, cabbage rolls, and plenty of other meals that bring pain.
Rhode Island = Methadone
Rhode Island is the number one state in America when it comes to illicit drug use, with 12.47% of locals hitting the hard stuff.
South Carolina = Novo Nordisk
As long as Mississippi and West Virginia are out there, South Carolina won't be tops in diabetes. However, they are fifth, with 13.4% of the population afflicted by it.
South Dakota = Immunizations
While not as low as perennial basement dweller Mississippi, South Dakota has the fourth-lowest percentage of adolescents who've been immunized.
Tennessee = Claritin
According to the Asthma and Allergy Foundation of America, Tennessee is home to three of "worst U.S. city in America for allergy sufferers (Knoxville, Chattanooga, and Memphis).
Texas = Rogaine
According to the CDC, Texas is home to two of the five baldest cities in America (Corpus Christi and San Antonio), based on per capita sales of Rogaine and doctor visits for male-pattern baldness. It does make you question the frequency of those cowboy hats worn indoors.
Utah = Proactiv
Utah's median age is 29.2, giving it the youngest population in the country. All that youthful energy is great, but it does mean there's a lot of acne about.
Vermont = Coppertone
The people of Vermont are in constant danger of sunburn because this pasty state is 95.4% white.
Virginia = Valtrex
Virginia is for lovers is a nice tourism slogan, but do consider the risks.
Washington = Zoloft
Living in Washington State is essentially like living alone in an unlit basement apartment for nine months a year. Starved for sunlight and human companionship, the only thing to console Washington's residents is the Lombardi Trophy.
West Virginia = Hygroton
After Mississippi, West Virginia has the second highest rate of high blood pressure in America.
Wisconsin = Advil
Wisconsin leads the nation in binge drinking, so it's definitely a land of hangovers and all-day headaches. Cheers, Wisconsin.
Wyoming = Nicorette
Many a Marlboro Man and Marlboro Woman are seen enjoying a smoke on the open plains of Wyoming. Tobacco products are used by 36.7% of the population, third-most in America.
– – – – – – – – – – – – – – – – – – – – – – – – – – – – – – – – –
Estately is a national online real estate search site whose articles have been featured in the San Francisco Chronicle, Houston Chronicle, NBC News, Philadelphia Magazine, GeekWire, The Denver Post, and more.