10 Best U.S. States for Cat Lovers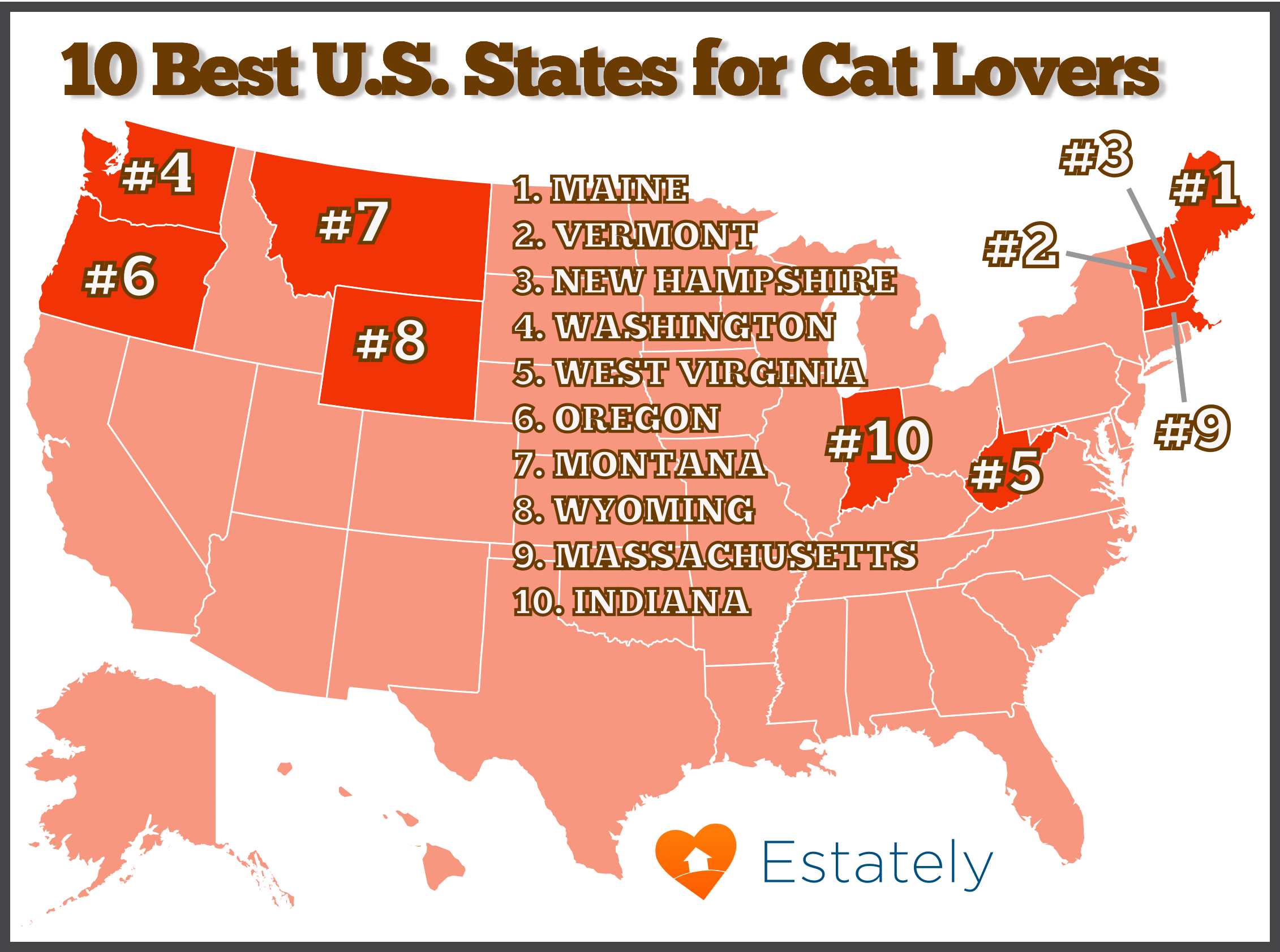 America is a land of cat people—from compassionate cat rescuers to those people who wear matching sweaters with their cats in their annual holiday photo. However, there are states where the feline force is stronger than others.
Here at Estately we crunched the numbers, factoring in data like average lifespans of cats, percentage of households with cats, Facebook "likes" for cats, frequency of heartworm disease, number of no-kill shelters, and other factors to determine our list of the ten best U.S. states for cat lovers. Here are the results…
1. MAINE
This one wasn't even close—Maine is far and away the best state for cat lovers. The great cat state of Maine has the second-highest ranking of any U.S. State in these categories:   percentage of cat owners in America (46.4), Facebook "likes," animal protection law strength, no-kill animal shelters, and percentage of cat owners over dog owners (11%). Maine is one of three states with an official state cat —the Maine Coon cat—a tall, muscular cat with heavily furred ears and feet ideally suited for cold winters.
2. VERMONT
In Vermont, nearly half of all households (49.5%) have a cat, by far the highest in the country. In addition to having the largest gap between cat owners and dog owners (12%), the state is also home to cat-themed a cappella groups like Cat's Meow, Top Cats, and The Hit Paws. Even the mascot of the local University of Vermont is a feline, the mighty Catamount (mountain lion).
3. NEW HAMPSHIRE
At some point in the future Maine, Vermont, and New Hampshire may just secede and become their own united cat-friendly country with Manchester as its capital. They could call it Catopia, Catland, or New Vermaine. Barring that, New Hampshire will still hold the title of third most cat-friendly state in America because it still ranks in the top ten in nearly all our categories.
4. WYOMING
Even if it wasn't the location of the true and touching tale of an orphaned coyote that became best friends with cat, Wyoming would still be up top on this list of cat-friendly states due to having the most no-kill shelters per capita of any state in America.
5. WASHINGTON
Washington State  has the 5th most cat owners per capita, eighth most Facebook likes, and Colonel Meow—a Himalayan-Persian cross-breed that holds the Guinness World Record for longest fur on a cat. As if that isn't enough, the Seattle, Washington is also home to the author of Office Cat, the best cat parody account on Twitter:  @CatAtTempJob
6. WEST VIRGINIA
They say "Virginia is for lovers", but West Virginia is for cat lovers. The Mountain State has the sixth most cats per capita, the third most Facebook likes, and P.U.R.R.—an all-volunteer organization that does great work on behalf of West Virginia's substantial cat population.
7. OREGON
Oregon has the third-highest rate of cat ownership in the country, as well as the 5th best animal protection laws, and 10th longest lifespan (11.4 years). There's a protected feral cat colony that shares a stadium with the city's pro soccer team—the Portland Timbers. Also, Oregon-based Etsy stores have 5,978 cat-related products for sale—the highest per capita in America. That's a lot of locally-produced cat sweaters, cat-themed art, and even an informative guide titled, How to Talk to Your Cat About Gun Safety.
8. MONTANA
If there truly exists a Fountain of Cat Youth then it must be located in Montana, where cats live longer than any other state in America. On average, Montana cats reach the ripe old age of 12.4 years. Perhaps it's all the fresh air, outdoor recreation, or maybe local cats are just the offspring of cats from Butte, Montana—the toughest cats in America.
9. MASSACHUSETTS
When Massachusetts let the dogs out they must have all ran off to Mississippi because The Bay State has 10% more homes with cats than dogs. The state also has the 11th highest percentage of no-kill shelters and the 6th highest average lifespan (10.6 years).
10. INDIANA
When you were little, did your parents forbid you from getting a cat? That's sad. Did you know that in Indiana even convicted murderers can have a pet cat at a local prison? It's true. The state with the ninth most cat owners per capita is also home to Lil Bub, the internet sensation from  Bloomington, Indiana that's the most adorable cat in the world.
Sources of statistics:
Are you a cat lover looking to buy a home?
Whether you're interested in a cat-friendly condo or a house big enough to add more rescue cats to the family, Estately is the best tool for finding your next home.  Check out Estately.com today!