Bellevue vs. Seattle: Which Is The Better Place To Live?
What's the difference between Seattle and Bellevue? About 500,000 people, four pro sports franchises, and two different sides of a floating bridge. Of course that's just the tip of iceberg. Seattle is the more famous, the one with a thriving music scene, legions of hipsters, and crowds of tourists. But has its time in the infrequent sun passed? Bellevue is a sea of SUVs and upscale shopping, a cleaner, some would say "sterile" place where you don't have to watch crack deals and public urination on your walk to work. It's also an increasingly ethnically diverse place, but is it fair some are calling it the next Vancouver, BC? We compared the two Puget Sound cities to let you decide which is the better place to live. Let us know what you think in the comments.
PERVERTS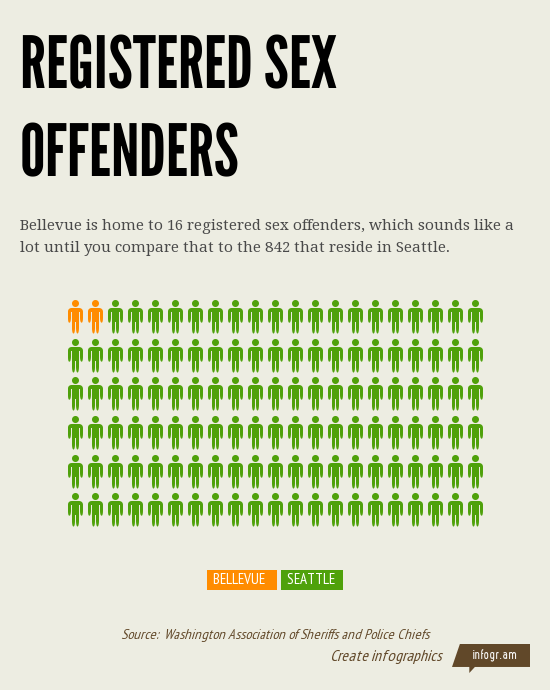 BELLEVUE HATES BRUNCH
According to the numbers, Seattleites are far more likely to spend their Sundays sipping mimosas and eating bacon than they are attending church. That's just math and these are the numbers:  In Seattle, there are 271 restaurants serving breakfast/brunch. In Bellevue there are only 22—nearly 14x less! So if you prefer your eggs served over easy, Seattle's your spot. If you prefer them served not at all, then Bellevue is perfect.
SOPHISTICATED TASTEBUDS
Overall, Seattle's restaurant scene crushes that of neighboring Bellevue. Crushes. From nationally acclaimed restaurants and innovative chefs to rare cuisines and abundant food carts, Seattle definitely one-ups its neighbor to the East. Bellevue does have some good restaurants, and a higher number of Indian and Chinese restaurants per capita, but it is not the foodie city that Seattle is. And many complain that even if you order your Thai food five stars in Bellevue it still tastes like one star does at Seattle restaurants.
NICKNAMES
Bellevue Nicknames:  BlahVue, City in a Park, Bland-View, Mall City, The 425, Gateway to Issaquah, Lil' B, East Mercer Island, Mistake by the Lake, The Belle, Seattle's Shadow, Yuppieville, and KhakiLand.
Seattle Nicknames:  Emerald City, Seatown, Gateway to Alaska, Jet City, The 206, Rain City, The Freeze, Grungeville, Puddletown, Hipster Hollow, City of Flowers, Coffee Capital of the World, and The Home of the 12th Man.
SKIING
The Summit at Snoqualmie is the closest ski area to both cities, but Bellevue is 46.3 miles from the slopes, while Seattle is 51.8 miles away. Depending on traffic, the extra 5.5 miles on I-90 could mean an additional hour before reaching what the kids in Issaquah call "the sweet pow pow."  Bellevue's also closer to everything else that lies beyond the Cascade Mountains—The Gorge, Grand Coulee Dam, wineries in Walla Walla, Lake Chelan, Spokompton…
CHICKENS
In the Pacific Northwest, backyard chicken ranching is so popular there are companies like Saltbox Designs whose whole business is building custom coops for locals. Seattle is home to far more chickens than Bellevue is, possibly because that's just the kind of thing Seattle people get excited about, but also because Seattle law allows for up to eight chickens per yard, and Bellevue has a max of six. No roosters are allowed in either town.
BELLEVUE IS RICHER
The Puget Sound Basin is awash with tech billionaires thanks to all that software and internet cash to be had. And like rich folk everywhere, these titans of industry tend to habitate in tiny, wealthy enclaves. Because of that, we're counting Medina and Hunts Point as part of Bellevue, which means Bellevue is home to the world's richest man—Bill "Big Bucks" Gates—a person wealthier than every Washington State resident who made the Forbes 400 Richest People in America combined. Others…
Bellevue Residents:  #1 Bill Gates—$72 billion, #21 Steve Ballmer—$18 billion, #314—Craig McCaw $1.8 billion
Seattle Residents:  #12 Jeff Bezos—$27.2 billion, #273 Howard Schultz—$2 billion, #386—Anne Gittinger—$1.3 billion/Bruce Nordstrom—$1.3billion.
SEATTLE IS POORER
Seattle is the birthplace of the term "Skid Row," and during the depression it was home to a large shantytown (Hooverville). Nowadays Seattle's a little more affluent, but the city's median household income of $61,856 is far less than Bellevue's $84,503. Also, when it comes to percentage of population living in poverty, Bellevue's has 6.6%, just half that of Seattle's 13.2%.
ROCK & ROLL
Bellevue is the hometown of Heart, Queensrÿche, Fifth Angel, The Bellevue High School Band, and Rail (pictured above). Seattle is where Jimi Hendrix and Quincy Jones came of age, and if that's not enough it's also the home of Macklemore, Mother Love Bone, Pearl Jam, Fleet Foxes, Hey Marseilles, Mudhoney, The Gits, Blue Scholars, Candlebox, and of course—Kenny G. Remember that song by Sir Mix-a-Lot called "Posse on Bellevue Way?" Of course not. It was "Posse On Broadway," which is a street in Seattle' Capitol HIll neighborhood.
HATERS GONNA HATE
There's a lot of hate in the world, and according to these simple Google searches there's 34 percent more hate directed at Seattle. However, given that Seattle's population is five times that of Bellevue, the actual amount of hate per capita is nearly four times more for Bellevue. Because these are "statistics" they can be skewed to reach whatever conclusion is preferable.
Neither Seattle or Bellevue are winning any awards for ethnic diversity, but these largely white cities do have some differences. Bellevue has more nonwhite residents than Seattle, and nearly a third of the Bellevue's residents are foreign born, including sizable portions from China, India, Russia and Mexico. Seattle has a larger number of black or African-American residents, as well as people of mixed race.
CONGRESSIONAL REPRESENTATION
Seattle congressional rep is Jim McDermott (see above), one of the most liberal members of Congress. He is best known outside Seattle for leaking an illegally recorded telephone conversation of Newt Gingrich, and for his visit to Iraq before the Second Gulf War. The trip, as well as his insistence no WMDs would be found, earned him the title of "Baghdad Jim" by his critics. Bellevue's 9th district is represented by Congressman Adam Smith (above on The Colbert Report), a man who has avoided controversy and never been photographed with his hand dangerously close to the bathing suit area of Angelina Jolie (see Jim McDermott photo above). While he does share his name with the famed 18th century political and economic thinker, he is very much alive and not Scottish. His voting record is that of a rank-and-file Democrat and he is a leader in the moderate "New Democrat" movement.
WEATHER
Everything you've heard about the rain and gloom in Seattle is completely true. And it's exactly the same for Bellevue. Exactly. Here's a five-day forecast for Seattle.

And here's a five-day forecast for the same days in Bellevue.

There's no difference. You're going turn soggy and moss covered in a matter of months.
GREEN COMMUTERS
According to U.S. Census data, 49.2 percent of Seattle commuters drive alone to work, the fifth lowest in the country. For Bellevue, 66% drive alone, which isn't very green, but preferable if you dislike fighting over the radio station with everyone in your carpool.
SHOPPING
Pike Place Market:  Since 1907, Seattle's iconic public market has been one of the most popular spots in Seattle.
Upsides:  hundreds of family-owned stalls and restaurants, incredibly fresh seafood, and a variety of street performers
Downsides:  the crowds of tourists, risk of getting hit with a flying salmon, and public toilets with zero privacy
The Bravern:  You won't find a wall covered in chewed gum at this upscale mall, but you will put a serious dent in your bank account shopping here.
Upsides:  upscale retailers like Neiman Marcus, Hermès, Karen Millen, Louis Vuitton and more
Downsides:  Unlike at Pike Place Market, you will be escorted out by mall security if you ever play catch with dead salmon.
BEST CITY LISTS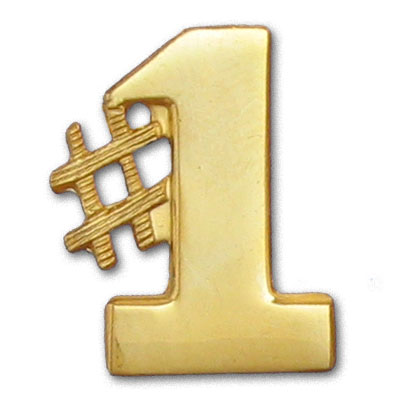 Bellevue was named to the number one spot on CNN Money's list of 100 Best Places to Live and Launch in 2010. And that's about it.
Seattle has been named America's Best Coffee City, 8th Greenest City in America, #1 U.S. City for Locavores, 2nd Best U.S. City for Childfree Living, 3rd Best U.S. City for Dogs, #1 Hardest Working City in America, 7th Best U.S. City for Bacon Lovers, 3rd Smartest City in North America, America's Most Popular City, 3rd Horniest City in America, Best CIty for Gay Couples, and the 2nd Best City for the Next Decade.
WHAT'S IN A NAME?
Seattle was originally named "New York," and then "New York Alki," and then they probably realized those were incredibly unoriginal names. So then they went with "Duwamps," and finally they named the city for the chief of the local Suquamish Tribe.
The name "Bellevue" is French for "Beautiful View", which is an accurate description, and sounds better than "Centre Commercial," which is French for "Shopping Mall."
PRO SPORTS
SEATTLE is home to the Seattle Seahawks (NFL), Seattle Mariners (MLB), Seattle Storm (WNBA), and the Seattle Sounders (MLB). It used to be home to the Seattle Supersonics (NBA), but the team left for Oklahoma City, which still makes absolutely no damn sense. In the next few years it could well become home to an NBA and NHL team as well. If that doesn't work out, Seattle can take solace in being home to some pretty tough roller derby teams.
BELLEVUE has zero pro sports teams. It was once home to the Bellevue Blackhawks of the American Basketball Association, but in typical Northwest fashion the pro basketball team abandoned the area. Bellevue has been discussed as a spot for an NBA and/or NHL team, but this remains a long shot. The Bellevue High School football team is one of the most dominant programs in the country, and could probably beat the Jacksonville Jaguars.
WHALES & WATER
Bellevue is located on the banks of Lake Washington, a freshwater lake with abundant recreation opportunities, but no whales. Seattle is sandwiched between Lake Washington and Puget Sound, so Seattle offers all of the freshwater recreation opportunities of Bellevue, as well the opportunity to see killer whales while fishing for halibut and pulling up crab pots. On the other hand, Bellevue residents are at zero risk of being eaten by a shark while paddleboarding.
SEATTLE SEAHAWKS
Seattle:  The team isn't called the Bellevue Seahawks. It's the Seattle Seahawks. They play their games in their Seattle stadium, the loudest in the country. It is true that they practice in Renton.
Bellevue:  But when their players get arrested, it's usually in Bellevue. For example….
John Moffit (OG)—public urination at the Bellevue Square mall
Willy Robinson (DB coach)—bar fight at Daniel's Broiler
Golden Tate (WR)—trespassing at Top Pot Doughnuts to steal maple bars
HOME PRICES
Home prices have been steadily rising in both Bellevue and Seattle for about the past two years. In Bellevue, the median home price is about $550,000, while in Seattle it's around $330,000. Break out some simple arithmetic and you'll discover that's a difference of about $220,000. So maybe that's why people in Bellevue apparently don't eat out as much.

Click HERE to view Bellevue homes currently for sale.
Click HERE to view Seattle homes currently for sale.
CRIME
While both cities have similarly low rates for murder and forcible rape, Seattle does have a higher overall crime rate, even though it's long been okay to smoke pot and ride a bicycle naked there. Compared to Bellevue, residents of Seattle are four times more likely to be robbed, twice as likely to have their home burglarized, and six times more likely to have their car stolen.
COMPANIES/JOBS
Bellevue is a business-friendly alternative city with more jobs than residents. Well-known companies include Expedia, Paccar Inc., Coinstar, and T-Mobile, but other innovators include BuildersCloud and Mobilligy (the names of these companies are hyperlinked to their jobs page).
When Boeing abandoned its hometown of Seattle and moved its corporate headquarters to Chicago in 2001 there was a surprising lack of outrage. Once practically a company town, Seattle's economy is now home to dozens of dynamic companies like  Amazon, Alaska Air Group, Expeditors, Nordstrom Inc., Starbucks, PopCap, Cheezburger Network, and more. Check out up and coming companies like Moz, Simply Measured, Porch, EveryMove, Estately, Socrata, Apptentive, Tred, and Rupert.
PARKING
While those in both cities can agree that I-90 and SR 520 often feel like parking lots, most people say Bellevue parking is cheaper and easier to find. Even with costs rising in Bellevue, residents have far more available parking spaces for their luxury SUVs. This is good because they don't possess the parallel parking skills of those in Seattle, a city where tapping the bumpers of other cars while parking is completely allowed.
According to a 2010 survey by Puget Sound Regional Council, parking in Seattle costs an average of $7.50 for two hours and $17 per day. In Bellevue it's $7.30 for two hours and $13.80 per day. Also, Seattle parking enforcement officers make $49,500 per year to start, and many get to ride Segways. Here's a recent job posting for the position…
SEATTLE IS FOR DOGS
While it's close to Redmond's Marymoor Park, little old Bellevue only has one off-leash dog park. Seattle has fourteen of them, possibly because the city has more dogs than children. Also, it was named the "3rd Best U.S. City for Dogs," and it's home to the University of Washington Huskies.
SCHOOLS
According to Newsweek's list of "2013 America's Best High Schools," Bellevue had four schools in the top 250—International School (31), Newport High School (80), Interlake High School (111), and Bellevue High School (242). Seattle didn't have any that cracked the top 1,500. Really, that seems to be one of the primary reasons people move to Bellevue.
Did we forget any important distinctions? Tell us in the comments.