Though Minnesota may bring to mind harsh winters, stoic Scandinavians, and a complete lack of Mexican food, the city of Minneapolis is a different beast entirely. A cultural oasis amidst a sea of cornfields, there's more to this city than just snow and ice—although there is plenty of that. You may be hardy enough to survive a winter, but read on to see if a Minneapolis life is indeed the life for you..
1. Strange Laws
If you think you can just cut loose in Minneapolis you'll find yourself on the wrong side of the law. There are regulations on the books that prohibit teasing skunks, riding a motorcycle without a shirt, sleeping naked, or crossing state lines with a chicken atop your head—keep it in Wisconsin in, people. Also, a woman can't cut her hair without her husband's permission so be sure to bring a note.
2. Nicknames
Those who've known MInneapolis all their lives often refer to it by nicknames like Mini-Apple, The Mill City, West St. Paul, MPLS, The City of Lakes, PrinceTown, Lil' Valhalla, Pickleville, Miniature-opolis, Land of Purple People Eaters. Feel free to make up your own. It's endearing.
3. You Don't Happen to Play Quarterback, Do You?
Christian Ponder is a first-round pick who is the future for the Minnesota Vikings. He's improving. They're sticking with him. However, if you happen to be an elite NFL quarterback capable of more than simply handing the ball off the Minnesota Vikings would be willing to consider adding you to the team. And the locals would welcome like you were the second coming of Leif Ericson.
4. Ice Fishing
If you didn't spring for that boat to enjoy in the summer months, you can still get out on the water in the winter. Such is the cold and ice in Minneapolis that many of inhabitants will take a stab at ice fishing come wintertime. Forget any cautionary tales you heard as a child about skating on thin ice: Minneapolis ice is as hardy as its city-folk, and with a little patience and a good drill, you'll be pulling fish through it in no time. And if not, there are usually beverages to consume that create the illusion of warmth. That means booze.
5. Very Philanthropic
Historically, Minneapolis has a great record for how many citizens spend time doing volunteer work. More than 40% of adults in Minneapolis spend time volunteering, making them one of the most philanthropic cities in the nation. It's a lonely place to be a selfish jerk so check out volunteering opportunities here.
6. Twin Cities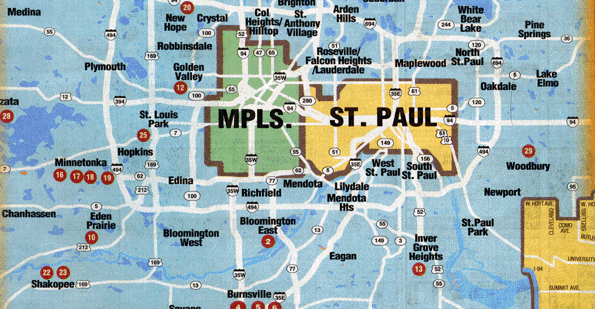 Minneapolis and St. Paul are the duo that make up the Twin Cities, but they are not identical twins. Separated at birth, Minneapolis sought the limelight and St. Paul preferred a more laid back existence. These neighboring cities blend together, but debate rages over which one is better. The only sensible way to resolve it is for the mayors of each city to Jello wrestle.
7. The Juicy Lucy
When you hear "local fare" in Minneapolis, the cuisine in question may be referring to hotdish (casserole) or lutefisk (rotten fish Jello), or perhaps a more appetizing local specialty: The Juicy Lucy. Though the spelling—Jucy versus Juicy—and the origin are both disputed amongst locals, the concept is simple: It's a cheeseburger with the cheese cooked inside two meat patties rather than atop one. To take a bite out of your own Juicy Lucy, popular places to order one include Matt's Bar and the 5-8 Club. Choose wisely: Both claim to be the Juicy Lucy's original maker.
8. It's Healthy
Despite being a land of tater tots and Midwest fair food, Minneapolis is surprisingly healthy. In fact, it's recognized as the nation's healthiest city by Forbes. It could be the clean air, the lack of smoking, or the readily available fleet of bikes. More likely is the fact that city's mall walkers have miles to go between Cinnabon stops at the Mall of America. Regardless, be prepared to suck in that gut and lace up that girdle before facing an onslaught of fresh air and fitness should you move there.
9. Home of Charles Schulz
Before they starred in MetLife commercials, the Peanuts gang was the creation of area man Charles Schulz. Born-and-raised in Minneapolis Charles Schulz's legacy lives on in a host of Peanuts characters scattered about Landmark Plaza. Locals still say "good grief" when they're really upset, like when Wisconsin brags about their superior cheese.
10. There's Always Money in Minneapolis
Once upon a time, Minneapolis had an economy riding high on powdery white dreams. But unlike Miami, where the white powder driving the economy was cocaine, Minneapolis was the world's flour milling capital, but all that came to an end after WWI. Though you may have missed out on the golden age of flour, today the city still plays host to a slew of reputable companies. In fact, Minneapolis proper contains America's fifth-highest concentration of Fortune 500 companies. Times may change, but there's always money in Minneapolis.
11. Number One City for Golf
Golfers rejoice: In keeping with the city's love of recreation, Minneapolis is home to the nation's highest number of golfers per capita. Seriously. It's not Florida. That doesn't make any sense at all. Imagine what a rebel you'll be when you're the only one in town not wearing a goofy hat and plaid pants. Also, the dashing young man pictured above is the kind of local splendor you can expect to find in the Minneapolis dating pool. Sure, he sunburns easy, but he's also easy on the eyes.
12. The US' Best City for Parks
Due to a lack of park space in other cities it's not uncommon for fights to break out over territory amongst picnickers. Luckily this open conflict doesn't take place in Minneapolis, and not just because it's a haven for the passive aggressive. Home to a whopping 197 parks, the city is ranked number one in the nation for its park system. In fact, 94% of residents live within 10 minutes of one. Recreating in parks is an obligation for the citizenry so you best learn to rollerblade.
13. Baby, It's Cold Outside

Not a hat person? A winter's day in Minneapolis will change your tune. Known for chill temperatures and hefty snowfalls, the official Midwest policy is to bundle up and deal. Among the city's finest are those who continue to bike around town even when it's coated in snow. Seriously. Over the past winter, even non-bikers got in on the fun with an official ski to work day. The coldest temperature ever recorded occurred in January 1988: A cool -41 °F. The upside to the chill? Nothing. Absolutely nothing. You're heating bill is going to hurt and you can get frostbite just waiting for the bus.
14. You Don't Have to Go Outside
On the upside, you don't need to go outdoors for months at time, which is perfect for those with outdoor allergies or those who prefer to constantly breath recycled air that smells like an office. Keep the cool, crisp air out with Minneapolis' famed skyway system. Thanks to the skyway, you can traverse 52 blocks (nearly five miles) of downtown Minneapolis without so much as getting your feet wet. The skyway connects offices, shopping centers, restaurants, and more, all from an enclosed space.
15. You'll Need a Boat
With ten lakes inside the city limits, along with the Mississippi River, plus a slew of creeks and waterfalls, you're going to want to invest in some sort of water craft. The state of Minnesota has one recreational boat per every six people, making it one of the top boating states in the nation. If you happen to be a new member of the Minnesota Vikings please ask some of the veteran players about proper boat etiquette. Trust us.
16. Visit the Metrodome… Before It's Gone
The rival Green Bay Packers play outdoors, but not the Minnesota Vikings. Does this reveal a lack of toughness on the part of the local fans? Many would say no, but that didn't stop a weather system saboteur from recently attempting to open the roof of the Metrodome to the elements. The Metrodome is the only facility in the US ever to host a Super Bowl, a World Series, and a NCAA Final Four Basketball Championship, an accomplishment that won't prevent the decision for the Metrodome's time to come to an end in 2014. Perhaps you can gather up some smashed concrete and pave your driveway with it?
17. Home to Innovators
Minneapolis is home to some of your favorite inventions, including Masking and Scotch tape, Bisquick, HMOs (Health Maintenance Organizations), Wheaties cereal, and the game Twister. Don't believe that Minneapolis is a place to party? The city invented the bundt pan. THE BUNDT PAN!!!
18. Take the Training Wheels Off
Minneapolis consistently ranks as one of the nation's top cities for bicycling, and not just because of poor driving. With 92 miles of on-street bikeways and 85 miles of off-street bikeways, getting around by bike is made easy for Minneapolis residents. Even if you don't own a two-wheeler yourself, the city's bike share program makes it so you have no excuse not to take a pedal around town.
19. Forget Starbucks
Coffee titan Starbucks may dominate most of the US, but the international chain can never seem to get a foothold in Minnesota. If you're in Minneapolis, Caribou Coffee, a locally-based, national chain, outnumbers Starbucks, making it a likely place for you to grab a cup of joe. And if you're a caffeine junkie, you're in luck: Caribou's espresso shots measure 1.5 ounces compared to Starbucks 1.0 ounce. The city is also home to a host of independent coffee shops to choose from as well.
20. You'll Walk in Prince's Footsteps
Singer/songwriter Prince was born in Minneapolis, played high school basketball there (see #3 above), and his entire career was marked by a love for the city. His 1983 album Purple Rain features tracks recorded at the First Avenue Theater, and the album's title track pays tribute to the city's nightlife hotspots. You might not be able to afford to see him play, but you can still walk the same hallowed streets he once did. That's good enough, right?
21. Reading Is Fundamental
As America's third most literate city, Minneapolis is also home to a stunning library and Open Book, the largest literary and book arts center in the US. For avid readers, this means that a good book or helpful recommendation is never far from reach. For non-readers, this means you better start filling your Netflix queue with movies based on books.
22: Learn to "Ski"
Though the Midwest generally has a reputation for being notoriously flat, winter sports fans will be pleased to know that skiing does exist close to Minneapolis. Take a drive just 30 minutes south of the city and you're at Buck Hill, summit elevation of 1225ft. It might not be Telluride summit elevation 13,320 feet but it does boast nine chairlifts. Okay, so three of those lifts are rope-tows, but who's counting? The city was once a haven for ski jumping, but the city tore down the jump in the 1970s.
23. Non-Edible Scultpures
At 11 acres, the Minneapolis Sculpture Garden is the largest urban sculpture garden in the country. From the infamous cherry-in-spoon sculpture to a mini golf course designed entirely by artists, the sculpture garden isn't your typical art exhibit. But be warned: Someday a drunken giant will attempt to tie this cherry stem into a knot using only his/her tongue. It is written in the stars and it is going to be extremely awkward.
24. The Mall of America Has Everything
You don't have to be a shopaholic to appreciate the gaudy greatness that is the Mall of America. Big enough to boast its own zip code, the MOA doesn't just harbor stores—though it does have over 500 of those. Once inside, you'll also find a theme park, an aquarium, movie theater, mini golf, and more. You can ride a roller coaster, make faces at sea turtles, find a career, build a bear, purchase fresh Peeps at the Peeps & Company store, and even tie the knot inside the Mall of America's very own Chapel of Love. You could live your whole life there, except between the hours of 9:30pm and 10am because they're closed.
25. Most Theater Seats Per Capita Outside of NYC
Though Minneapolis and The City that Never Sleeps may not have a lot in common, inhabitants do share an undying love for the theater. The options for catching a show in Minneapolis range far and wide. Best known is the beloved—and totally revamped—Guthrie theatre, but you can also take a seat in the state's oldest theater, the aptly named Old Log Theater. And in keeping with the city's hearty appetites, Minneapolis is also home to the Chanhassen Dinner Theater, the nation's largest dinner theater.
26. Minneapolis is Diverse. Really.
Maybe it's the city's Scandinavian roots and winter snow, but Minneapolis inaccurately has a reputation for being a very white city with little diversity. Minneapolis is 63.8 percent white, compared to 85.3 percent for the rest of Minnesota. According to the 2012 U.S. Census, the city is 18.6 are black or African American, 10.5 percent are Latino and 5.6 percent Asian. In addition, the city is a haven for immigrants, and is home to America's largest population of Somalis and second-largest Vietnamese population, as well as the largest Hmong population outside of Laos. Minneapolis is also home to a vibrant GLBT community and was named "The Gayest City in America" by The Advocate.
27. Refuge for Midwestern Hipsters
Maybe your band doesn't have what it takes to make it in Brooklyn, much less afford the rent there. It doesn't mean you have work to wear pleated khakis and work for your dad. You can still keep your hipster lifestyle afloat for a fraction of the price in Minneapolis' Warehouse District. Coming in at #12 on Forbes' most hipster US neighborhoods, North Loop, or the Warehouse District, has a variety of food, drinks, and hangouts for hipsters. Large warehouses converted to apartments, stores, and restaurants will keep you from ever feeling too clean, and the whole area is highly accessible by bike.
28. Home of Target Corp
The company that bested the mighty Kmart was started right here. Not only does Target Corp boast a bevy of job opportunities for locals, you can also rest assured that a Target store will always be nearby. Scented tea lights, anyone?
29. F. Scott Fitzgerald Lived Next Door
Skip on over to St. Paul and you can see where literary legend F. Scott Fitzgerald lived. Rumor has it that Fitzgerald wrote a great deal of This Side of Paradise in those hallowed halls. If that doesn't impress you, you can also use the trip there to simply raise your glass in homage to America's drunkest writer. You can even buy a condo in the building above that's his birthplace.
30. A Civilized Spot Between Seattle and Chicago
When snobs say there's nothing between Chicago and Seattle they're insulting the fine city of Minneapolis. IFor city folk driving from west coast to east, Minneapolis is the first hub of urbanity they'll actually come to. Just watch out for deer on your way over.
31. Buying a Home
Compared to other large cities with strong economies Minneapolis has a relatively affordable housing market. The median home price in the Twin Cities is $224,950, up 3.7% from 2012 and there are a large number of houses, condos and townhouses for sale, and many of them have some really unique features. Check out homes for sale in Minneapolis on Estately.
Did we leave anything out? Let us know what else to consider before moving to Minneapolis.