Petition: Paint The U.S. Capitol Building Like The Gay Pride Flag For Marriage Equality
When we first learned the new neighbor of the Westboro Baptist Church had countered the anti-gay group's message with a custom paint job to match the gay pride flag, we were amused to say the least. Countering a hateful group that protests the funerals of people who die of AIDS with a pro-gay rights message was inspiring. It left us wondering how Planting Peace's creative messaging could be duplicated in other ways.
Given the lack of support in Congress for marriage equality, we figured the next paint job to confront anti-gay actions should be directed at the members of Congress who oppose same-sex marriage. So we created this White House Petition demanding the U.S. Capitol be repainted in the colors of the gay pride flag until there's marriage equality for all.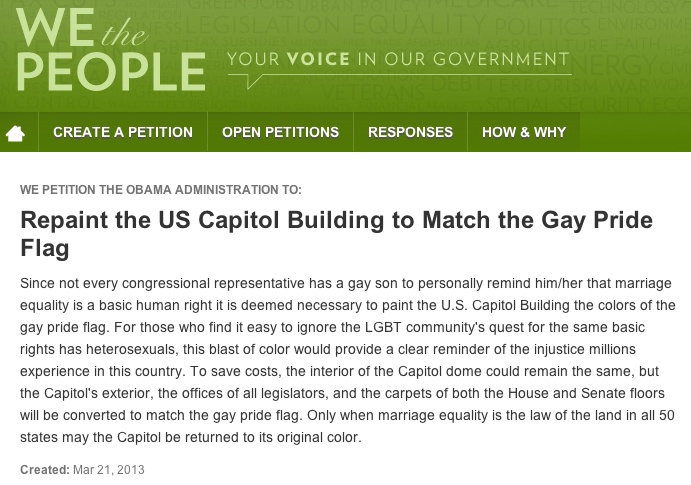 To change their views, Congress needs a constant reminder of the injustice millions of Americans endure because they don't have the right to marry. Recently, Sen. Rob Portman (R-Ohio) changed his view on same-sex marriage after his own son told him he was gay. Since not every member of congress has an openly gay family member reminding them of this injustice, we hope the new paint job would remind them that the freedom to marry is a fundamental right same-sex couples deserve as well.
TO DONATE TO PLANTING PEACE'S EQUALITY HOUSE CLICK HERE