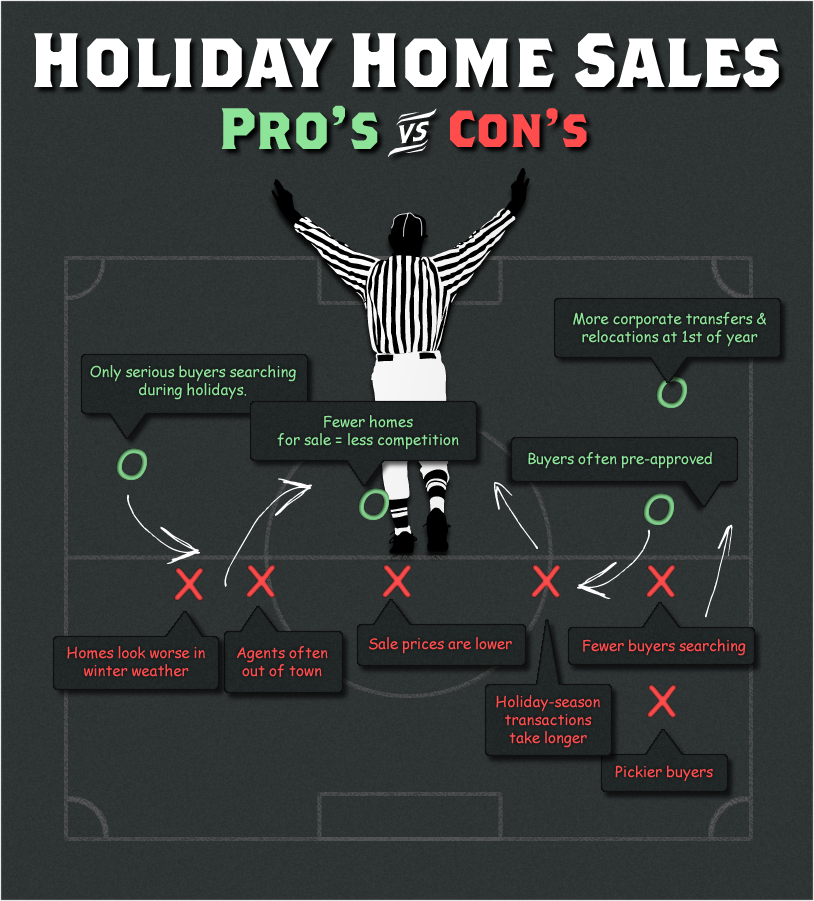 The holiday season is the time of year to gather with family. It is not the time of year to put your house on the market. No matter what friends or pushy agents may tell you, it's best to wait until everyone's turkey tryptophan wears off before listing a home for sale. Here is why…
Fewer buyers during holidays. Buyers are out of town. Agents are out of town. Anyone who did stick around is probably prepping for their own Thanksgiving dinner or holiday celebration as opposed to house shopping. In fact, Estately sees a 20% drop in users of its real estate search site during the week of Thanksgiving. Buyers simply aren't focused on finding a home during this time of year. In fact,
Sale prices tend to be lower. While buyers tend to be serious, and are often pre-approved for a loan, they presume sellers are desperate and tend to offer less than the listing price. Fewer buyers means less chance of multiple offers so that limits the possibility of a bidding war breaking out. Sellers will probably get a better price if they wait to list their homes after the holidays.
Homes listed will probably sit there until January. Most buyers won't notice a property listed around Thanksgiving for a couple weeks, and by then the homes won't seem new. Since buyers prefer viewing homes when they first hit the market, homes listed around Thanksgiving will seem old and wind up at the back of the line.
Thanksgiving weekend is when deals get listed. Whether shopping for a DVD player or a home, the Thanksgiving holiday is the time of Black Friday bargain shoppers. The same people that form mobs at big box stores for discounted electronics will not make generous offers on homes for sale. If you want to get the most for your home, do it at a time when demand is high and buyers are competing against each other.
Transactions take longer. Whether you're selling a home in California or New Jersey, business in general tends to slow down because so many people are on vacation, busy shopping, or going to holiday parties. It will simply take longer to get inspections, loan approvals, contracts signed, or even phone calls returned.
Homes look worse in winter weather. Especially in colder climates, late November is when trees are bare, yards are muddy, and any flaws with heat or insulation are fully apparent. Potential buyers tracking muddy footprints through the house isn't going to help sell it.
It's an inconvenient time for sellers. There's enough for a homeowner to do during the holidays without worrying about who might be dropping by to view the house. It's a time of year when the only thing a person should have on their plate is an extra serving of turkey and mashed potatoes.
Sometimes there's no choice but to sell a home during the holiday season, but if you can wait you'll probably be rewarded.