This week brought the news that legendary radio personality Casey Kasem and his wife Jean Kasem were putting their Holmby Hills mansion on the market for a cool $42 million. Sure, it's pricey, but here are 40 reasons to buy it…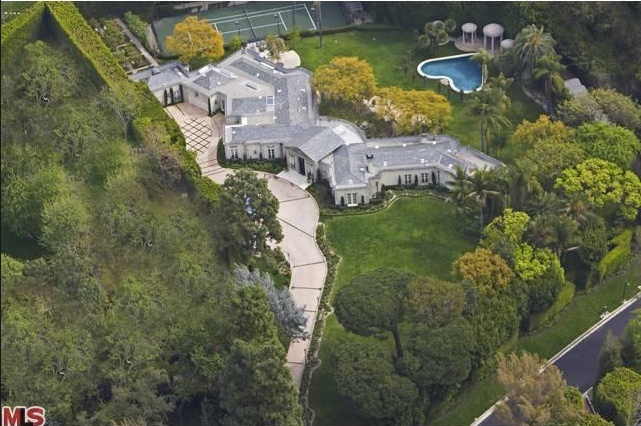 There's a fireplace in one bathroom so you can roast marshmallows while taking a bath.

The property once hosted a Sea World party, which included performing seals and a whale. Since that's seemingly cool with the home owners association then you could probably adopt a family of pet otters like you've always wanted to. 
It's a superior home to the Toluca Lake house belonging to Rick Dees, of Rick Dees' Weekly Top 40.
The circular fountain in the driveway is large enough to wash an elephant* in. *Elephant not included.
Sloping front lawn is large enough to host a Civil War reenactment of Picket's Charge. 
Multiple rooms with wooden parque floors in case you want to turn the house into a ballroom dancing school.
With a sprawling 2.4 acres there's enough lawn to graze dozens of goats in case you want to start a Holmby Hills goat cheese creamery. Kasem never did, but he's vegan.
Most rooms have chandeliers so you can do fancy pullups from them, which burns more calories and adds definition to your biceps and triceps.
Three whirlpool baths so you have one to bathe in, another to wash the dogs, and a third in which to exclusively play with toy submarines.
Intimidate solicitors by putting your head in the mouths of the two ferocious lion statues guarding front door.
Two garages helps you avoid the awkward moment when your American-made cars accidentally bump into your foreign-built ones. You know how jealous a Chevy get.
It has a guest house so you'd have a separate house when people come to visit so that would be kind of handy, especially if they have tuberculosis.
All bedrooms have their own baths so it's humane to lock sleepwalkers in their rooms at night.
One room is a hair salon so if you're a stylist now you can work out of your house, which is super convenient.
The fountain at the entrance includes a piece of the Brooklyn Bridge. Hopefully that piece wasn't structurally critical. 
The property abuts a Bobby Trent Jones-designed golf course so you can probably just sneak on the course by creeping through a hedge or something.
It's Slumber Party Mecca—according to this Los Angeles Times article, it's hosted sleepovers for as many as 20 kids in one night.
When life gives you lemons, do not worry. The property comes with mature citrus trees so they won't be a surprise.
If you like shrubs then hold onto your hat because there is plenty of fine shrubbery.
The heart-shaped pool could be filled with melted chocolate on Valentine's Day so you could chocolate-dip yourself to give as a gift to someone you love.
The listing describes the home as "Gated Classic Revival," which the venerable Real Estalker declares is probably a typo because no such style exists. The buyer could make up their own style. Kasemesque?
If you're lonely, perhaps the Kasems will leave some of their plethora of statues and figurines to keep you company.
Any family members who routinely borrow money could be forced into servitude to care for the expansive grounds and home. They could even live in the maid or chauffeur's quarters.
The Kasem's bought the home in 1989 for $6.8 million and if it sells in 2013 for $42 million then that means the home's value increases at about $1.5 million per year. That's a a wise investment.
You could have played doubles with the neighbors on the outdoor tennis court, but Kelsey and Camille Grammer split up. Maybe that nice Formula One racing heiress down the street could bring a partner? 
You could brag to guests that your house was once home to the voice of Shaggy on Scooby Doo and you'd be telling the truth.
The house is on the same street as the Playboy Bunny Hutch so trick-or-treaters could tell you tales of what the Playmates dressed up as. Or, if you're throwing millions around on real estate anyway, you could drop an additional $11 million and just buy the Bunny Hutch instead and clean the neighborhood up.
It would make a fine venue for murder mystery parties.
A large English-style library with multiple bookcases that may hide secret passages.
If not, then it's a nice place to relax with a cognac and read American Top 40 with Casey Kasem (The 1980s).
There are two powder rooms so if you're a family of 18th century French nobles you can rest assured nobody will have to wait in line to powder their wigs.
The property once hosted a 5,000-person fundraising event so you could totally have your own renaissance fair complete with backyard jousting.
The pool has two pavilions so sharks don't have to mingle with minnows.
Circular driveway is large so you could race Shetland ponies around it.
You might solve the mystery of the unidentified fur robes found draped over furniture in many of the rooms in the listing. 
The house didn't previously belong to Steven Seagal so you won't be finding throwing stars in the wall or half-eaten sandwiches behind the toilets.
The property has grape vines so when in season you could have your man servant Fletcher feed you grapes while you lounge in the sun.
12,000 square feet of house provides ample space for an awesome game of hide and seek.
There are 17 bathrooms. 17 is a prime number and the only positive Genocchi number that is prime. Numbers are very interesting.
Most importantly, the house once belonged to Casey Kasem of American Top 40!
Other Articles By Estately…
11 Homes for Top Secret Agents
13 Baffling Real Estate Listing Photos