Is Airbnb making it harder to buy a home?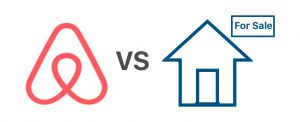 Much has been written of Airbnb's impact on the rental market in major cities, particularly when it comes to reducing the number of available rental units and driving up rents. However, there's little research about how the online marketplace and homestay network is impacting the real estate market. Is Airbnb reducing inventory and driving up prices?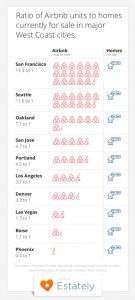 Estately looked at 10 large cities in the West to see if there was any correlation between high numbers of Airbnb units and low numbers of homes for sale. As you can see by comparing the chart above with the one below, the four cities with the highest ratio of Airbnb units to homes for sale were indeed in markets with low inventories, and the four with the fewest Airbnb units to houses for sale had a much higher percentage of homes for sale.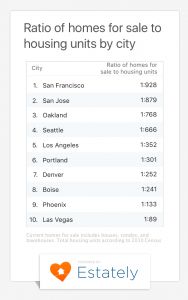 A high number of Airbnb units might account for some of the lack of inventory in these cities, but that's not the only way the home stay industry might be impacting the real estate market. The fact is one make make a lot more from a homestay in a tight real estate market than in a less competitive one. This only causes more people to trying buy homes in these competitive markets with the intent of turning them into Airbnb units. The practice is so common home buyers searching on Estately and some other real estate search sites can even find out the estimated potential Airbnb income of a home for sale on the real estate listing itself.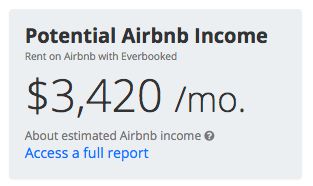 However, some cities are working to prevent this. Just today, The Oregonian reported Airbnb announced it would block Portland, Oregon users from listing multiple units for rent on its site, something that is already against city law.
So the question remains:  Is Airbnb making it harder for people to buy a home? Like most things in real estate, it probably comes down to location.