Lately, it seems everywhere you turn there's an advertisement promising the gift of jewelry, chocolate, or flowers will be rewarded with romance. The world of real estate is no different. It may be just a house that's for sale, but home sellers are working overtime to seductively stage homes to temp home buyers with something far sexier than an extra bedroom or new appliances. We've included five homes carefully staged to play upon people's most romantic desires…
1) Long Beach, CA—$629,900
A bathtub by itself is just a bathtub. However, when you put a bottle of wine and two glasses beside it then it becomes a not so subtle hint that you could cram two people in that bathtub for some sudsy, wine-soaked fun.
—
2) Inverness, IL—$1,200,000
Why choose between cuddling by the fire or a romantic soak in the tub when you can have both! Also, there's a shower nearby pumping out cold water in case you get too hot.
—
3) El Dorado Hills, CA—$1,025,000
You probably thought it couldn't get much sexier than that last combo, so hopefully your trembling legs don't give out when you lay your eyes upon this house with a bath, fireplace, and bed, all within a few steps of each other. The only thing missing is a little Marvin Gaye playing softly, some rose petals sprinkled about, and a copy of The Kama Sutra—Revised Edition For Those With Back Problems, Vol. 2.
—
4) Santa Monica, CA—$5,200,000
At first glance, the setting sun, a jumbo-size bottle of wine, and two cold cans of J.R. Beer promise a night of alcohol-soaked bliss. Too bad you're all alone… or are you? Dig a little deeper and you'll discover that the white hat—and the condo itself—belong to the late Larry Hagman, best know for his role as J.R. Ewing on Dallas. Seems like you're not so alone after all…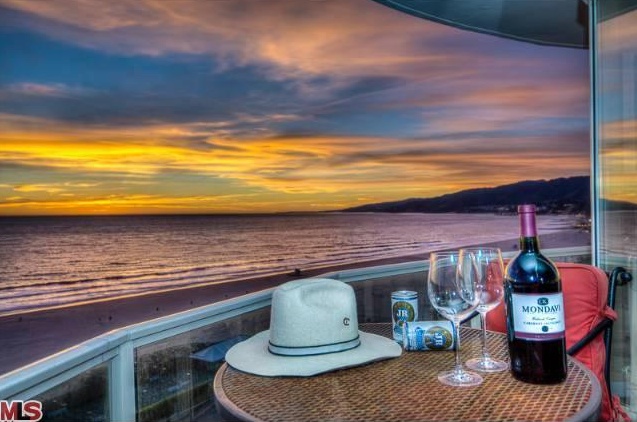 —
5) Miami Beach, FL—$35,000,000
If your idea of romance is a little naughtier than these conventional homes, perhaps you'll fall for a house that turns red-hot romance into a possible fire-safety issue. Between the wolf-skin bedding and dozens of candles, it's reassuring to know there's a fire extinguisher at the ready should the dripping candle wax turn into an open flame.