We've read about startups having their design, code, and content ripped off, but it didn't prepare us for the emotions we felt when it happened to us. Take heart, startups! Below is a story of how a startup took a big step protecting their IP — in just 36 hours.
Over the last two days I have been getting a lot of questions about our relationship with the largest real estate brokerage in Canada, Sutton West Coast (our cease and desist order was covered by Geekwire yesterday). For the past three years, Estately powered Sutton West Coast's real estate search. We mutually agreed in November of 2011 to end our relationship and that they would have through March to transition to a new site. We offered multiple times to help them select a new vendor and to give them feedback on the product they were building as we wanted to ensure a smooth transition (we were declined on all fronts).
Last week we were surprised to see the new search hosted by their new vendor at search.suttonwestcoast.com. It made extensive use of our IP, including our design, HTML, images, CSS and Javascript. The site was not merely a near-perfect clone of Estately from November 2011, it was a clone that uses our code and copyrighted materials.
Obviously no startup wants a clone of their front-end intensive website floating around out there. The list of ways it can damage your business, your opportunities and your ability to raise capital and eventually sell is too long for a single blog post (just imagine reaching out to a reporter only to have them ask you why you copied another site or imagine trying raise money when a perfectly identical site is out there – Yowza!).
Last week we tried to work things out with Sutton West Coast. I started with a simple phone call. They said they were surprised to learn that their product was a virtual clone of Estately and that they would look into it and call us back. It seemed odd, but I gave them the benefit of the doubt. I ended the call feeling confident they would pull it offline and we'd be all set by morning.
A day later, we hadn't heard from them. I tried the phone again (no answer) and decided we needed to get something in writing before the weekend and we realized that meant a cease and desist letter. I always assumed the first cease and desist order I would see would be from a big company using it to oppress my startup, not that I would be issuing it to protect us.
We ended up waiting all weekend and most of Monday in silence. I called again and this time got their CEO who told me they didn't know if the site was a copy and that they would get back to me when they had looked into it more. Then nothing for the next day and a half.
We were getting stalled.
So finally we did something I never thought I would do: issued our own DMCA takedown notice.
The DMCA is the only law I know that operates at startup speed: Amazon responded within 36 hours and took down the infringing materials.
The DMCA isn't a panacea (some parts are horrible), but it has some real strengths that level the playing field for startups and make running a business efficient. In particular:
Accessibility: We filed a DMCA takedown notice with just one or two hours of work. Attorneys are optional. In a DMCA-free world, our IP could have continued floating around for weeks before a court would hear us and we would need to spend thousands of dollars on attorneys leading up to that point.
Speed: Big companies can bury a startup like Estately in paperwork and distractions and can run up a big legal bill in advance of a judgement. Distraction is bad for big companies, but it can kill a startup. The speed of the DMCA means we can get back to work building a business.
The law is supposed to create a level playing field and good law should be clear enough that court cases should be safe and rare. The DMCA passes that test with flying colors.
Are we in the clear? No. Sutton West Coast is a big company – they're the biggest real estate brokerage in Canada with over 1,700 real estate agents spread across 17 offices – and they could move their hosting to somewhere outside the reach of US law tomorrow.
I never thought I would utter these words, but this week I was thankful for the DMCA.
A few screenshots for the curious: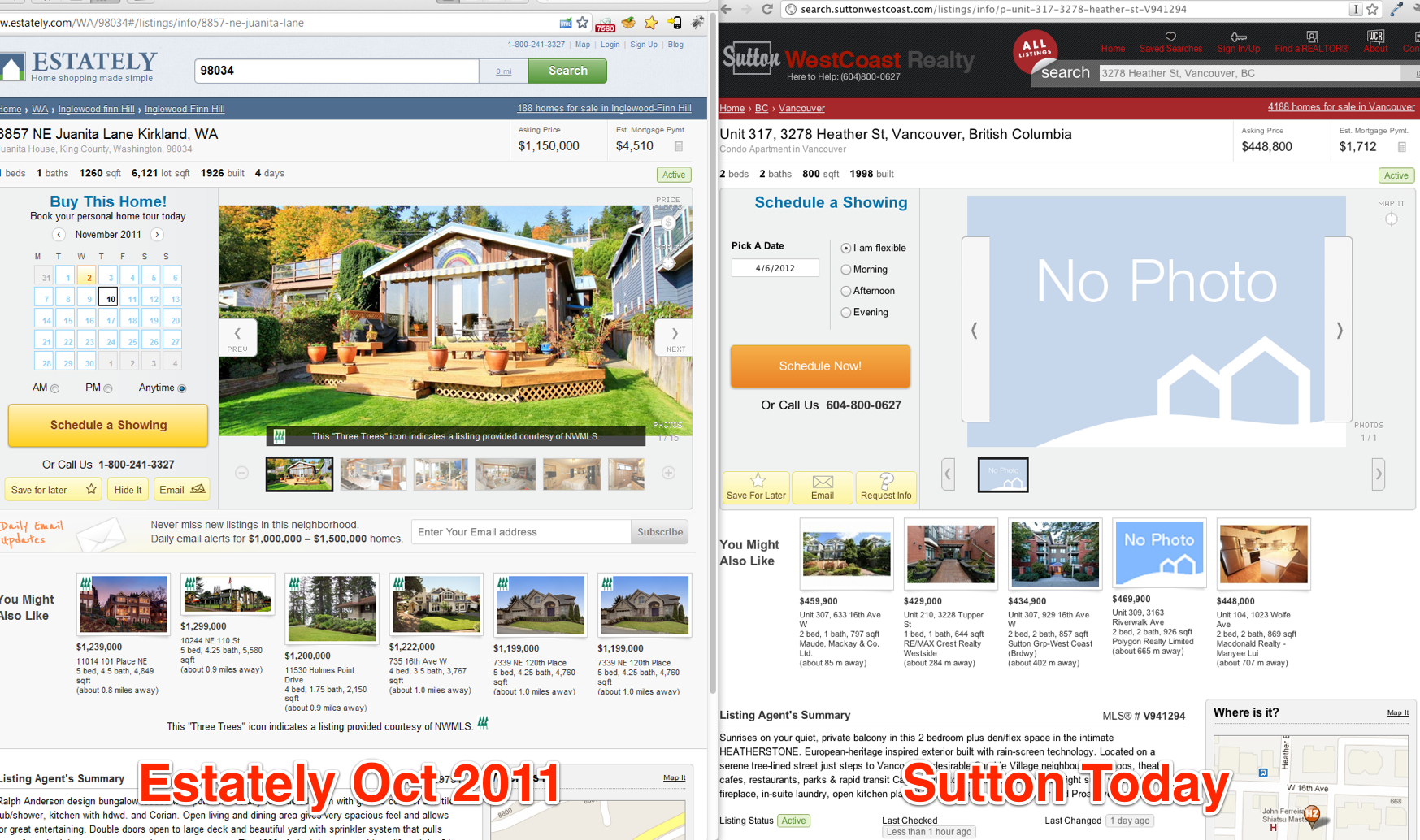 More Screenshots and a code sample below: